Names and Faces
The following article by Charles Hartley was published on 9 Oct 2016.
---
How often have you found an old family photograph and been unable to say with certainty exactly who was in it, or tell anything about their lives? It seems like it's a rare photo that comes complete with names. Today we're going to focus on one such picture, a picture of 14 men dressed in their Sunday best, who have come together to celebrate the dedication of a new church sanctuary.
It was 1910, and the Shepherdsville Baptist Church, led by Pastor S. P. Martin, had in recent years added a large number of new members, leading them to construct a new brick building. The picture you see here was taken just outside that sanctuary. The men seated in front were the church deacons; those standing behind them were church trustees and members of the finance committee.
Some of them were townsfolk, others, men who tilled the land. What follows are brief descriptions of each one.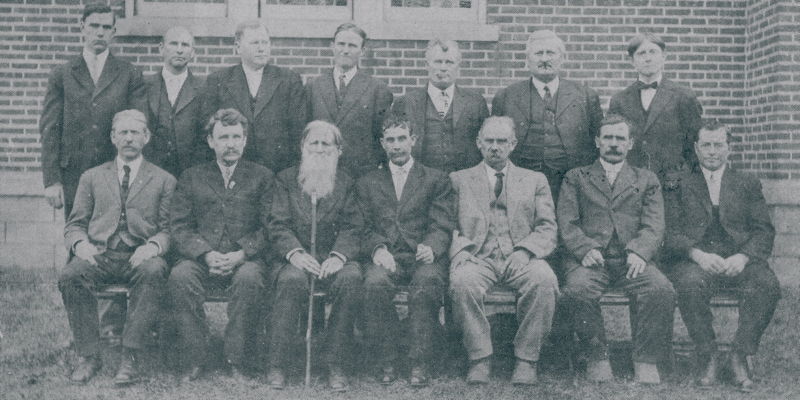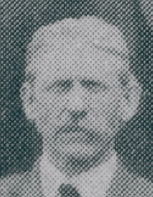 Davis
Seated in front, on the far left, was Asa B. Davis, a Cedar Grove farmer who lived near the Lick Skillet Creek. Asa and Alice Mudd were married in 1892, but had no children. We know that Asa did some blacksmithing, and was a sometime auctioneer. He was frequently involved with preparing the grounds for the county fair. Besides being a deacon at the Shepherdsville Baptist Church, he also served as chaplain for the Shepherdsville Council on occasion. He was a son of Christopher C. and Sarah Ellen (Deacon) Davis. His wife Alice was a daughter of William and Lucinda (Shaw) Mudd. Asa died in 1944; Alice lived on until 1955.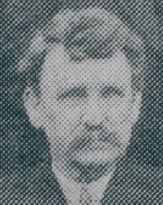 Nelson
Next was Andrew Sears Nelson who was a merchant and harness maker. He and his wife Sarah (Burrus) Nelson started their family in Mercer County, before moving to Bullitt County. They had five sons (William, Robert, Albert, Howard, and Frank) and a daughter, Iva. Andrew was 68 when he decided in 1918 to visit his son William who had moved to Wyoming. He died there and his body was returned to Kentucky to be buried back in Mercer County. The Harrodsburg paper said, "Mr. Nelson was a splendid gentleman, who held the respect of every one who knew him."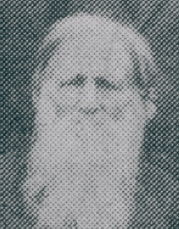 Phelps
William Jackson Phelps, likely the oldest man in the county at that time, was next. Born in 1820 in Pennsylvania, he came here when he was 16, and married Susan Murray in 1847. They had six daughters (Sarah, Eliza, Mary, Susannah, Hallie, and Sylvia) and five sons (John, William, Daniel, Joseph, and Charles). When he died six years later, he had been a member of this church for 60 years. His obituary declared him "an open book with unstained pages," and a man whose life "moved on smoothly and evenly without tumult or friction."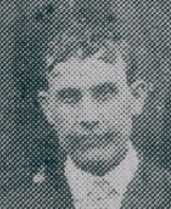 A. Lee
Alonzo "Lon" Lee, the next gentleman, was a farmer. He married Emma Gild in 1893, and they likely had no children. Emma was a daughter of Andrew and Mary Ann (Rennison) Gild (sometimes spelled Gill). Lon and Emma seem to have lived in the Salt River community. He was a son of John and Lucy (Hazard) Lee, and had a brother named Wilford who married Lydia McCubbins. Emma died in 1931. Lon died in 1946.
The next two were brothers: John Edward Weller and William Riley Weller; each known best by their middle names. They were sons of Clint and Joanna Weller. John Edward Weller (1861-1929) married Elizabeth Dawson and they had four girls (Annie, Mary, Julia, and Blanche) and three boys (Chester William, Howard, and Paul). William Riley Weller (1867-1954) married Sophronia Masden and they had a son, Alfred Phillip Weller. Both brothers were farmers in the Cedar Creek area.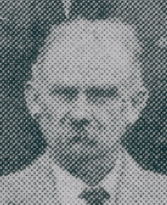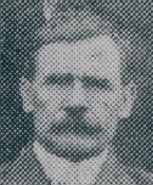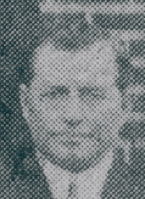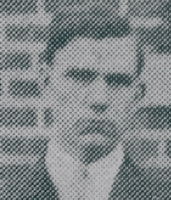 J. Weller, W. Weller, C. Masden, D. Fulkerson
On the right end of the front row is Cleveland Alvin Masden (1879–1948), better known as "Cleve." Cleve married Gertrude Eva Maraman (1877-1970). They had no children. Cleve was a farmer in the Beech Grove area, and later ran a store in the Salt River community.
In the back row, beginning on the left is Delbert Madison Fulkerson (1883-1950) who married Lillian Jackson (1880-1970). They had two children, Mary Ruth and Curtis. Delbert was a printer by trade. He was working for the local paper when the picture was made. He later worked for the Western Recorder.
Next was Samuel Bowyer Stephens (1869-1939) who worked as a telegraph operator before working with the new telephone company in town. Samuel was married to Effie Duncan (1875-1963), and they had a daughter Mayme.
Ora Lee Roby was next in line. He married Cora Belle Hardy in 1908. Ora was county school superintendent, and a local elementary school is named for him. He was featured in one of these articles three years ago, and you can read it online here.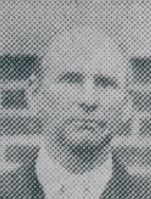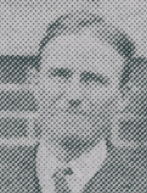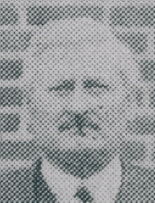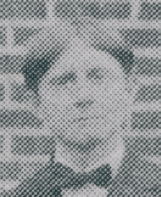 Stephens, Roby, Glenn, Collings, Sanders
Next is Herbert H. Glenn (1872-1960) who was a businessman and lawyer. He married Mattie Hays (1869-1932), and they had a son John and a daughter Mary Eleanor. Mr. Glenn was later an occasional acting judge.
William Thomas Lee was next. "Bill Tom," as he was known, was a prosperous stockman in the county. I intend to write more about him in the near future, so I'll leave it at that.
James Franklin Collings (1862-1948) was Bullitt County sheriff from 1898-1901. After that he was a hardware dealer. He married Mary Hornback (1870-1964) and they had two sons: James and Samuel.
And finally we come to J. H. "Jack" Sanders, principal of the local high school. He and his wife Maggie and their talented children were featured in another one of these articles four years ago. You can find it here.
Did you recognize anyone? Have I encouraged you to get out some of those old photos and put some names to faces? I hope so!
---
Copyright 2016 by Charles Hartley, Shepherdsville KY. All rights are reserved. No part of the content of this page may be included in any format in any place without the written permission of the copyright holder.
---