That 1912 School Exam!
The following article by David Strange originally appeared in The Courier-Journal on 25 Sep 2013. It is archived here with additional information for your reading enjoyment.
---

Have you heard about the "1912 Eighth Grade Examination for Bullitt County Schools"?
If you haven't, I have something to ask: Where have you been?!
The old exam "went viral" on the internet this year, generating 455,000 hits on the Bullitt County History Museum website in August alone. Interviews have been on national NBC Nightly News, The FOX News Channel, ABC, and most of the local TV stations. It has been on San Francisco radio, in the New York Daily News, Smithsonian OnLine, and the Huffington Post, just to name a few. E-Mails and letters have been received at the Bullitt County History Museum from nearly every state in the union, and a few countries. Over eight hundred web sites have written about it.
Discussion seems to follow a couple of paths, but the ones I love are about the challenge of the exam and the times in which it was given.
Around the time of 1912, Bullitt County seems to have been on the cusp of change. The county courthouse had only recently been built, as had a couple of major bridges. State laws about education had been changing as well, for the first time starting to require a high school in every county. Shepherdsville High School started as early as 1912; Mount Washington High School apparently opened in 1916. There were some private schools and academies available in the county for those who could afford them, but not much local opportunity at the high school level in public schools.
Sadly, world changes were taking place as well. WWI was looming, in which twenty-one Bullitt County boys, some of whom quite likely took this exam, would eventually die.
Bullitt County was tiny and rural back then. The 1910 census reported a total population of 9,400 people in the county, with 1782 students in school. Today, almost exactly one hundred years later, 78,000 people live in the county; about 13,000 students attend Bullitt County Public Schools, making it the seventh largest school system in the state.
But back in 1912, there would have been few educational opportunities for children. One-room school houses, such as the historically-preserved Woodsdale Schoolhouse, were scattered around the county, as in most of the nation. Nearly all students would have been expected to do farm and family chores, and walk to school, often through the fields and paths of the countryside. Harvest time and planting time often took priority over formal education.
I remember my father telling about how his parents would hide him from the truant officer in order to have him work in the potato fields.
Obtaining an eighth-grade education was considered pretty high in those days. Going beyond that was almost like going to college. Indeed, to go to high school in 1912 might mean leaving home for a season to go to a high school in West Point in Hardin County, or maybe a school in Jefferson County, relatively far away from home in a day before automobiles.
And so enters the story of the "Eighth Grade Examination for Bullitt County Schools."
This exam, apparently a master's copy, found by Karen Smith in a stack of old papers from the 1930's, is a VERY tough exam indeed. But there is really little in it that I don't remember being taught when I was young. I am a strong believer in knowing facts, so I kind of like this test. A person needs to know some things to have any hope of understanding anything. Far too many people fall for "smooth talkers" because they have no knowledge with which to refute them.
I personally believe that this exam was intended not as a test to graduate eighth grade, but rather to go further. It would have been much like my day in the 1960's when a student would graduate high school, but be expected to score well on an SAT to go on to college. June Dawson tells me that her mother had a 1925 version of this exam, rolled up in a ribbon like a scroll, to emphasize its importance. Local newspapers exhorted students to prepare for the exam, which was given at the county courthouse with some pomp and circumstance. The new School Superintendent, Ora Roby, for whom Roby Elementary School is named, administered the test himself.
Now let's have some fun with a few of the exam questions:
Who invented the Magneto? "The what?" you say? In 1912, generated electricity was a fairly new thing. The magneto, invented by Michael Faraday in 1882, just thirty years before the exam, generated electricity and was just beginning to bring light to the country. Though taken for common today, electricity would have been an exciting subject in 1912.
Spell the word "endeavor." By coincidence, I was reading a book recently about the creation of the first Kentucky Constitution, a subject that would have been taught to Kentucky students back then. One word stood out to me in all the writings of the time. "Endeavor" to do the right thing. "Endeavor" to complete the constitution.
"How long a rope is required to reach the top of a building 40 ft. high, to the ground 30 ft. from the base of the building?" This is actually a simple geometry problem. I think I learned it as the Pythagorean Theorem. But it was made even simpler to me by a farmer. "Why, that's just the 30/40/50 rule", he said. Every farmer knows that if you build a barn thirty by forty feet, that you can lay it out square by measuring the distance between opposite corners. When the sides are thirty and forty, the distance from opposite corners is fifty, thus making a good square building. The useful math of a square-cornered triangle.
"Name the three largest states in the United States." Be careful here. You are in 1912. Alaska was not a state until 1958. So California and Texas. But the third? Montana.
"Locate the city of Honolulu." Wait, you might say. Honolulu is in Hawaii, but that wasn't a state until 1959. Why would students be expected to know that one? Well, Hawaii was annexed by the United States in 1898 and was still very much in the news.
"To what four governments are students in school subjected?" I can only guess what answer was expected, but I suppose it was something like, The Bullitt County School Board, County Government, State Government, and Federal Government. I like this question because it gives some deeper understanding to just "the gov't" that is so misused today.
"Give the cause of the War of 1812." This was important at the time because it was the centennial anniversary of the war, and perhaps more importantly, more Kentuckians died fighting in that war than any other state. At the time of the 1912 exam, students might have heard personal family stories of that war.
This whole positive national exposure for Bullitt County has been quite an experience!
It has been provided through the Bullitt County History Museum, an organization of the Bullitt County Genealogical Society, a 501c3 non-profit organization.
Located in the Bullitt County Courthouse, the museum volunteers are proud that this work reinforces what some state officials said a few years ago, that "the museum is the best front door of any courthouse in the state."
The exam is located on this page; the suggested answers on this page.
Some Old School Pics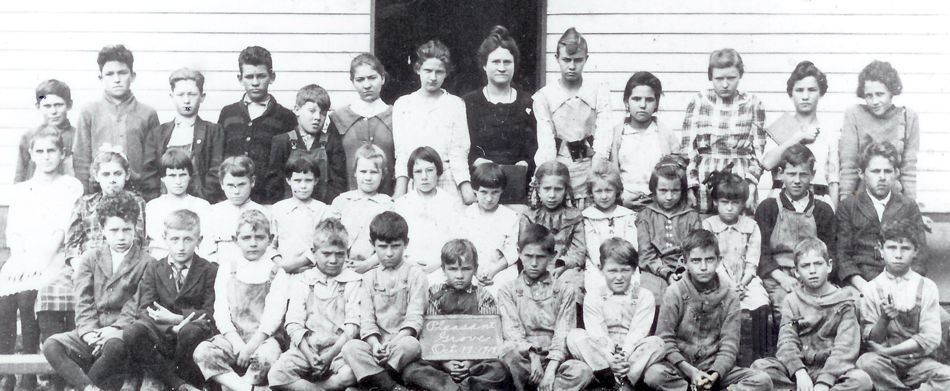 Pleasant Grove School in 1919

Sunnyside School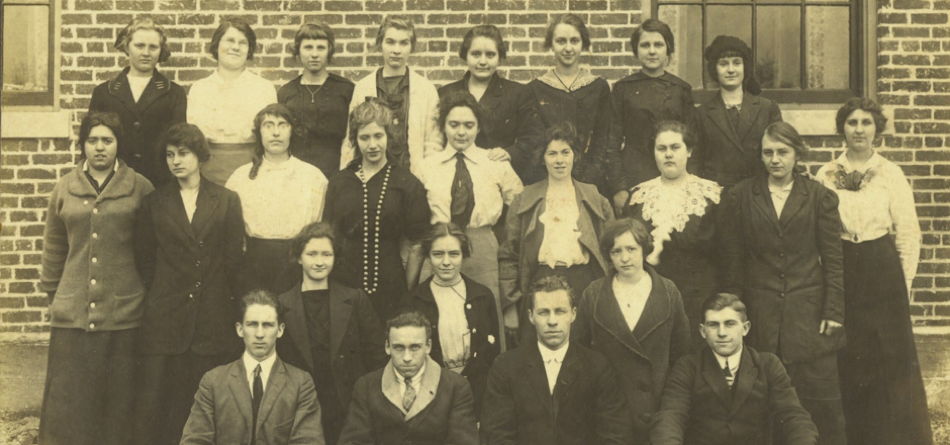 Shepherdsville High School in 1914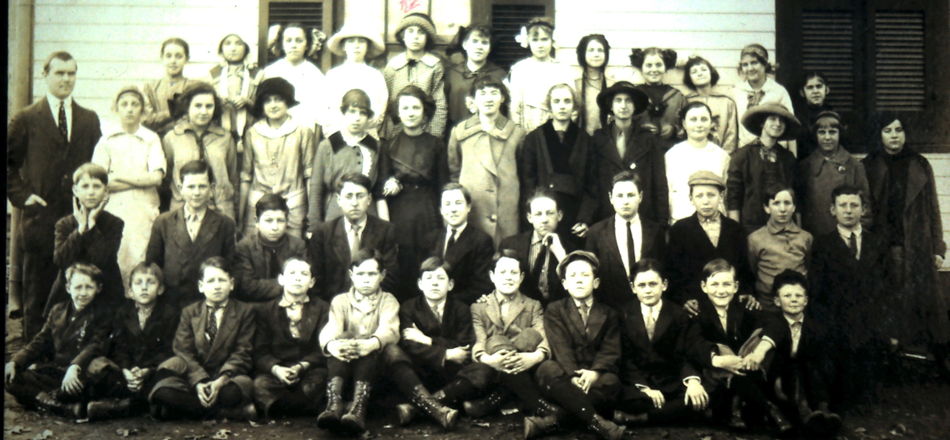 Unknown School
---
Copyright 2013 by David Strange, Shepherdsville KY. All rights are reserved. No part of the content of this page may be included in any format in any place without the written permission of the copyright holder.
---