Easter in the 1920's
The following article by Charles Hartley was published on 5 Apr 2015. It is archived here for your reading enjoyment.
---
Easter is a special time for lots of folks. For many is it a high point in their religious experience; for others, particularly young children, it is a time to hunt Easter eggs, and eat chocolate bunnies. And over the years, it has been a time when families and friends gather together to celebrate and enjoy one another's company.
Today, we'll step back about ninety years to see how some folks around here celebrated the Easter season. Most of what we'll talk about comes from the pages of The Pioneer News, our county paper.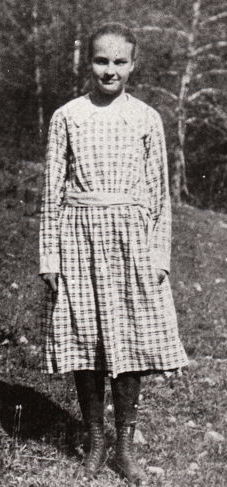 Minnie Viers
Photo courtesy of Linda Croan DeVries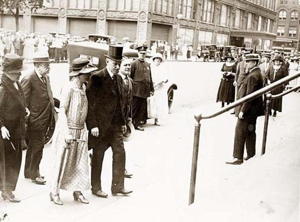 President Coolidge and Wife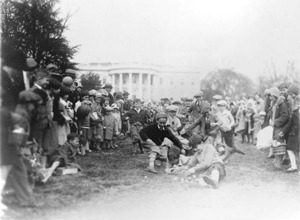 Egg Roll at the White House
In 1925, the Hebron correspondent reminded her readers of the importance of new hats at Easter. She wrote, "The first Sunday in May used to be called show day at our churches here, and every girl who hadn't a new hat and dress had a headache and couldn't go to meeting, but now at April 1st the spring hats are weather worn and the girls want new ones for Easter."
That same year, the women of the Methodist Church held an Easter Bazaar at the local Troutman's Shoe Store, with the proceeds going to help put electric lights in the church. They announced that orders for cakes or dressed chickens could be left with Mrs. J. F. Combs or Zollie Swearingen.
The Young Adults of that church planned a special Easter program with music under the direction of Miss Esther Coogle. Donations collected would go to the Tornado Relief Fund to help those who had losses following the tornado that swept over Illinois, Indiana and the edge of Kentucky in March.
That Easter also saw an Easter egg hunt that doubled as a birthday celebration for Minnie Viers on her 17th birthday. Those present at the home of Herbert Cundiff were Mr. and Mrs. Alvin Viers, Mr. and Mrs. Ralph Cundiff, Misses Willie Hazel Atcher, Mayme Cundiff, Minnie Viers, Beulah Cundiff, Allis Rose Atcher, Gladys Cundiff, Ruby Atcher, Kattie Cundiff, Helen Croan, Mildred Cundiff, Billie Cundiff, Messrs Cecil Cundiff, J. Norris Armstrong, Edgar Croan, James Lee Stansbury, Harry Crigler, Follie Stansbury, Price Viers, Fayette Etherton, Clarence Viers, Earl Stovall, and Samuel Cundiff. Minnie would marry Edgar Croan the following October.
After the egg hunt, the piano and victrola and all kinds of games were played, and at 4 o'clock lunch was served and then all went car riding and pictures were taken.
The previous year, the local Eastern Star Chapter ran an advertisement that got into the spirit of the season. It read, "An eggs-ellent Easter Party has been planned for Tuesday night. We are eggs-pecting you to be present. No egg-cuse will be eggs-septed. We begin eggs-actly at 7:30 p.m."
The paper's editor also wrote that Paul Holsclaw had enjoyed his trip to Washington, D.C., and brought back photographs of President and Mrs. Coolidge entering church on Easter Sunday. He also enjoyed watching the children roll Easter eggs on the White House Lawn.
In 1923, The BYPU at Little Flock had their Easter social at the home of Miss Ethel Thornton, with forty-two guests enjoying the evening, at least half of whom were guests of members. An egg hunt by moonlight on the lawn resulted in J. W. Brooks and Vivian Jenkins winning prizes. Refreshments of brick cream and cakes were served from a beautifully decorated table with favors and souvenirs.
And over at the Victory School, the teacher, Miss Ruth Crenshaw, provided the community's children with an Easter egg hunt. There were 14 dozen to hide and twenty five children to hunt them. The teacher gave a nice present to the one finding the most eggs, and Leroy Harris was the lucky one. After the children had found all they could, they decided to put them all together and divide them equally. After the eggs were divided, the evening was spent in enjoyable games.
May today be as meaningful and enjoyable to you as it has been for generations past, and be sure to save an egg for me.
---
Copyright 2015 by Charles Hartley, Shepherdsville KY. All rights are reserved. No part of the content of this page may be included in any format in any place without the written permission of the copyright holder.
---