Bullitt Memories: Hubert Clay, A Man of High Esteem
The following article by David Strange was originally published on 3 May 2015. It is archived here for your reading enjoyment.
---
There are certain people in the world that are just plain worth respecting. Not because of the big things they accomplished in life, though Hubert Clay can certainly be credited with a few of those, but rather because they respect others. Because, despite hardships that would give others excuse for failure and blame, they succeed, all the while maintaining a love for others. They love and are loved in return.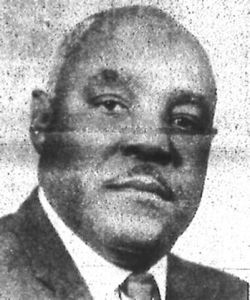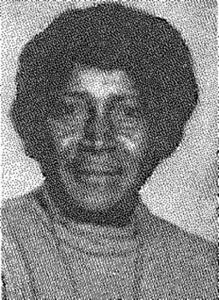 Hubert and Mary Clay
For years, people have told me, "You ought to write about Doctor and Mrs. Clay. Everyone liked them." Tom Shaw told me of his days as a student of Mary Clay, "I loved Mrs. Clay. She was sure one special lady. She always had a smile and a hug." Another wrote to me, "Dr. Clay was a wonderful man. They were a wonderful couple." Nancy Bealmer Adams told me that "they had the cutest baby goats!"
Veterinarian Doctor Hubert Leon "Doc" Clay and his wife, school teacher Mary Miller Hill Clay, were both that kind of people.
Originally from Madison County, Kentucky, Hubert Clay was the son of Byrd Clay and Mary Cobb Clay. He was born on February 28, 1915, attended Madison County schools, and graduated from Richmond High School during a time of rabid racism. Pressing on from high school, Hubert graduated from Kentucky State University in 1939.
Mary Miller Hill was born on January 28, 1915, in Lexington, Kentucky, the daughter of James B. and Ida Cullom Hill. She attended public school in Lexington, and, like Hubert, graduated from Kentucky State University in 1939.
Mary and Hubert married that same year.
Hubert began teaching in Breckinridge County High School.
Mary began her long teaching career in Russell County, then taught nineteen years in Meade County, and later on at Roby Elementary School in Bullitt County. According to Jennifer Wooley at Bullitt County Public Schools, Mary started teaching at Roby Elementary School in Bullitt County in 1966, bringing 21 years of teaching experience with her. Mary retired from BCPS in 1975.
But back when Hubert and Mary were first starting their lives together, World War II interrupted everything. On December 30, 1943, Hubert joined the U. S. Marine Corps, serving first as a private and becoming a corporal by the time he was mustered out on July 20, 1946.
With the war over, Hubert continued his teaching career, eventually becoming principal of Breckinridge County High School. But his prime ambition was to become a veterinarian. As soon as he could manage it, he entered Tuskegee University, graduating in 1956 and becoming a member of the Kentucky Veterinary Medical Association (KVMA) in 1957 at the age of 42 years old. The KVMA had a special note in their files about him graduating at that age.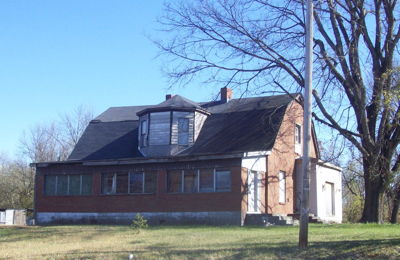 Dr. Clay's Home, circa 2010
Soon after, Doctor and Mary Clay moved to Bullitt County and set up practice treating animals of all sizes from horses to rabbits. Their first house in Shepherdsville was on the northeast corner of where Buckman Street crosses Salt River, near where the old Henderson-Hardy Furniture store was, but they soon moved across the river into the Salt River community, just east of the railroad underpass.
Mary continued teaching. For nineteen years she taught in Meade County, but in 1966 she started teaching 4th grade at Roby Elementary School in Shepherdsville and taught there until she retired in 1974.
Both Mary and "Doc," as he was now called, quickly became involved in the community. They joined Mt. Zion Baptist Church in Shepherdsville in 1958, where Doc served as Chairman of the Deacon Board, Trustee, and Treasurer. He was a civic leader, deeply concerned about youth and education, assisting some in finding employment. He became the first African-American member of the Shepherdsville Lions Club, serving as Treasurer and President there. He was a member of the Fellowship of Concern, a charter member of the Bullitt County Fair Board, and a Kentucky Colonel.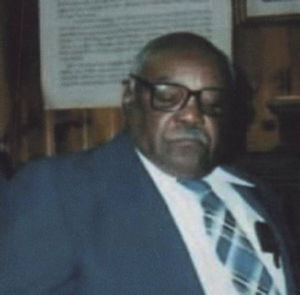 Dr. Clay
And he was a beloved human being.
Ill health began taking its toll in 1978, when Doc Clay had his first heart attack, but he continued his practice, restricted to caring for only smaller animals.
Mary Clay, a beloved teacher and devoted worker in her church as well as member of several civic organizations, also began to weaken. She died suddenly on February 7, 1981 and was buried at Highland Memorial Cemetery in Fayette County, in the same cemetery where her parents rest.
On August 29, 1981, Dr. Clay remarried. I am told that Katherine Lucille Martin Neal Clay is living at a care home in Lexington, but so far I have been unable to locate her.
Doctor Hubert Leon Clay, age 71, died on June 12, 1986. He was buried at Evergreen Memorial Gardens in Paris, Kentucky. Surviving him were 2nd wife, Lucille, adopted son George Leon Clay, grandson Patrick, and stepson Ronald Neal.
And countless friends who to this day remember him and wanted me to write about him.
Of all his accomplishments and overcomings in life, the best to me is that high praise from everyone who knew them.
A devotional about Dr. Clay at his funeral declared him to be "A man of high esteem".
Amen, Brother. Amen.
---
Copyright 2015 by David Strange, Shepherdsville KY. All rights are reserved. No part of the content of this page may be included in any format in any place without the written permission of the copyright holder.
---