Casper Herps - A Remarkable Man
The following article by David Strange appeared in The Courier-Journal on 20 Jul 2014. It is archived here with additional information for your reading enjoyment.
---
Casper Herps was a remarkable man in a remarkable family.
If you have done much research at all in the Bullitt County area, you have seen the work of Casper, and of his son, W. C.
Casper's father, also Casper, or rather spelled the German way of "Kasper Herbst" was a doctor and surgeon during the Napoleonic Wars, serving in the Prussian Army. After Napoleon was defeated and banished to the Isle of Elba in 1814, Kasper Herbst served in the army in Paris under Lord Wellington, and eventually returned home to Ragheim, Germany.
There, on August 26, 1822, Kasper's son, the subject of this story, was born. In 1839, much of the family immigrated to Philadelphia, USA. The teenage Casper came the next year, first to Baltimore, and then on to Louisville. By 1842, Casper was in Nelson and Bullitt Counties.
Michael Herps, the great-great-grandson of Casper, tells me that there is some question about where the parents went. Two brothers came to Bullitt County for a while. But apparently only the young Casper came and stayed, mostly in the Cedar Grove and Deatsville area then known as "Leaches."
This is where life made a turn in which Casper converted tragedy into success. You see, the energetic and talented Casper Herps, as a young man, loved hunting. One day, Casper was hunting deer when his gun accidentally fired, badly injuring his left hand and crippling him for life.
Mike Herps tells me that he suspects Casper then applied his math skills and learned the profession of land surveyor. His new skills were rewarded in 1854 when he was elected as County Surveyor for Bullitt County, an office he held for the next forty years.
Over that time, Casper is recognized as having surveyed nearly every farm in Bullitt County. His survey plats, possibly numbering in the hundreds, are works of art. Many of them are THE reference for original land ownership in the county, and are frequently used for historic, genealogical, and legal research. Even if you don't see his name on a map, you can recognize his work by the whimsical, ornate, "north arrow" drawn on each one.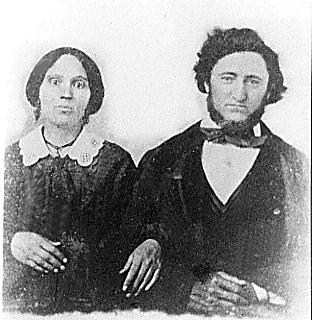 Susan and Casper Herps
These years were exciting and challenging times with rapid change everywhere.
In 1861, those changes exploded into the American Civil War.
During the war, threats by Confederate guerillas forced Casper to leave his farm and move to town. In 1863, he met and married Susan M. Shoptaw and they began a family. Over the next years they had seven children. As the family grew, so did Casper's reputation as "an expert surveyor, and a fine mathematician...a great student of economics and a man of very wide information." (From his obituary in 1900)
Time quickly passes, and, sadly, so does life. Casper's wife, Susan, died in 1887. They had weathered Civil War and all that life threw at them, but it seemed Casper could not endure the loss of Susan. Casper, now 65 years old, began to decline in health.
Their son, William Casper "W.C." "Bill" Herps began to take care of the family business, and in 1894, when his father could no longer continue, was himself elected as Bullitt County Surveyor, serving in that office into the 1900s. I will have to write more about him another time.
Casper Herps died in 1900 at the age of 77, after a long illness. He suffered from what was then known as Bright's Disease, now called Chronic Nephrites, a long, painful illness, often inherited. Son, Bill, would also eventually die from the same affliction.
Casper Herps rests at Cedar Grove Cemetery, along with several of his family.
He was a remarkable man. Part of a remarkable family. In a remarkable time.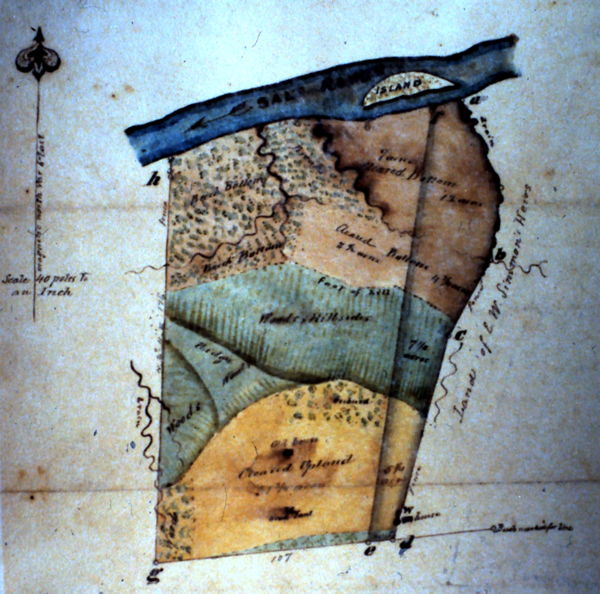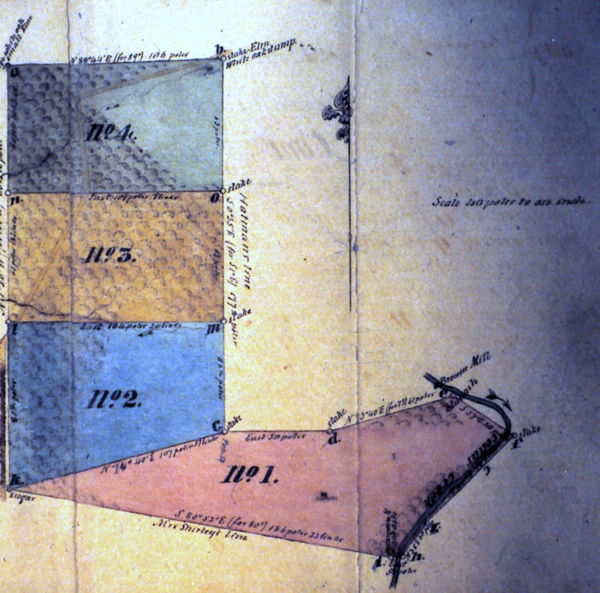 Samples of Casper Herps' Work.

His trademark "North Arrow."
---
Copyright 2014 by David Strange, Shepherdsville KY. All rights are reserved. No part of the content of this page may be included in any format in any place without the written permission of the copyright holder.
---