Judge Wilhite Carpenter
The following article by Charles Hartley originally appeared in The Courier-Journal on 16 Nov 2014. It is archived here with additional information for your reading enjoyment.
---
I want to tell you about a remarkable man of the nineteenth century: Judge Wilhite Carpenter.
Tobias Wilhite Carpenter was born in 1817 to Joel and Rhoda Ann (Wilhite) Carpenter, the sixth of their nine children. His father died in 1822 when Wilhite was five years old, and Rhoda Ann took Wilhite and his two younger sisters and joined her parents, Tobias and Mary (Shirley) Wilhite, at Pleasant Hill in Mercer County.
This Shaker settlement had opened in 1805, and by the time Wilhite arrived, it was a thriving community. Here he grew up around men who were industrious and skillful, and it seems that Wilhite adopted these characteristics.
While his mother and sisters remained at Pleasant Hill for the rest of their lives, young Wilhite elected to leave the community, and return to the Bullitt-Nelson Counties area where he had been born, and where he had family, including aunts, uncles, and older siblings.
His Uncle Samuel Carpenter was a lawyer and circuit judge in Bardstown, and it is possible that Wilhite studied law with him, for he would later practice law himself.
Wilhite married Leticia Magruder in 1842, and they had two fine daughters, Sarah Elizabeth and Rhoda Ann. Sarah married William Barrickman and they lived in Louisville with their six children. Rhoda married William O. B. McCarty and they had two sons including William who became a professor of pathology at the University of Minnesota.
But getting back to Wilhite, we know that in 1848 he bought 115 acres from George W. Maraman that lay just across Salt River from Shepherdsville. Then the next year, he added 10 more acres just upstream from the first. Here he and Leticia would live out their lives.
According to J. R. Zimmerman, the Carpenter house sat just across Salt River on the east side of the railroad; and it was right next to the railroad right-of-way that Carpenter had his storehouse where he did business.
Wilhite didn't waste any time getting into politics. By 1856 he had been elected Bullitt County Judge, an office he would hold four different times.
He was also an active member of the local Masonic Lodge in Shepherdsville where he was chosen as Lodge Master numerous times.
Besides being a lawyer, and storekeeper, as well as a county judge, Wilhite found time to serve as a State Senator on three different occasions.
In 1884, he was selected as one of three commissioners selected by the General Assembly to oversee the construction of the new prison at Eddyville. He served in this capacity for four years during the prison's construction.

Kentucky State Penitentiary at Eddyville
Zimmerman, who knew Wilhite Carpenter during Carpenter's last decade, described him this way: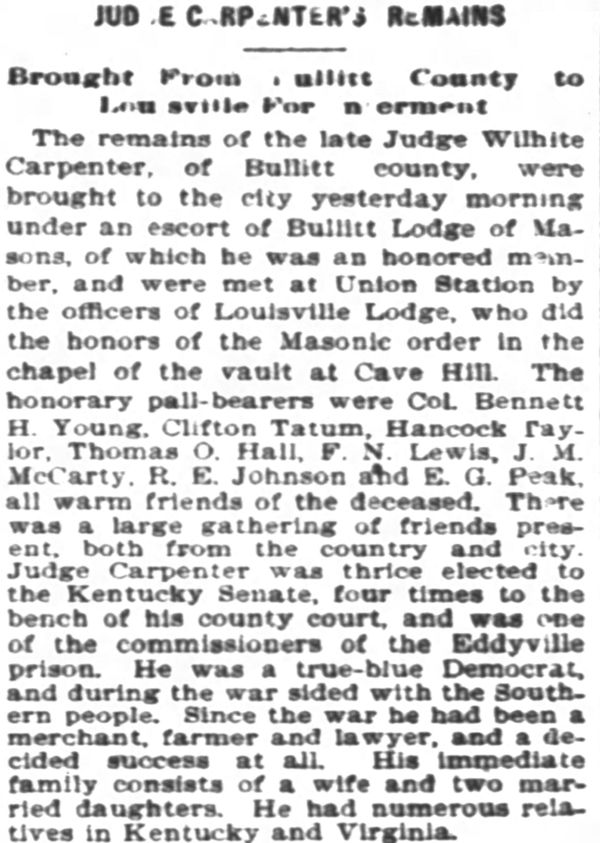 From
The Courier-Journal
, 4 Feb 1898
"He was a very irascible man, and could fly into more fits in twenty minutes than any other five men I ever saw. But withal, he was a good hearted man and never allowed a real needy man to leave his door without some kind of aid."
It was said that, once while serving as judge, he became so upset with a lawyer named Straus that he suddenly stood up and shouted "I adjourn court for ten minutes while I go out and whip Frank Straus!"
Later Zimmerman wrote about Carpenter, "To be plain about it, he was a wonderful man." Zimmerman described his many activities including his Lodge work, and then said, "Add to that, the Judge's political activities, and his store business and farm activities and his livestock dealings, and one is constrained to wonder how he got through with all of it."
Carpenter was still doing business in 1898 at the age of 80 when he apparently had someone break into his store. He decided to set a trap for the next intruder, but it tragically backfired on him, literally.
Newspaper reports indicated that the Judge had set a gun trap for thieves and was fatally wounded by the device when he walked into the store early the next morning, forgetting about the device. His right leg was blown off at the knee.
He died on February 1, 1898, and was honored with a full Masonic honor guard burial. You might say he went out with a bang.
---
Copyright 2018 by Charles Hartley, Shepherdsville KY. All rights are reserved. No part of the content of this page may be included in any format in any place without the written permission of the copyright holder.
---