Brashear's Station
The following article by Charles Hartley was originally published on 8 Feb 2015. It is archived here for your reading enjoyment.
---
As the Continental Congress met in Philadelphia in 1776, there were perhaps fewer than 200 of their fellow Englishmen beyond the mountains in what would become Kentucky. Some were there to hunt, others to find land they could call their own. Two of the latter were Joseph and Marsham Brashear, cousins in an extended family.
Their ancestors had arrived in America from France in 1658, landing in Virginia. The family name was Brasseuir, but was soon changed, first to Brashier and then to Brashear. Not finding the religious climate to their liking, they moved to Maryland, and then later to southwestern Pennsylvania along the Monongahela River where the small town of Brownsville sits today.
They appear to have left their homes in Pennsylvania, perhaps alone or with a handful of others, and passed down the Ohio River to the Falls of the Ohio sometime that spring or summer. From there they followed one of the buffalo paths that led southward toward the salt licks. At some point they left that path and followed another one that led eastward.
They found land near the junction of the Salt Lick River and one of its tributaries, and here they stayed for a time. They constructed at least one shelter, cleared a bit of land, and perhaps planted a small crop. It is unclear how long they stayed in Kentucky, but at least Joseph was back in Pennsylvania when he died in 1778.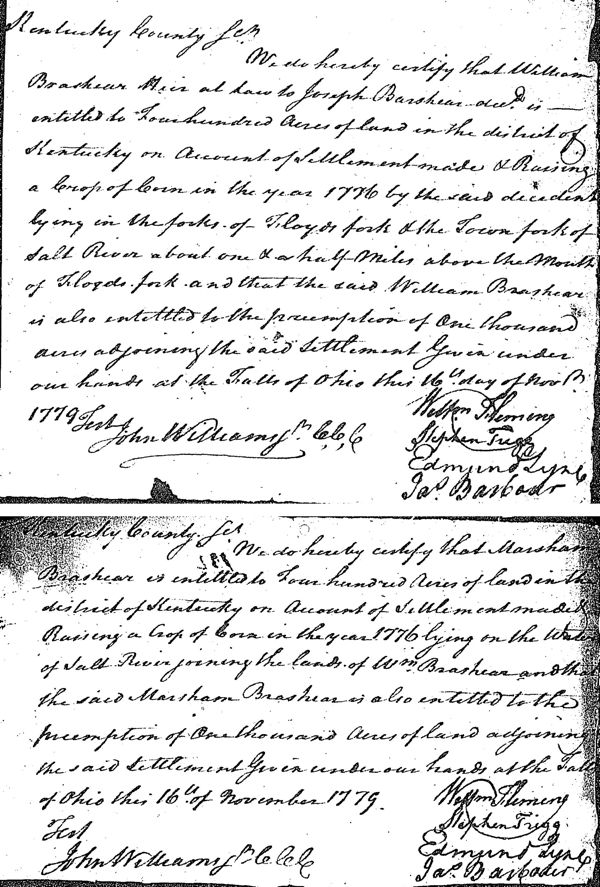 Commissioner's Certifications of William and Marsham Brashear's Claims
During the first years of the American Revolution there was no way for these settlers to legally claim their land; but the Virginia legislature passed a land law that took effect in January 1779. It provided that anyone who could prove settlement in Kentucky before 1778 could claim 400 acres, plus they had an option to purchase an additional 1000 acres adjoining their settlement at a reduced price.
Joseph was dead, but his brother William had inherited his claim to Kentucky land. As soon as the winter broke, William made his way to the Falls of the Ohio where he found others who were willing to help him establish a small station or fort.
They made their way to the land that lay along side where the buffalo path crossed the fork, close by where Highway 44 crosses Floyd's Fork today, and here they constructed the first station on the Wilderness Road between Harrodsburg and the Falls.
We don't know for sure all of the names of these men, but we're pretty sure they included Jacob and Isaac Froman, and John Ray. This station would be called variously Salt River Garrison, Froman's Station, and most often Brashear's Station.
When the land commissioners sent out by Virginia came to the Falls of the Ohio in November, William Brashear was there, ready to claim his land based on his brother's occupancy in 1776. Also present was his cousin Marsham Brashear who had returned to Kentucky. Both received 400 settlement acres and the right to 1000 more in what was called preemption land.
According to a deposition that John Ray made later on, after the station was constructed, he returned to the Falls, and helped drive some cattle from the Falls to the station. He stated that at the same time, a number of boats went down the Ohio and up the Salt River to the mouth of Bullitt Lick Run where the families landed and followed the buffalo path to Brashear's Station.
The winter of 1779-80 was harsh, and the Indian danger severe; and the station was abandoned until the spring when its settlers returned. Among them were William's family, his wife Anna Ray Brashear, and their children Sarah, Nicholas Ray, Anne, Nancy, William Jr., Joseph, Betsy, and the baby Jemima who was likely born at the station that first year.
It quickly became crowded, resulting in some moving on to other places like the one just downstream called Dowdall's, but that is another story.
Life continued to be dangerous, and in August 1781, the body of William Brashear was discovered near the station. He had been killed, scalped and his body mutilated; one of many who did not survive those early years.
When Nicholas Ray Brashear came of age, he completed the land claims started by his father, and for a short time Brashears claimed much of the land north of Salt River and upward to the meanderings of Floyd's Fork for some distance.
The station continued in existence for a time, but as the Indian danger lessened, more and more of its occupants moved on to settle their own land until it faded into the mists of time. All that remains is a historical marker to remind us of these early times.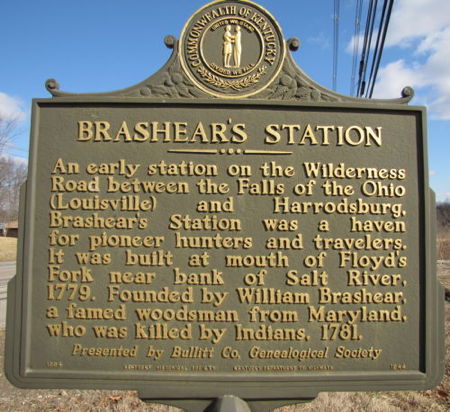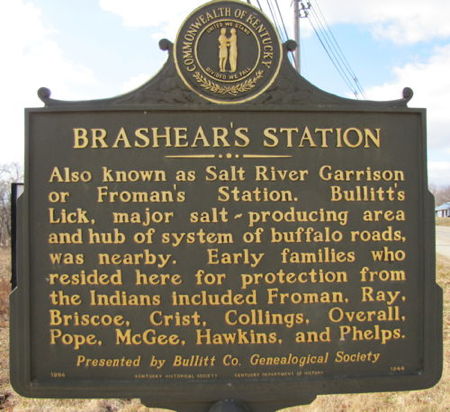 ---
Copyright 2015 by Charles Hartley, Shepherdsville KY. All rights are reserved. No part of the content of this page may be included in any format in any place without the written permission of the copyright holder.
---