An Alleged Bigamist
The following article by Charles Hartley was published on 6 Sep 2015. It is archived here for your reading enjoyment.
---
It was a typical July day, heading for ninety degree temperatures and a cloudless sky, when Charles V. McGaw and Mattie Belle Maraman rode the train into town and headed for the parlor of the Willard Hotel on Jefferson Street. Charles was all smiles, and Mattie was beaming with excitement. Arrangements were made, and they were to be married that day.
Certainly a few eyes had been raised when the forthcoming marriage was announced, but it was not all that unusual for an older man to marry a young girl, and Charles seemed like a fine gentleman. He was 38 and she had recently passed her 16th birthday.
The ceremony was completed, and the couple soon returned to Shepherdsville where Mattie's parents lived. All seemed well, at least for a couple of days. Then a young man from the East arrived in town, and things got complicated indeed.
Charles V. McGaw had been in Shepherdsville for perhaps two months that summer of 1891. He worked for the railroad as the night operator at the Shepherdsville depot. During this time, he'd made the acquaintance of the Mack Maraman family, and impressed them with his gentlemanly ways. Certainly he impressed young Mattie Belle.
According to later reports, Charles apparently had a fondness for strong drink, as did many others, but as time passed he allowed it to interfere with his work habits, and the railroad let him go.
At this point he turned on the charm, and soon had the Maraman family's permission to marry their daughter. It's not clear what his future plans were, but they were soon shattered when Irving Jefts arrived in town.
You see, Irving Jefts already knew Charles McGaw, and he wasn't a bit happy. According to Jefts, Charles McGaw had recently married his widowed mother in New York City before abandoning her for parts unknown.
While Jefts was spreading the word in Shepherdsville, McGaw left town as quick as he could. A sensational story like this couldn't remain quiet long, and within four days, newspapers began publishing details. Sad to say, they were not always accurate in reporting the facts.
Jefts was determined to see McGaw prosecuted, and left for Louisville to attempt to find him. Meanwhile, the local folks were not quite sure what to believe. Mack Maraman's uncle, Henry C. Bowman, who was the Bullitt County jailer, decided to follow Jefts into Louisville, and also see if he could locate McGaw.
They were unable to locate McGaw, and turned the task over to the Louisville police who soon located McGaw at the tenth-street depot in a drunken stupor, and arrested him.
As you can see below, the number of McGaw's wives
grew with the exaggerated telling.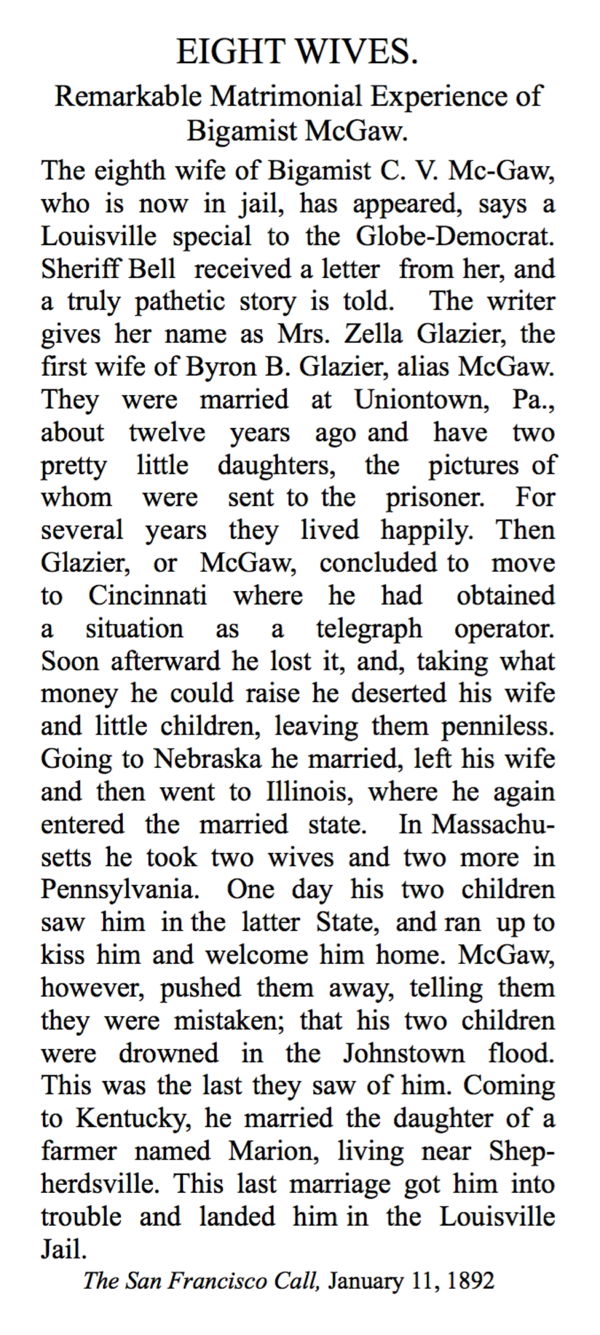 Since the marriage to the Maraman girl had taken place in Louisville, McGaw remained in jail there awaiting arraignment on a charge of bigamy. Meanwhile Jefts had telegraphed his mother, Nancy Jefts McGaw with the news. When told that she would have to come to Louisville to press charges, she set out for here.
The Jefts had hired a lawyer to investigate when McGaw first disappeared, and in August he mailed a letter to local authorities declaring that McGaw had a third wife in Ohio and two children by her. And to top it off, he'd changed his name in the process.
According to a variety of records that I've been able to locate, his real name was Byron B. Glasier. He first married Emma A. Havey in Wisconsin in 1874, but she divorced him in Utah three years later. He then married Frances Gazella Smith in Ohio in 1880. They had two daughters together before he left home to seek work in Cincinnati. He then disappeared, abandoning his family. It was apparently then that he changed his name.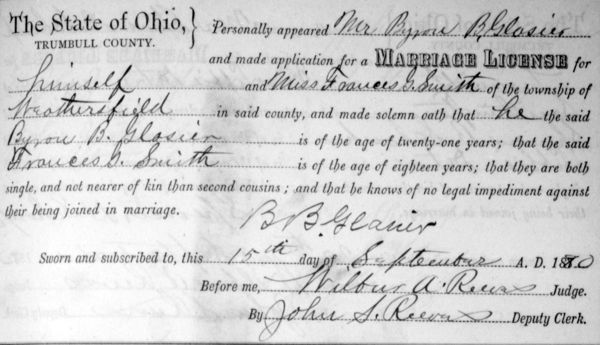 Marriage record for Byron B. Glasier and Frances G. Smith.
His whereabouts are a mystery until he turned up in New York City in February 1891 when he married Nancy Jefts. It didn't take long for him to abandon that home and head west to Kentucky.
Newspaper articles about McGaw's alleged bigamy continued to appear in papers nationwide. By January, the number of wives attributed to him had grown to eight; although it seems likely that that was an exaggeration.
Now you would imagine that he finally got his just desserts, but you'd be wrong. Poor Mattie Belle was so distraught and embarrassed that she could not be persuaded to appear in the courtroom to testify against him. His second wife Nancy Jefts finally returned to her home, and the first wife in Ohio never appeared on the scene.
Finally, eight months later, the judge ruled that the charges were dismissed due to a lack of evidence, and Charles V. McGaw was a free man.
The women in his life got on with theirs. Mattie Belle and Nancy both divorced him. Mattie married a few years later and had a fine family. Nancy never married again. And the Ohio wife, Frances Gazella married a Pennsylvania merchant and simply declared on her marriage application that her former husband was dead.
And what became of this alleged bigamist? Well I can't be absolutely sure, but there was a C. V. McGaw, age 57 who married Nancy Perry, age 25, in Coffeyville, Kansas in 1909. What do you think?
---
Copyright 2015 by Charles Hartley, Shepherdsville KY. All rights are reserved. No part of the content of this page may be included in any format in any place without the written permission of the copyright holder.
---