Before Camp Shantituck
The following article by Charles Hartley originally appeared in The Pioneer News on 11 Sep 2023.
It is archived here for your reading enjoyment.
---
While Girl Scouts have been camping in the bend of Cedar Creek at Camp Shantituck since the summer of 1929, few likely know the site's history before that time.
Even before Bullitt was a county, while it was still a part of Jefferson County, those seeking land to claim were busy staking their claims to tracts of land both north and south of Salt River. As this was virgin territory, and heavily wooded in most places, these claims frequently overlapped leading to numerous law suits attempting to sort out these claims.
In many cases, land speculators holding Virginia Treasury Land Warrants for thousands of acres either came themselves or hired others to venture into Kentucky to make these claims. One such man was John Larue for whom Larue County is named. We will return to him in a bit.
You might think that every inch of ground would have been claimed by someone before the county took on the name Bullitt. Alas, you would be mistaken, for there were bits and pieces tucked in amongst these claims that failed to fall within the bounds of any of them. Indeed, there continued to be vacant land available a half century later.
In February 1783, John Larue had entered a claim for 21,000 acres "to begin at Floyd's fork, at the foot of the knobs above Brashear's station, and on the north side of the knobs and the lower side of said fork, and to run along the north side of the knobs to the trace leading from the salt works to the falls, thence up Floyd's fork and the trace, till a line to run across from the said fork to the trace will include the quantity of vacant land exclusive of prior claims."
Larue died in January 1792 before this claim had been surveyed. That same year his heirs hired Benjamin Stansbury to survey this entry. Without going into great detail, imagine a line running from near Broad Run Park on Bardstown Road across country on a straight line to near the intersection of I-65 and the Outer Loop, then a bowed line from there that generally follows Blue Lick road south before it crosses the interstate near the Brooks exit and continues south by southwest to Blue Lick Creek and follows the creek back to its beginning. Roughly speaking you have just enclosed this 21,000 acre tract.
They were well aware that much of that land had already been claimed by others, but they were counting on there being enough bits and pieces of unclaimed land within those bounds to make it worth claiming. The words "exclusive of prior claims" in Larue's entry was aiming at this.
By 1806, some of the Larue heirs were ready to find someone to take these "bits and pieces" off their hands, and they began making arrangements with several Louisville area gentlemen. And by 1817, William Pope Jr., Robert Breckinridge and Worden Pope had together taken ownership of this land. They soon began selling parts of it, including one tract of 105 acres to John Beckwith in June. It was located along Cedar Creek, a tributary of Floyd's Fork.
This adjoined a 21.5 acre tract that Overall Whitledge had sold to William Taylor in 1815. At some point a grist and saw mill had been established on this land, possibly by Solomon Hornbeck who then bought the tract from Taylor in November 1817 for $1,700. He then immediately sold it to John Beckwith for $2,000.
Following John Beckwith's death in 1825, in order to settle some debts and legal issues, the Circuit Court ordered these two tracts to be sold at auction. Benjamin Summers, Beckwith's son-in-law, was the high bidder for both tracts. However he quickly agreed to sell them to Jacob Yenawine in 1827.
This land sits mostly in a loop created by a bend of Cedar Creek to the right with a narrow stream called Horse Run enclosing it on the left. As much of it slopes down to the water, it had remained primarily a wooded place, providing the resource for the saw mill that Yenawine took over.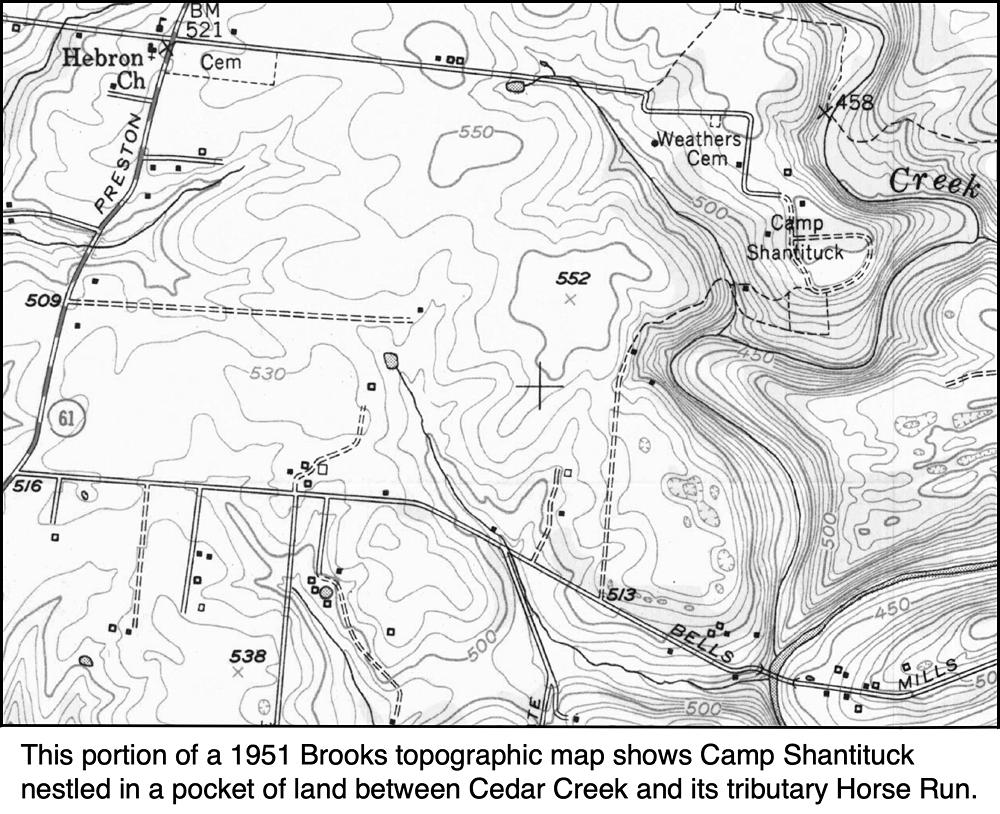 Jacob Yenawine maintained his mill operation for some time until in 1860 he deeded everything to his son Philip Henry Yenawine and to his son-in-law Smith Bridges who had married Sarah Yenawine. It appears that Bridges was the more active partner, and in 1864 Philip sold his share of the land to Bridges.
Bridges continued to operate the mill, but also farmed the cleared land lying in the northern part of his 126 acres. Then in 1889 he sold the southern 80 acres to Judge Wesley Phelps.
Phelps was prominent in local affairs, having served terms as both County Sheriff and County Judge. He also speculated in land, and had accumulated about 500 acres scattered about the county when he died without a will about two years later.
As he had no children and no living siblings, his widow, Nancy F. Phelps stood to inherit his entire estate. However, Wesley had been born out of wedlock, the illegitimate child of Edwin Phelps and Alley McDaniel, and some of the descendants of Alley's siblings pressed their claim to his estate, believing that whatever claim Phelps' mother might have had to his estate would descend to the children of her siblings.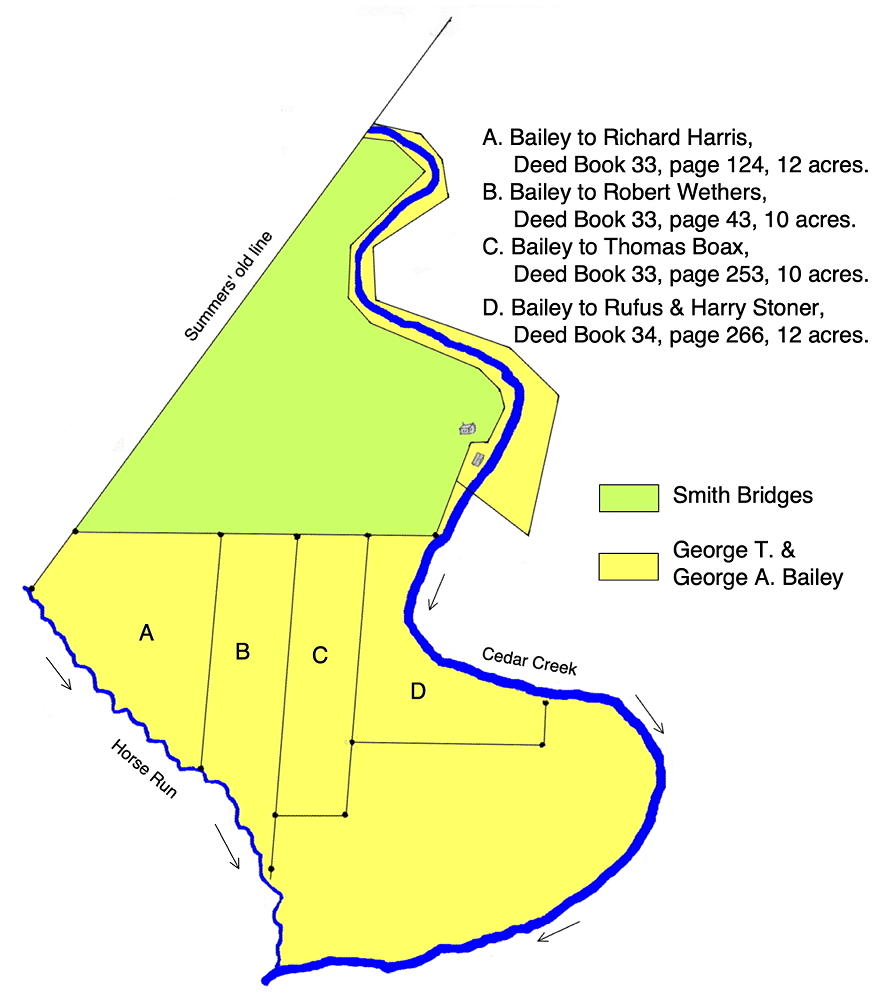 The case was brought before the Bullitt Circuit Court, and on 18 May 1892, that court rejected this claim, and ruled in favor of Wesley's widow, or rather to her devisees, as she died before the case was settled, leaving a will that devised her estate to her nieces and their children. The suit was appealed to the Court of Appeals which agreed with the lower court and sustained the earlier verdict.
W. T. Morrow was the executor of Nancy Phelps' will, and while the estate included land scattered in multiple tracts, it also included debts amounting to $545 more than the value of the personal estate, meaning that some land would have to be sold. To do this, Morrow brought suit in Circuit Court against Nancy's heirs to obtain permission to sell the necessary land.
And in December 1893, the 80 acres Phelps had purchased from Bridges was auctioned with George Thomas Bailey and his son George Albert Bailey being the high bidders at $425. The Baileys held onto the tract for about five years before selling off small pieces of it in 1898 to Robert Wethers (10 acres), Richard Harris (12 acres), and Thomas Borax (10 acres). The next year they sold 12 acres to Rufus and Harry Stoner, thus completing the sale of a bit more than half of the northern part of this tract.
It appears that by 1905 the remaining land was deeded over to Clara Bailey, George Albert's wife; and she would hold on to it for many years, allowing the forest to grow and prosper.
Then in the late 1920's, the Louisville Girl Scout Council began looking for a campground to own. They had been renting a site called Happy Hollow near Prospect, but decided not to buy it because there was little room there for expansion. Then in 1927, while searching for a site, they discovered this location just off Preston Highway in Bullitt County.
It would later be described as one of the most beautiful in the surrounding country. A rim of small cliffs outlined a horseshoe bend of land that sloped down to Cedar Creek. There were four springs along the forested slope, and two natural swimming holes in the creek.
The council leased the land for the summer of 1929, with clear plans to purchase it later, as a main lodge and a few other buildings were already in the works. Fund raising began in earnest, including sales of homemade cookies (what else!), and on April 29, 1920 a deed was signed conveying the land from Clara Bailey to the Girl Scout Council.
Additionally they purchased about 28 acres from Hal Palmer Hedges that adjoined the Bailey tract to the southwest, and also included a 20 foot right of way down to Bell's Mill Road; giving the new camp access that way. You can see the right of way road on the topographic map shown above.
A decade later, in 1940, the Council purchased an additional 11 acres from Addie Norton, D. F. Norton's widow. This land adjoined Cedar Creek along the camp's southern boundary, and gave the camp full access to the creek banks on both sides, and additional hiking and camping space.
And thus began Camp Shantituck which has welcomed thousands of young ladies to an outdoor adventure over the years. For the rest of the story I commend you to Becky Sharp to whom I'm grateful for helping with this story.
---
Copyright 2023 by Charles Hartley, Shepherdsville KY. All rights are reserved. No part of the content of this page may be included in any format in any place without the written permission of the copyright holder.
---