Christian Barclay - A Venerable Lady
The following article by Charles Hartley was published on 7 June 2015. It is archived here for your reading enjoyment.
---
I recently came across a newspaper article, printed first in a December 1867 issue of the old Louisville Courier, and then reprinted in the Cincinnati Enquirer a week later. The headline read, "Death of a Venerable Lady in Bullitt County." Its four short paragraphs are printed below.
"We were informed yesterday, by Captain Quint, of the death of a lady in Bullitt County, near Mt. Washington, last week, who had reached the extraordinary age of one hundred and three years, lacking only a couple of months. The lady was Mrs. Christian Barclay, consort [wife] of the late William Barclay, and she was buried at Mt. Washington on the 7th instant.
"Mrs. Barclay was born February 11, 1765, in Philadelphia, Pennsylvania, and removed from there to Shenandoah County, Virginia, while a child. She lived there until 1816, when she moved to Bullitt County, in this state, where she resided until her death. She has left five living children, Mrs. Polly Foley, the youngest, being now sixty-one years of age.
"Mrs. Barclay had been a devoted Catholic from early life, and was noted for the purity and excellence of her character and her exalted virtues. For many years her birthday has been celebrated by a dinner party, and on her hundredth anniversary she yielded to the wishes of the company by engaging in a dance. Her intellect was bright and clear to the last, and she was an active and stirring woman until the last year or two. Her health for several months has been feeble, but the illness which resulted in her death lasted only a few days.
"Mrs. Barclay once dined with General Washington, and she often referred to this fact with pride. During the late war the South had her earnest sympathies, and she frequently expressed the hope that the 'Government of Washington' might triumph."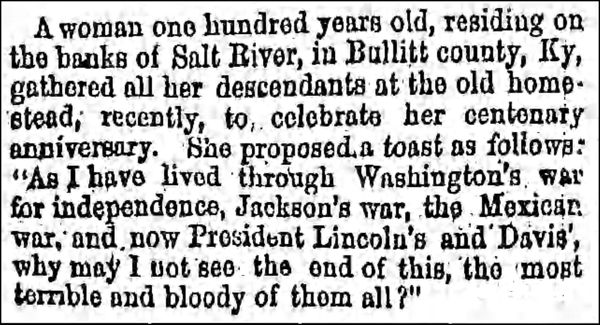 Looking further, I found the newspaper clipping from the Brooklyn Daily Eagle shown here. Printed on March 13, 1865, it was obviously about Mrs. Barclay as well, noting the celebration of her 100th birthday. It was also clear that she was a lady who paid attention to her nation's affairs.
Intrigued by this lady and her family, I set out to learn more about them.
When William and Christian Barclay left Shenandoah County in 1816, they brought with them a family that included three sons and three daughters. The eldest was Elizabeth who would have been approaching her 18th birthday. Then there were Nancy (13), John (12), William (11), Mary (9), and David (2). It appears that William Sr. was a miller by trade.
I wondered why they would uproot their family and move to this area, and I think the answer might lie with their religious beliefs. As noted, they were of the Catholic faith, and it appears that there were few of that faith living in Shenandoah County, with no regular church of their own. When they arrived in the Mt. Washington area, they were not far from a major center of that faith, located in Bardstown, and reasonably close to the new St. John's Catholic Chapel recently constructed by Joseph Aud. We know with certainty that William Sr. and his son David are both buried in the cemetery adjoining that chapel.
Of their daughters, Mary Barclay married first to Thomas Hardman in 1828, and they had three children: William, Jane, and Thomas, before Thomas Sr. died in 1841. Mary later married an Irishman, James Foley in 1858. Nancy Barclay married Samuel Smyth in 1842, but he died before 1860, and they had no children. Elizabeth appears to have never married.
David Barclay, who was a blacksmith, married Susan Hardman in 1839, and they had three sons: John, David, and William. Susan was left a widow when David died in 1858. The 1860 census listed her as a tollgate keeper. David's brother, John married Elizabeth Thompson in 1844. They had a son Arthur and a daughter Mary. William Barclay, Christian's third son, apparently never married.
There may have been a fourth son named Thomas P. Barclay. This Thomas married Mary Ann Hardman in 1846 in Bullitt County. The 1850 census shows them living next to David and Susan Barclay, and not far from William and his mother Christian. However, Thomas appears to have been born about 1822, when Christian would have been 57. Thomas and Mary Ann had three children, before he died in Morgan County, Illinois in 1851.
I'm unable to say what became of these Barclay families, but by 1900 none remained in either Bullitt or Nelson Counties. Still, thinking back to her 100th birthday party, I picture Christian Barclay as a wise and insightful lady whose interest in her country's well-being was truly remarkable.
---
Copyright 2015 by Charles Hartley, Shepherdsville KY. All rights are reserved. No part of the content of this page may be included in any format in any place without the written permission of the copyright holder.
---