Shepherdsville High School 1929 Annual Staff
The following article by Charles Hartley originally appeared in The Courier-Journal on 13 Jul 2014. It is archived here with additional information for your reading enjoyment.
---
Nineteen Twenty-Nine was an eventful year, beginning when Roy Riegels ran sixty yards with a Rose Bowl fumble, the wrong way. It was also the year that Mother Teresa arrived in Calcutta to begin her work there; and the year that the White House got its first telephone. In July, the United States issued newer, smaller-sized paper currency, perhaps an omen of what would come in October when the stock market crashed, bringing on the Great Depression, the event most of us associate with that year.
Meanwhile, at the high school in Shepherdsville, twenty-seven seniors were approaching graduation day. Led by their "friend and instructor" J. H. Sanders, they were proud of what they had accomplished.
Professor Sanders was in his seventeenth year at the school, and it would be his last. During those years he had worked hard to make the school better and better, and this group of seniors were the grateful recipients of all his efforts. Their school building was larger and more modern, with a nice gymnasium. The school boasted of a talented orchestra led by Professor Sanders and his wife. And both the boys' and girls' basketball teams were proud of their records.
But there was one more thing that was special about this year's senior class. Early in the school year, they decided to publish a school annual, something that had never been done before at the school. Eight seniors volunteered to form an annual staff, and with the guidance of Mrs. Sanders, they went to work.
These eight seniors, pictured here, did a remarkably fine job. As I viewed their annual, I wondered what they did after graduation. As we know now, the following fall would bring serious economic challenges that they could not have anticipated as they posed for this picture. Here is what I have learned about them so far.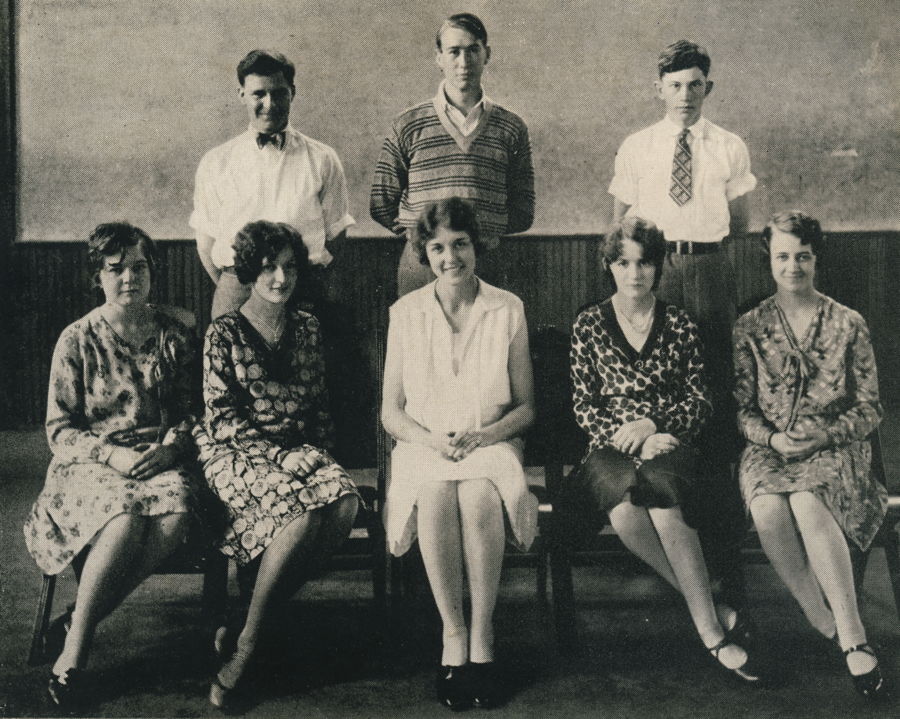 Seated (l-r): Bertie Lee Grant, Anna Lee Hill, Imogene Embry, Lois Sanders, Christine Kerr;
standing (l/r): Walter Crumbacker, J. W. Bradbury, Tommy Wilson.
Pictured seated on the left is Bertie Lee Grant, daughter of William and Minnie (Hays) Grant. According to the annual, Bertie's motto was "Laugh and the world laughs with you." She surely made Paul Lester Owen smile; he married her at Little Flock several years later.
Seated next to Bertie is Anna Lee Hill, the class valedictorian. Chester and Nora (Lee) Hill were certainly proud of their daughter who was also in the art club, and the orchestra where she played the banjo. Sometime after graduation, Anna married James Harvey Jeffries.
Next is Imogene Embry who was the editor-in-chief of the annual. She also played basketball and played the flute in the orchestra. A daughter of Dr. D. M. Embry of Jefferson County, Imogene married Joseph E. Chappell, Jr. the following November. The 1940 census shows both of them as teachers in Jefferson County.
Continuing down the line we come to Professor Sander's daughter Lois, a bundle of energy on the basketball court where she was the team's leading scorer, as well as in the orchestra, the art club, the glee club, and more. Lois married Kenneth Lam, and according to the 1940 census, they were both teaching in Jefferson County.
Christine Kerr occupies the last seat. She was the daughter of Dr. Roscoe Kerr who opened the first drug store in Shepherdsville. Later, she married Donald Cawthorne. He was a life insurance salesman, and she taught school.
The three young men are Walter Crumbacker, J. W. Bradbury, and Tommy Wilson. Walter became a farmer, married Elizabeth Ferring, and lived a long life of 99 years. John William Bradbury, son of Judge Bradbury, was a good athlete in both basketball and baseball. He became a doctor in Hodgenville and later in Texas. Tommy Wilson, who was class president for three years, became a bank teller, and then spent a decade as the County Clerk.
These eight demonstrated the promise made possible in a school accredited a Class "A" school by the State Department of Education two years in a row, in large part due to the quality of their teachers and the enthusiasm of their community. That was a good recipe for success, and always will be.
We have placed this remarkable annual on the Bullitt County History Museum web site, so everyone can see what a nice job they did. Take a look and see if you don't agree.
---
Copyright 2014 by Charles Hartley, Shepherdsville KY. All rights are reserved. No part of the content of this page may be included in any format in any place without the written permission of the copyright holder.
---