IN MEMORIAM
A new "In Memoriam" plaque was dedicated at the Bullitt County Courthouse on Memorial Day 2020. Comments provided by David Strange are given beneath the pictures below.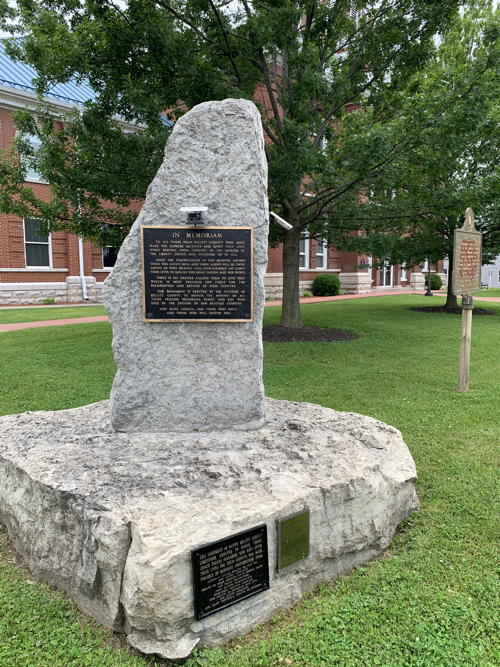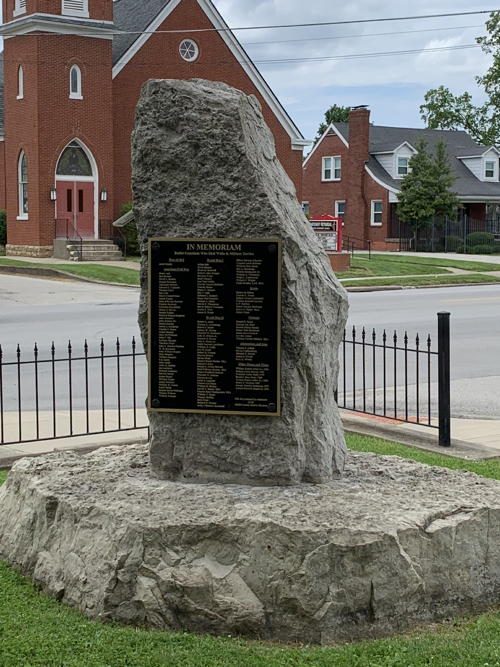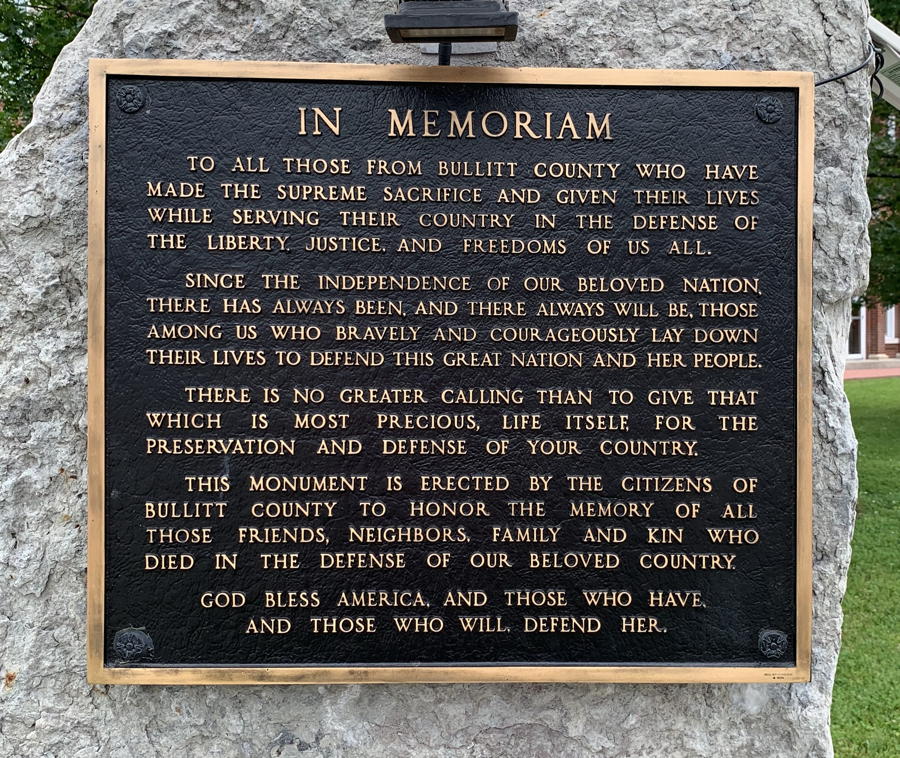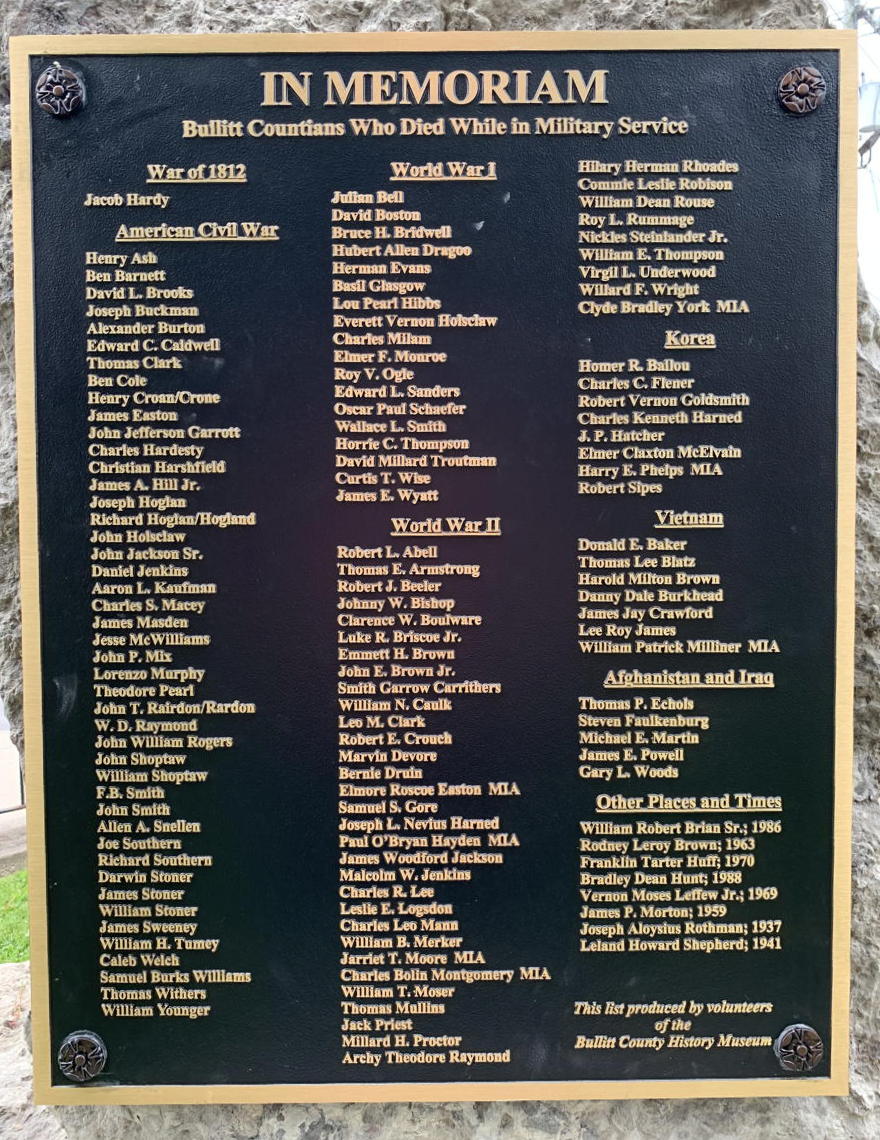 Here are comments shared by David Strange, as taken from his Facebook posting.
---
After many years of research and development, we were happy to unveil this plaque this Memorial Day on the front lawn of the Bullitt County Courthouse. We originally planned the ceremony to have a huge crowd, but plans changed with these new days of coronavirus safety restrictions, causing us to not be able to announce the ceremony for everyone. We were very sad about that, because I'm sure many more would have liked to have been there. But we got it done, and the plaque is there for visitation.
The making of this plaque has been a personal goal of mine for about fifteen years. I'll have more photos later. It will also be on WAVE-3 news tonight, on local cable news, and in the Pioneer News newspaper.
Air Force Lieutenant Commander (retired) Tom Elbert gave the opening prayer; Command Sergeant-Major Michael Preston sung the National Anthem. Judge/Exec Jerry Summers gave an opening speech, followed by an unveiling and a telling about the plaque by David Strange, a closing prayer by Air Force Senior Airman and church pastor Rob Beckett and "Taps" played by Adam Dustin.
Here is the speech of David Strange giving credit and history:
"This is something I've been looking to do for fifteen years, ever since we started the Bullitt County History Museum and I noticed this monument with its fine but general 'In Memoriam' plaque on the other side. I wondered just who those people were that we were remembering.
And now, thanks to many people, here they are!
My heart-filled appreciation goes to:
Judge/Executive Jerry Summers and the members of Fiscal Court, who allowed this plaque to be placed here and were instantly supportive of it.
Judy Richardson and the volunteers of the Bullitt County History Museum, who have worked for most of those years finding and researching these individuals. Until the museum and its volunteers, there WAS no list of these men and probably couldn't have been one. But they dug and researched and listened and learned, picking up one, and then another and finding out about them. In recent years, Judy took the lead on this work. There is no doubt some error on this list; but the research has been painstaking and heart-felt. I have seen Judy several times nearly broken down in tears as she told the sad tale of one of these soldiers and their death.
I thank Dale Mulhall, owner of Amazing Signs and a member of North Bullitt Lions Club, who helped me through the process of designing and ordering this bronze plaque, and generously got it made for half the cost that it would normally cost.
And then there's my Mt. Washington Lions Club (Vests). When I reported to them that I was working on this project and would probably just pay the $2800 cost myself, they almost instantly said "No! We will pay for it." And they did; and they did so without any request for recognition, knowing all recognition should be focused on the names on this list.
I thank Boy Scout Leader James Poyner of Troop 868 and those who helped him mount this heavy thing! I think the shipping crate said 200 pounds! He and his troop are also the ones who recently removed, restored, and remounted the plaques on the other side of this stone.
I thank Robert Woodson, who has joined us today in his WWI gear and his Willis Jeep, as a physical reminder of those gone on before.
I thank you for being here today.
And most importantly I am thankful for the men on this list, and for any unknown soldier who, despite our best efforts, we might have failed to find in the records but deserves to be among these here.
This plaque faces the Courthouse for a reason; that each time anyone looks out these windows or comes through the doors, that they and all who pass along this walk will be reminded of the individual sacrifices of the past.
And quite a past is represented in this plaque.
It begins with Jacob Hardy in the War of 1812 (you will recognize that family name still prominent today in our county). But you might wonder why there is no one from the Revolutionary War. That is because, basically, there was as yet no one here in 1776, except for the occasional Native American hunting party and the rare 'Long Hunter' from Virginia, or the first survey parties beginning to search out the wilderness.
And quite a wilderness it was! Where we stand, instead of Buckman Street here, there would have been a rough path where herds of Bison traveled as they forded the Salt River just up there and migrated toward what is today Louisville and the Falls of the Ohio.
One of our biggest fears of error comes with Jacob Hardy. There were thousands of Kentucky settlers by 1812 and many died in that war. We really suspect there are more names that should be added on this plaque for that war, but we could verify no more.
On the other end of this list is Joseph Aloysius Rothman, who died not during one of our major conflicts but in a military hospital after a conflict with Nicaragua in 37, having served heroically in the Navy since 1920. He had been awarded numerous medals, including for meritorious conduct when a plane caught fire on his ship and at grave risk to himself dove into the fire and put it out. Rothman and his wife owned a farm in Bullitt County and he planned to retire here, but alas his widow came home alone.
There was Leland Howard Shepherd, (another well-known family name) who died just before WWII in a truck fire while on maneuvers.
Speaking of WWII, there are forty Bullitt Countians who died in that war. One was Hilary Herman Rhoades, who died in The Battle of the Bulge. And Robert Crouch, who died in a plane crash (the same plane that was carrying actress Carrol Lombard).
And William Dean Rouse, who died while driving his tank onto the beach during the landing on Okinawa. Bill Dean Rouse is a special one to me because I have written a lot about his story.
On this list is Elmer Claxton McElvain whose body was escorted home from Vietnam by his father, who was serving at the same time in that war.
Listed here is William Patrick Milliner, who since his loss in the Vietnam war was never found, and many of us know how his father, Joe Milliner, grieved so heavily and so long, and became a strong force pressing all to remember MIAs. Some might not know that Patrick's father had also been MIA during WWII, and a POW as well.
You will notice more than one MIA on this list. There are seven. Each loss without closure for their families. My thanks goes to Charlie Johnson, of the Army Casualty Office, for his help with that.
One more example of those is Paul O'Bryan Hayden. You might know that a grave marker is located at the Lebanon Junction Cemetery. But he is not there, nor at another stone with his name at a family cemetery in another county. He and the entire crew of his submarine, the USS Kete, disappeared on or about 20 March 1945 as it headed toward Midway Island and was never heard from again.
We lost seven good men in Vietnam, and five in the more recent wars in Afghanistan and Iraq.
There is a total of 132 individual losses, 132 individual sacrifices; 132 individual stories listed on this plaque.
I have only mentioned a very few today. Perhaps more will be told in future years.
I suppose we all know that some day more names will be added to this list. We all hope and pray that day is a long time coming.
May it be that each one listed here, along with the families left behind, is blessed by a loving God."