Directions to the Bullitt County History Museum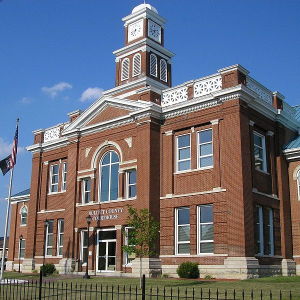 From Interstate-65, exit the interstate and turn west onto State Highway 44 toward downtown Shepherdsville. You will pass two traffic lights before coming to the railroad track. Pass over the tracks and at the next traffic light, turn left onto Buckman Street. Go one block to Third Street and turn left. Third Street separates the Court House on the right from the Baptist Church on the left. The Judicial Center will be directly in front of you. Parking is generally available next to the Court House. If no parking is available there, turn right onto Frank E. Simon Ave (behind the Court House) and look for parking nearby.
The Museum is located in the front of the Court House. As you enter the front door, museum display rooms are available to the left and right. Continue in either direction to the wide staircase which takes you to the second floor where you will find our research room, just at the top of the stairs on the left.
For your convenience, there is also an elevator available from the main floor to the second level where you will find a short staircase to the museum level. The research room is on the right if you use this staircase.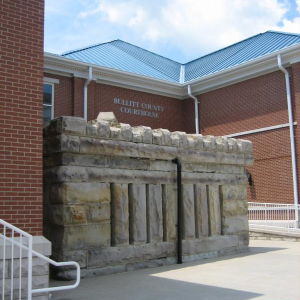 Handicap access is available from the rear of the Courthouse at the entrance next to the Old Jail (shown to the right). Our research room is completely accessable via the main elevator and a wheelchair lift from the second floor of the main building to the museum level.
Doing research in Bullitt County is convenient with the museum, government buildings, and the library all within walking distance of one another.
Below is an satellite image insert from Google showing the location of the History Museum in the Bullitt County Courthouse (A), the Judicial Center where the Circuit Clerk's office is located (B), the County Clerk's Office where deeds and marriage records are found (C), and the Ridgway Library which contains an excellent genealogy room (D). You can use the arrows in the upper left corner to move the image, or use the plus and minus signs to zoom in or out. You may also put the cursor on the map and drag the image to where you want it.
Clicking on the word "Satellite" in drop-down menu in the upper right corner of the image will convert it to a satellite image.