1937 Lebanon Junction High School Annual - Page 14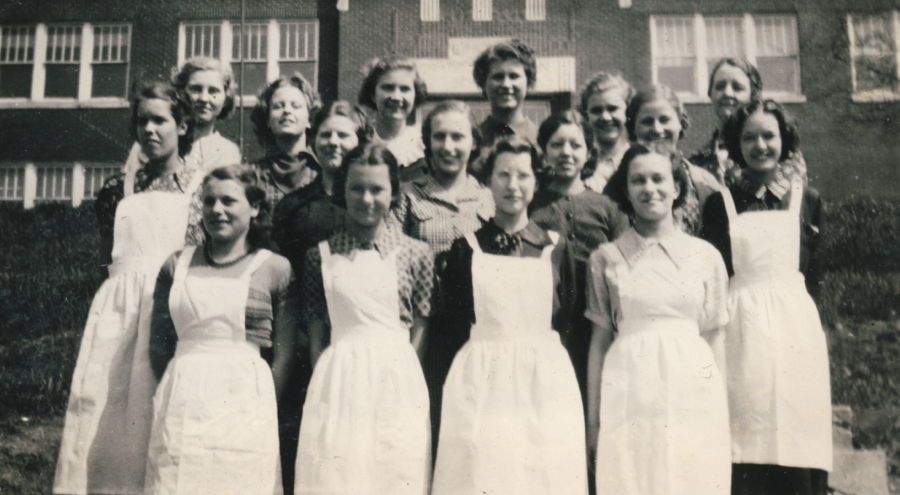 Teacher - Miss Magdalene Jameson
Jeannette Booth, Mildred Clark, Helen Dee Easton, Mary Ethel Hayden, Minnie Pearl Hoagland, Mary Grace Huffman, Laverne Lee, Dorothy Magruder, Mary Jewell Mann, Lillian Masden, Katherine Clark, Helen McHargue, Alberta Mann, Virginia Masden, Anna Perkins, Louise VanVactor
Members of Home Economics Department who have moved away, married, or were forced to withdraw because of the flood:
Nola Jean Brian, Louise Jackson, Dorothy Parker, Mary Roberts Ferriell, Helen Abell , Anna Mary Bowman, Mary Jettie French, Gladys Carter, Ophelia Masden, Jane Clark
Home making is the oldest, best known, and most inclusive profession the world has ever known. Accepting this as a truth, it is the aim of Home Economics departments to train girls for home making. Civilization now demands that the home-maker take her place with other specialized arts since her influence is felt throughout the world.
We are all aware of the fact that there are too many broken homes. Perhaps this can be attributed to unpreparedness for home-making. Through courses in Home Economics it is possible for the girl to train herself intelligently, to meet such problems that arise in character building, child care, home management, home care of the sick, clothing selection and construction, food preservation, meal planning and preparation.
All the topics mentioned have been taught in our department this year. The girls contributed much to the class discussions through home experiences and reading material. It has been possible for the department to add a number of modern Home Economic reference books.
If a girl never accepts home-making as her life's work, training through Home Economics is never lost. She always has an individual problem of feeding and clothing her body. Also, she must meet the public, budget her earnings, plan her leisure time and develop such traits that make her a lovable character.
"Home is a domesic sanctuary - wrought out of desire - built into memory - where kindred bonds unite the family in sharing hours, labor, leisure, joy and sorrow."
---
Page Image Below