Stockade at Belmont
This historical marker marks the location of the stockade at Belmont on the L & N railroad at Shepherdsville.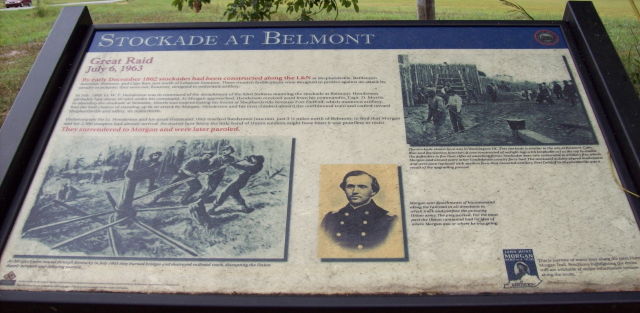 By early December 1862 stockades had been constructed along the L&N at Shepherdsville, Bardstown Junction, Belmont, and Cain Run, just north of Lebanon Junction. These wooden fortifications were designed to protect against an attack by cavalry or infantry; they were not, however, designed to withstand artillery.
In July, 1863, Lt. W. F. Henderson was in command of the detachment of the 63rd Indiana manning the stockade at Belmont. Henderson probably had about 30 men under his command. As Morgan approached, Henderson received word from his commander, Capt. D. Morris, to abandon the stockade at Belmont. Morris was concentrating his forces at Shepherdsville because Fort DeWolf, which mounted artillery, had the best chance of standing up to an attack by Morgan. Henderson and his men climbed aboard the northbound train and rattled toward Shepherdsville and safety, six miles north.
Unfortunately for Lt. Henderson and his small command, they reached Bardstown Junction, just 3 1/2 miles north of Belmont to find that Morgan and his 2,500 troopers had already arrived. No matter how brave the little band of Union soldiers might have been it was pointless to resist.
They surrendered to Morgan and were later paroled.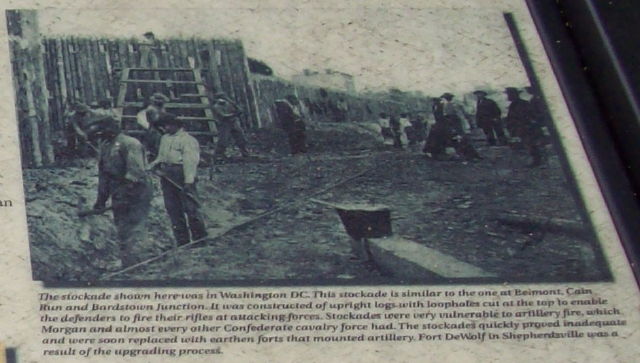 The stockade shown here was in Washington DC. This stockade is similar to the one at Belmont, Cain Run and Bardstown Junction. It was constructed of upright logs with loopholes cut at the top to enable the defenders to fire their rifles at attacking forces. Stockades were very vulnerable to artillery fire, which Morgan and almost every other Confederate cavalry force had. The stockades quickly proved inadequate and were soon replaced with earthen forts that mounted artillery. Fort DeWolf in Shepherdsville was a result of the upgrading process.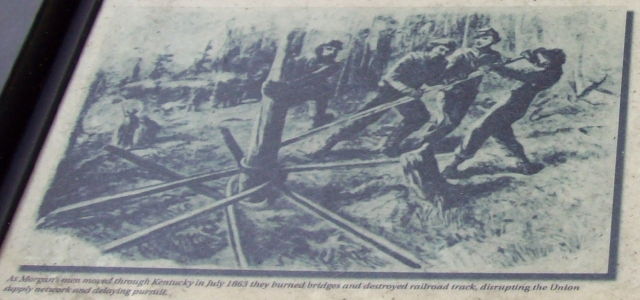 As Morgan's men moved through Kentucky in July 1863 they burned bridges and destroyed railroad track, disrupting the Union supply network and delaying pursuit.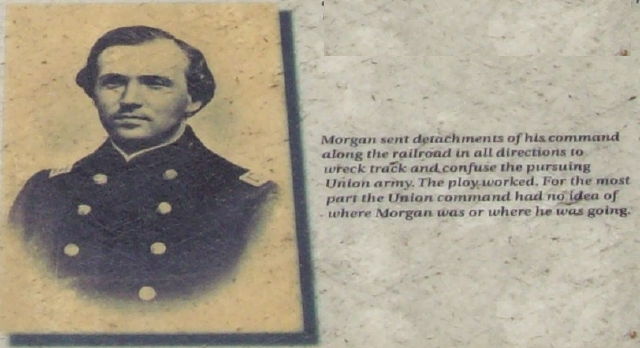 Morgan sent detachments of his command along the railroad in all directions to wreck track and confuse the pursuing Union army. The ploy worked. For the most part the Union command had no idea of where Morgan was or where he was going.
---
Below is an image insert from Google showing the location of this Bullitt County historical marker. You can use the arrows in the upper left corner to move the image, or use the plus and minus signs to zoom in or out. You may also put the cursor on the map and drag the image to where you want it.