L & N Bridge in Civil War
This historical marker marks the location of the railroad bridge over Salt River at Shepherdsville which was repeatedly attacked during the Civil War.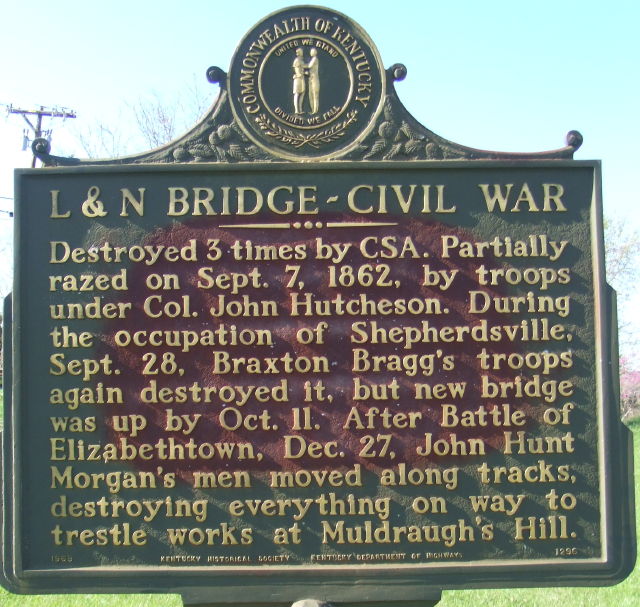 Description: Destroyed three times by CSA. Partially razed on Sept. 7, 1862, by troops under Col. John Hutcheson. During the occupation of Shepherdsville, Sept. 28, Braxton Bragg's troops again destroyed it, but new bridge was up by Oct. 11. After Battle of Elizabethtown, Dec. 27, John Hunt Morgan's men moved along tracks, destroying everything on way to trestle works at Muldraugh's Hill.
---
Actually, the bridge was never completely destroyed, only damaged. Each time the raiders did not have the ability to destroy the iron bridge (others they had encountered before were wooden and could be burned). The attackers could only burn the ties and tear up the tracks. Union soldiers would quickly come down and chase away the raiders and soon repair the bridge. On the third attempt, in September 1862, the Confederate officer had strong orders to not leave town until the bridge was destroyed. He wrote urgent messages back to his general requesting "special drills and powder" to effect the orders. With Union troops approaching in large numbers, both officer and General decided to report the bridge destroyed so they could retreat. And so they did, eventually retreating all the way to what became the battle of Perryville.
---
Below is an image insert from Google showing the location of this Bullitt County historical marker. You can use the arrows in the upper left corner to move the image, or use the plus and minus signs to zoom in or out. You may also put the cursor on the map and drag the image to where you want it.