Fort DeWolf
This historical marker marks the location of Fort DeWolf on the L & N railroad at Shepherdsville.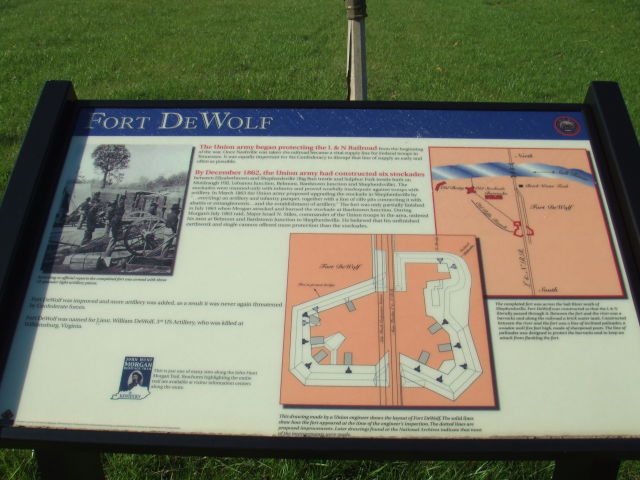 The Union army begain protecting the L & N Railroad from the beginning of the war. Once Nashville was taken the railroad became a vital supply line for Federal troops in Tennessee. It was equally important for the Confederacy to disrupt that line of supply as early and often as possible.
By December 1862, the Union army had constructed six stockades between Elizabethtown and Shepherdsville (Big Run trestle and Sulphur Fork trestle both on Muldraugh Hill, Lebanon Junction, Belmont, Bardstown Junction and Shepherdsville). The stockades were manned only with infantry and proved woefully inadequate against troops with artillery. In March 1863 the Union army proposed upgrading the stockade in Shepherdsville by "... erect[ing] an artillery and infantry parapet, together with a line of rifle pits connecting it with abattis or entanglements ... and the establishment of artillery." The fort was only partially finished in July 1863 when Morgan attacked and burned the stockade at Bardstown Junction. During Morgan's July 1863 raid, Major Israel N. Stiles, commander of the Union troops in the area, ordered his men at Belmont and Bardstown Junction to Shepherdsville. He believed that his unfinished earthwork and single cannon offered more protection than the stockades.
Fort DeWolf was improved and more artillery was added, as a result it was never again threatened by Confederate forces.
Fort DeWolf was named for Lieut. William DeWolf, 3rd US Artillery, who was killed at Williamsburg, Virginia.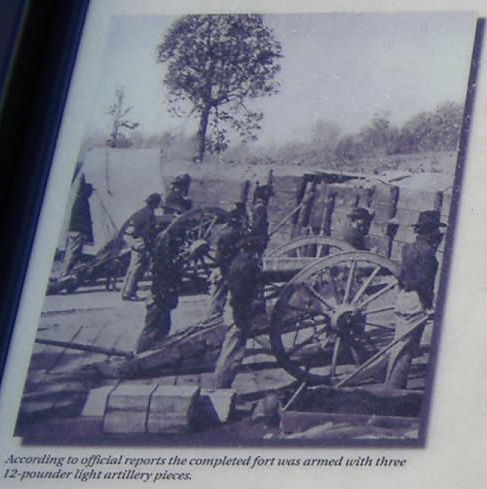 According to official reports the completed fort was armed with three 12-pounder light artillery pieces.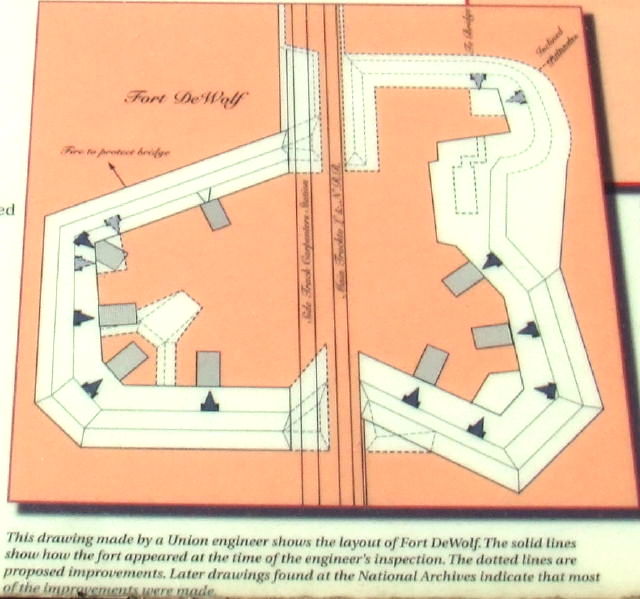 This drawing made by a Union engineer shows the layout of Fort DeWolf. The solid lines show how the fort appeared at the time of the engineer's inspection. the dotted lines are proposed improvements. Later drawings found at the National Archives indicate that most of the improvements were made.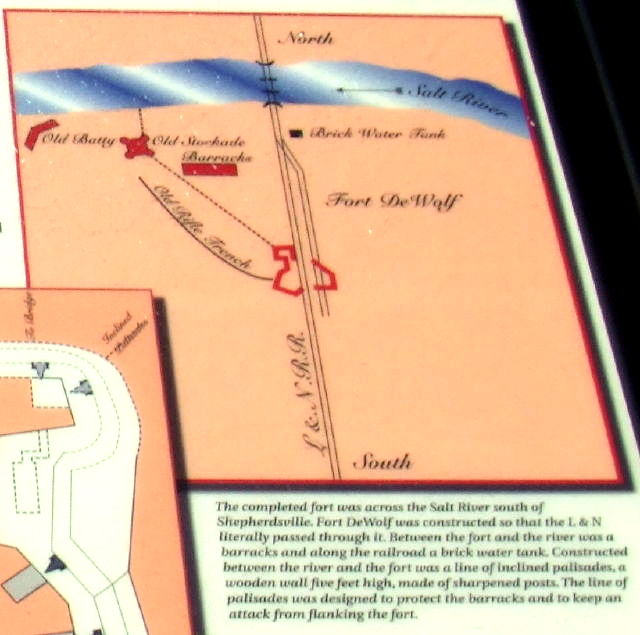 The completed fort was across the Salt River south of Shepherdsville. Fort DeWolf was constructed so that the L & N literally passed through it. Between the fort and the river was a barracks and along the railroad a brick water tank. Constructed between the river and the fort was a line of inclined pallisades, a wooden wall five feet high, made of sharpened posts. The line of palisades was designed to protect the barracks and to keep an attack from flanking the fort.
---
Below is an image insert from Google showing the location of this Bullitt County historical marker. You can use the arrows in the upper left corner to move the image, or use the plus and minus signs to zoom in or out. You may also put the cursor on the map and drag the image to where you want it.