Christmas Raid
This historical marker describes Morgan's Christmas raid on December 29-30, 1862.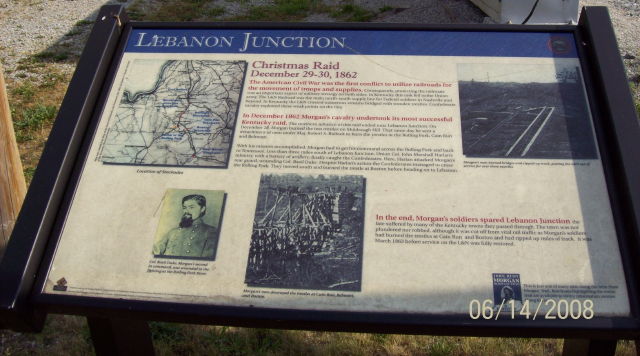 The American Civil War was the first conflict to utilize railroads for the movement of troops and supplies. Consequently, protecting the railroads was an important aspect of military strategy on both sides. In Kentucky this task fell to the Union army. The L & N Railroad was the main north-south supply line for Federal soldiers in Nashville and beyond. In Kentucky the L & N crossed numerous streams bridged with wooden trestles. Confederate cavalry exploited these weak points on the line.
In December 1862 Morgan's cavalry undertook its most successful Kentucky raid. The northern advance of this raid ended near Lebanon Junction. On December 28, Morgan burned the two trestles on Muldraugh Hill. That same day he sent a detachment of men under Maj. Robert S. Bullock to burn the trestles at the Rolling Fork, Cain Run and Belmont.
With his mission accomplished, Morgan had to get his command across the Rolling Fork and back to Tennessee. Less than three miles south of Lebanon Junction, Union Col. John Marshall Harlan's infantry, with a battery of artillery, finally caught the Confederates. Here, Harlan attacked Morgan's rear guard, wounding Col. Basil Duke. Despite Harlan's action the Confederates managed to cross the Rolling Fork. They moved south and burned the trestle at Boston before heading on to Lebanon.
In the end, Morgan's soldiers spared Lebanon Junction the fate suffered by many of the Kentucky towns they passed through. The town was not plundered nor robbed, although it was cut off from vital rail traffic as Morgan's soldiers had burned the trestles at Cain Run and Boston and had ripped up miles of track. It was March 1863 before service on the L & N was fully restored.
Close Ups of the Marker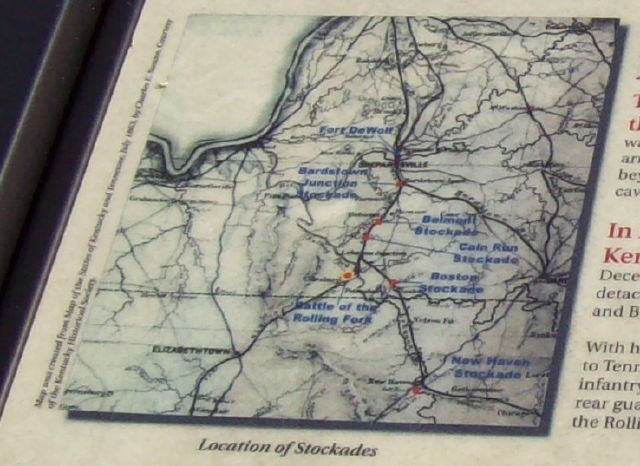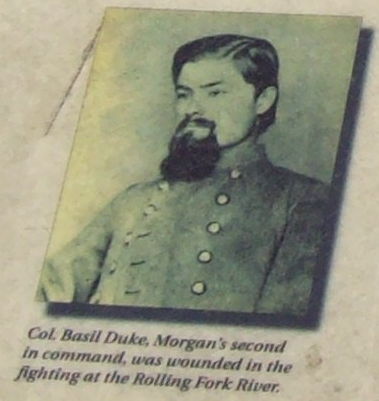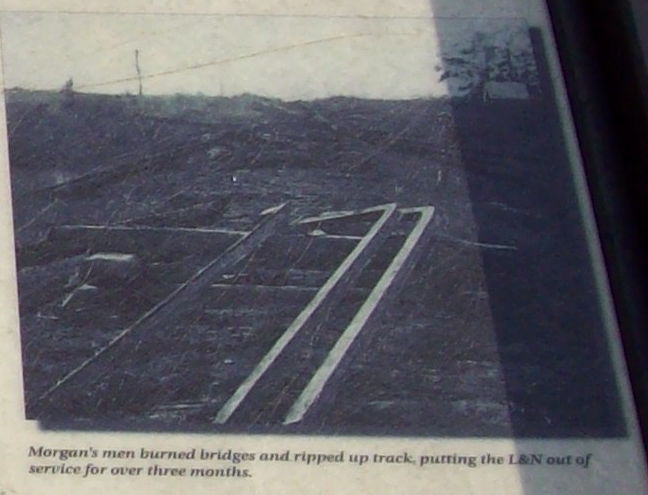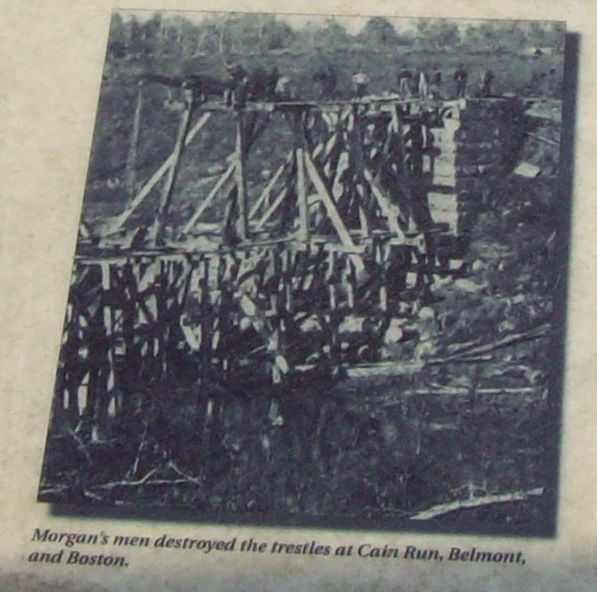 ---
Below is an image insert from Google showing the location of this Bullitt County historical marker in Lebanon Junction near the railroad. You can use the arrows in the upper left corner to move the image, or use the plus and minus signs to zoom in or out. You may also put the cursor on the map and drag the image to where you want it.