Brashear's Station
This historical marker describes Brashear's Station. It is located in Shepherdsville near the Floyds Fork bridge over Highway 44E. The marker is shown below, and beneath it is a transcription of its contents.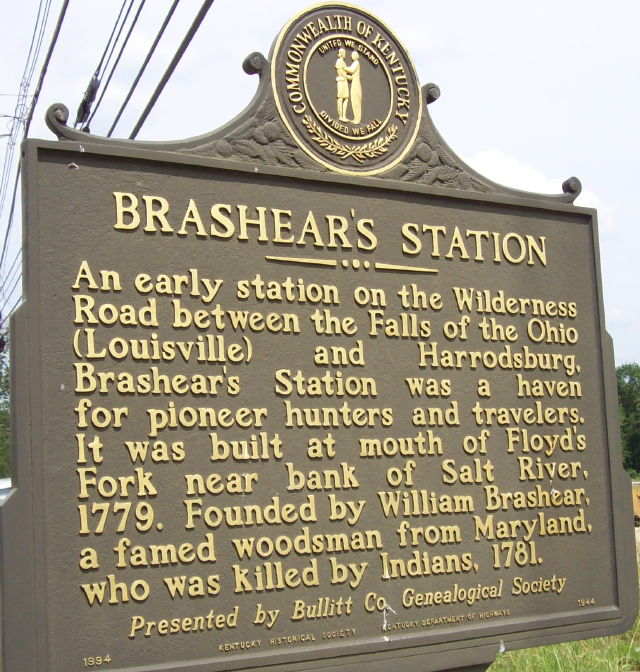 Description: An early station on the Wilderness Road between the Falls of the Ohio (Louisville) and Harrodsburg, Brashear's Station was a haven for pioneer hunters and travelers. It was built at mouth of Floyd's Fork near bank of Salt River, 1779. Founded by William Brashear, a famed woodsman from Maryland, who was killed by Indians, 1781. Presented by Bullitt Co. Genealogical Society.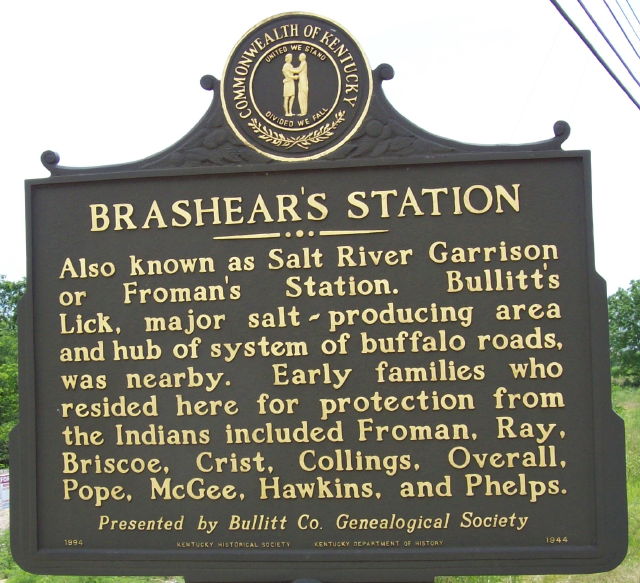 (Reverse) Brashear's Station - Also known as Salt River Garrison or Froman's Station. Bullitt's Lick, major salt-producing area and hub of system of buffalo roads, was nearby. Early families who resided here for protection from the Indians included Froman, Ray, Briscoe, Crist, Collings, Overall, Pope, McGee, Hawkins, and Phelps. Presented by Bullitt Co. Genealogical Society.
---
Below is an image insert from Google showing the location of this Bullitt County historical marker. You can use the arrows in the upper left corner to move the image, or use the plus and minus signs to zoom in or out. You may also put the cursor on the map and drag the image to where you want it.