John and Clara Newman Family
In The People of the Wreck, the second booklet written about the December 20, 1917 train wreck in Shepherdsville, we find a mention of Lizzie Marion Newman who married Ben Chapeze. [See more information about this book here.]
Lizzie Marion Newman was a daughter of John and Clara Newman, who emigrated to the United States in 1882. John Newman had been a successful tailor in England, and continued his trade after arriving in Bullitt County. We find John and his family in the 1881 England census, located in Hastings St. Mary in the Castle Civil Parish in Sussex County, living at 10 Belgrave Terrace. In this census record, John Newman is 33, a master tailor employing seven men. His birthplace is given as St. Mary De Crypt, Gloucestershire. John's wife, Clara, is 29, born in Cheltenham, Gloucestershire.
In that census record, John and Clara have four children: Fred, age 4; Lizzie M., age 5, Clara A., age 2, and Joshua M., age 1. Fred and Lizzie were born in Holy Trinity, Gloucestershire; young Clara and the baby Joshua were born in St. Mary, Gloucestershire.
The first United States census in which the family appears is in 1900, as transcribed below:
1900 Federal Census: Kentucky, Bullitt County, page 7B, household 136/139
Newman, John - head, W M 50, md27yrs, born Aug 1849 in England, parents born England, tailor
Newman, Clara - wife, F W 48, 8 children/all living, born Apr 1852 in England, parents born England
Newman, Fred J. - son, M W 26, single, born Feb 1874 in England, lawyer
Newman, Lizzie M. - daughter, F W 24, single, born Feb 1876 in England
Newman, Amy C. - daughter, F W 22, single, born Apr 1878 in England
Newman, Gilbert G. - son, M W 18, single, born Jan 1882 in England, farm laborer
Newman, Arthur - son, M W 16, born May 1884 in KY, farm laborer
Newman, Harold S. - son, M W 11, born Sep 1888 in KY, farm laborer
Newman, Ethel - daughter, F W 8, born Mar 1892 in KY
John Newman's Kentucky death certificate (#28425, see below) indicates that he was born on 22 Jun 1847 so the 1900 census is incorrect in that respect. He died on 22 Dec 1925. His death certificate indicates that his father was Frederick Newman and his mother's maiden name was Morgan. Since we have the 1851 census (see below) showing that Frederick's wife was Sarah, she was apparently Sarah Morgan.
According to her death certificate (#2970, see below), Clara Hughes Newman was born 21 Apr 1851 in Cheltenham to William and Ann (Gregory) Hughes. She died on 14 Feb 1922 in Bullitt County.
We find young John Newman with his parents in 1851, living in St Mary de Crypt in Gloucestershire. His father, Frederick C. Newman, age 36, was woolen draper who was born in Bromyard, Herefordshire. His mother, Sarah, age 36, was born in Garway, Herefordshire. John's siblings included Ann (8), Mary (6), and George (8 months). All of the children were born in St. Mary de Crypt.
According to a Newman family member, Lizzie Marion Newman Chapeze died on 30 Mar 1903. We also know that her sister, Clara Amy Newman, died on 20 Feb 1914 of pulmonary tuberculosis. (See her death certificate here. Use your BACK button to return here.)
---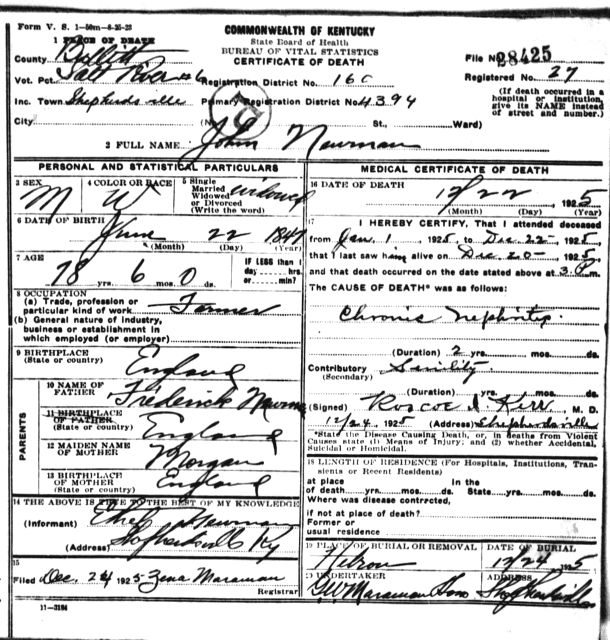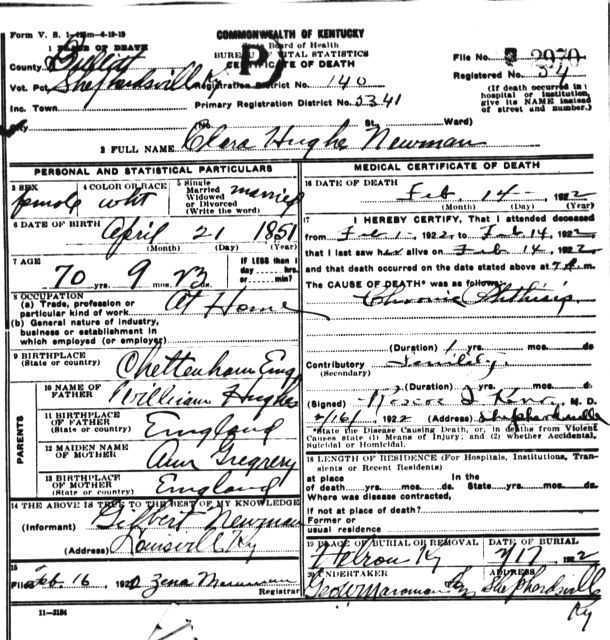 ---
If you, the reader, have an interest in any particular part of our county history, and wish to contribute to this effort, use the form on our Contact Us page to send us your comments about this, or any Bullitt County History page. We welcome your comments and suggestions. If you feel that we have misspoken at any point, please feel free to point this out to us.