Eliza Craven's Family
The following article is excerpted from The Train Wreck, Shepherdsville, Kentucky, December 20, 1917 which is available from the History Museum [see more info].
It is about the family of Eliza Craven, one of the victims in the train wreck.
---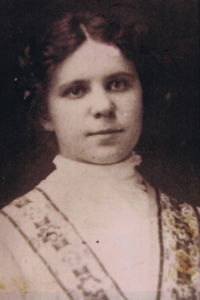 Eliza Craven
(prior to train wreck)
Eliza, a daughter of Sam and Alpha (Hobbs) Montgomery of Washington County, was born 26 Aug 1893. She married Tom Craven and they had two children by the time of the wreck.
When Eliza boarded the train to visit with her sister-in-law, Ella who was married to Alzo Smith in Bourbon, Kentucky, she could not have imagined in her worst nightmare how many terrible blows life would bring her from that moment on.
When the trains crashed, Eliza's body was badly crushed, and her son, Raymond's skull was crushed. Both were considered critical when they were placed on the relief train for Louisville.
What was not known then was that her tiny baby, Annie, who was ten months old that day, was thrown clear of the wreckage into a snow drift. Later when she was found, no one knew who she was.
Meanwhile in Louisville, Thomas Craven learned of the accident and rushed to the hospital to learn what had become of his family. There he found his son near death, his wife seriously injured, and his baby girl missing. Young Raymond Craven died early the next morning.
When word came that a baby had been found in Shepherdsville, Thomas rushed there and found his little girl alive and well. He returned to Louisville with the infant and perhaps the sight of her daughter gave Eliza the will to survive.
Indeed, life seemed to go on for the Craven family. Eliza had a son the next year that they named Ival. Then in October of 1919, they had another son they named Edwin Melton Craven. Tragically, this boy was stricken with an inflammation of both the large and small intestine and died shortly after his first birthday.
Once again the family tried to put tragedy behind them. Two daughters, Mary and Violet were added to the family. Then in October 1928 tragedy struck again. Annie, the miracle baby from the train wreck, now eleven years old, was stricken by an attack of appendicitis and died on 23 Oct 1928.
This last death may have been more than Eliza's frail body could take. Seven months later she was stricken with a brain hemorrhage and died on 18 May 1929. After her death, Thomas married again, this time to Margaret Brooks who helped him rear his remaining children. Thomas died in 1963 in Louisville.
---
Ten years after the train wreck, Eliza Craven took pencil in hand and wrote down a personal remembrance of the wreck and its effects on her family. Recently a descendant brought the tablet she wrote on to us for preservation.
While some of what she wrote appears to come from newspaper reports of the event, her personal involvement and its effect on her family help us to gain a unique perspective of that terrible time.
We have scanned the pages and present them on another page. While the initial pages are in poor condition, and Eliza's spelling is sometimes difficult, we hope you will find her comments interesting.
---
Copyright 2012 by Charles Hartley, Shepherdsville KY. All rights are reserved. No part of the content of this page may be included in any format in any place without the written permission of the copyright holder.
---