Bullitt County Deaths Summary 1911-1915
During the five years of 1911-1915, 743 persons died in Bullitt County. Of these, we have ages at death for all but five. As the charts below will show, nearly a fourth of the deaths occurred among those stillborn or who died before their first birthday.
The pie graph below shows the percentages of deaths for each age category. Beneath that is a bar graph that gives the actual numbers of deaths per category. At the bottom of the page is a table showing the actual death count for each age, for those who wish to delve more deeply into the data.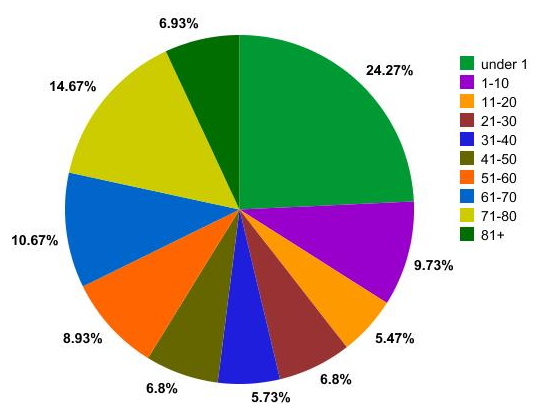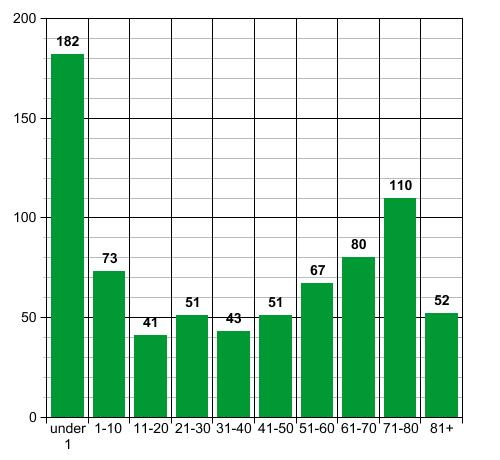 age
#
age
#
age
#
age
#
age
#
0
182
1
29
2
13
3
11
4
7
5
4
6
1
7
3
8
1
9
2
10
2
11
5
12
4
13
1
14
4
15
5
16
3
17
3
18
6
19
4
20
6
21
8
22
4
23
5
24
11
25
4
26
5
27
6
28
1
29
2
30
5
31
3
32
8
33
2
34
5
35
0
36
3
37
3
38
4
39
3
40
4
41
3
42
7
43
2
44
5
45
4
46
1
47
6
48
6
49
8
50
9
51
6
52
8
53
4
54
5
55
6
56
7
57
5
58
8
59
9
60
9
61
6
62
8
63
11
64
2
65
14
66
7
67
9
68
6
69
5
70
12
71
12
72
14
73
15
74
3
75
8
76
6
77
9
78
12
79
5
80
14
81
4
82
5
83
4
84
6
85
8
86
5
87
4
88
3
89
1
90
5
91
0
92
2
93
0
94
0
95
2
96
2
97
0
98
0
99
0
100+
1
The Bullitt County History Museum, a service of the Bullitt County Genealogical Society, is located in the county courthouse at 300 South Buckman Street (Highway 61) in Shepherdsville, Kentucky. The museum, along with its research room, is open 9 a.m. to 4 p.m. Monday, Tuesday, Wednesday and Friday; and from 9 a.m. to 6 p.m. on Thursday. Admission is free. The museum, as part of the Bullitt County Genealogical Society, is a 501(c)3 tax exempt organization and is classified as a 509(a)2 public charity. Contributions and bequests are deductible under section 2055, 2106, or 2522 of the Internal Revenue Code. Page last modified: 08 Sep 2020 . Page URL: bullittcountyhistory.org/bullittdeathssummary.html