William W. Simmons' 1846 Will
William W. Simmons married Matilda Ann Lee in Bullitt County on 21 Oct 1834. Matilda was a daughter of Wilford and Rebecca (Hill) Lee. William and Matilda Ann had three children before his death in August or September 1846. The first was a daughter, Laura W. Simmons who would later marry Henry John Lyons on 8 Jun 1852 in Louisville. Next was a son they named Charles Burks Simmons; and third was another daughter, Cora Ann Simmons who married Henry W. Ferguson on 9 Nov 1854 in Bullitt County.
In William's will, transcribed and shown below, he identified his wife and each of his children.
---
Bullitt County Will Book C, pages 570-1
In the name of God amen. I William W. Simmons of the County of Bullitt and state of Kentucky do make and ordain this my last will and testament in the words following, viz. It is first my desire that I be decently buried, after the Christian manner, and after the expenses of my burial are paid, I will and bequeath my estate as followeth.
Item 1st. I will and bequeath all my estate of all and every kind to my beloved wife Matilda Ann Simmons until my children respectively become of age; and then it is m will and desire that my daughters Laura W. Simmons and Cora Ann Simmons and my son Charles Burks Simmons have each one equal part of my estate, after setting apart one third to my said wife, and at her death, it is my will and wish that all my estate & her third be equally divided between my three said children, to them and their heirs forever each to share and share alike. I appoint lastly my beloved wife Matilda Ann Simmons my administratrix of this my last will and testament the 22nd day of August 1846. (signed) William W. (X) Simmoms Signed in the presense of us: H. C. Ulen, Thomas Phelps
Item. I make this as a codicil to the foregoing will. It is my will that should any servants become disobedient or wish to be sold, then I will that my wife sell them and use the money arising from such sale for the benefit of her & my said children as provided in the forgoing will, this 22nd day of August 1846. (signed) William W. (X) Simmoms Signed in the presense of us: H. C. Ulen, Thomas Phelps
State of Kentucky, Bullitt County towit I Noah C. Summers, clerk of the County Court for said county certify that the foregoing last will and testament of William W. Simmons dec'd and codicil thereto annexed was this 21 day of September 1846 produced in open court by the widow Matilda Ann Simmons Executrix for record, and said will and codicil was duly proved in court by the oaths of H. C. Ulen and Thomas Phelps the subscribing witnesses thereto agreeably to law, and order to be recorded as fully proved, whereupon said will and codicil are truly recorded in my said office. Cite N. C. Summers CBCC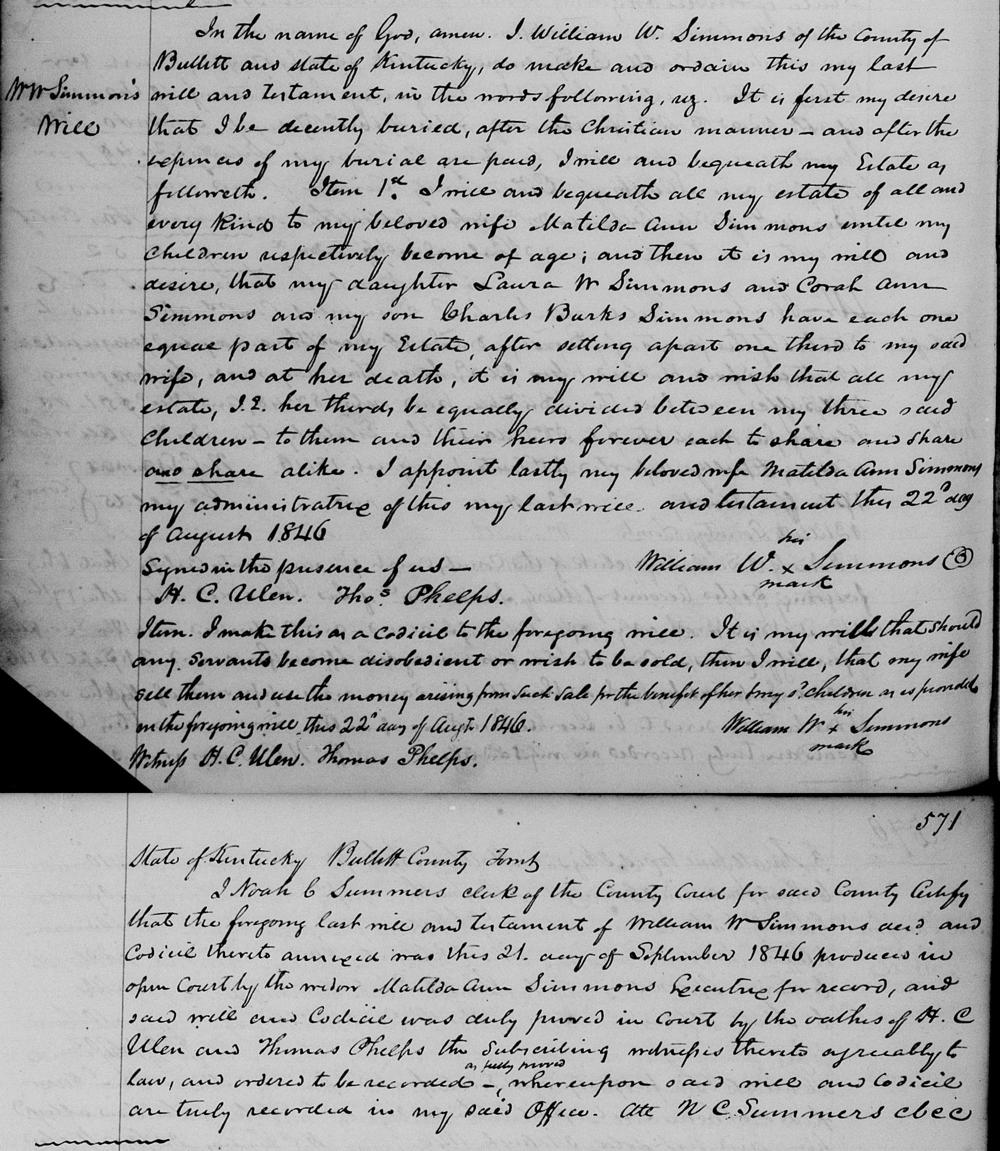 ---
If you, the reader, have an interest in any particular part of our county history, and wish to contribute to this effort, use the form on our Contact Us page to send us your comments about this, or any Bullitt County History page. We welcome your comments and suggestions. If you feel that we have misspoken at any point, please feel free to point this out to us.