William S. Napper, M.D.
The following biographical sketch of Dr. William S. Napper is transcribed from History of Kentucky, edited by Judge Charles Kerr, and published by The American Historical Society in 1922. It is found on page 410 of Volume V.
---
In adding the name of Dr. William S. Napper to its citizenship in 1905, Lebanon Junction was to profit by the services of a man who possessed both the ambition and ability to make himself a factor of large professional usefulness. During his residence here he has not only acquired a large practice, but has gained the well-merited confidence of the community, and his public-spirited citizenship has at all times been a factor in the furtherance of worthy civic and other movements.
Doctor Napper was born on a farm in Bullitt County, Kentucky, January 21, 1860. a son of William and Susan Catherine (Shawler) Napper. His great-grandfather on the paternal side was John Napper, a native of Virginia, of Scotch descent, who moved in young manhood to Nelson County, Kentucky, and there rounded out his career in the pursuits of agriculture. His son, William Napper, the grandfather of Doctor Napper, was born in Nelson County, and as a young man adopted farming for his life work, a vocation which he followed uninterruptedly throughout a long and honorable career. He married Patsie Duvall, and among their children was William Napper, who was born in Nelson County. As a young man William Napper the younger came to Bullitt County, where he was married and where he devoted himself to tilling the soil four miles east of Lebanon Junction. He was a man of industry and ability, and won personal success and the esteem of his fellow-citizens. Mr. Napper married Susan Catherine Shawler, who was born in Bullitt County, daughter of Anthony and Elizabeth (Johnson) Shawler, natives of the same county, the former being a son of Jacob Shawler, a native of Germany. Elizabeth (Johnson) Shawler was a daughter of William (Bill) Johnson, of the same family as is Congressman Ben Johnson.
William S. Napper attended the district school near his father's farm in the vicinity of Lebanon Junction, following which he went to the graded and high schools at Baylis, Illinois. He pursued his medical studies at Louisville University, from the medical department of which institution he was graduated with his degree as a member of the class of 1891, and at that time began practice in the rural districts of Nelson County, with his headquarters near Boston. For fourteen years he ministered to the needs of that locality, and in 1905 came to Lebanon Junction, where a gratifying patronage has grown up around him and a large following has responded to his practical demonstrations of skill and resource. He has a tactful and sympathetic manner, and a personality which inspires confidence in his good will and ability. Doctor Napper is a member of the Bullitt County Medical Society and the Kentucky State Medical Society, and is railway surgeon for the Louisville & Nashville Railroad at this point. As a fraternalist he is a Knight Templar Mason and a Noble of the Mystic Shrine, and his political allegiance is given to the candidates and principles of the republican party. His religious faith is that of the Baptist Church, to which the members of his family also belong. He has supplied an element of strength and substantiality to his community for the past sixteen years and has been one of the most interested as well as active observers of its developing prosperity.
In 1904 Doctor Napper was united in marriage with Miss Elizabeth M. Masden, a native of Bullitt County, daughter of Jonathan Masden, a well-known agriculturist of Bullitt County, who made his home here for many years.
---
Dr. Napper continued to live in Lebanon Junction until his death in 1944. His death certificate is shown below.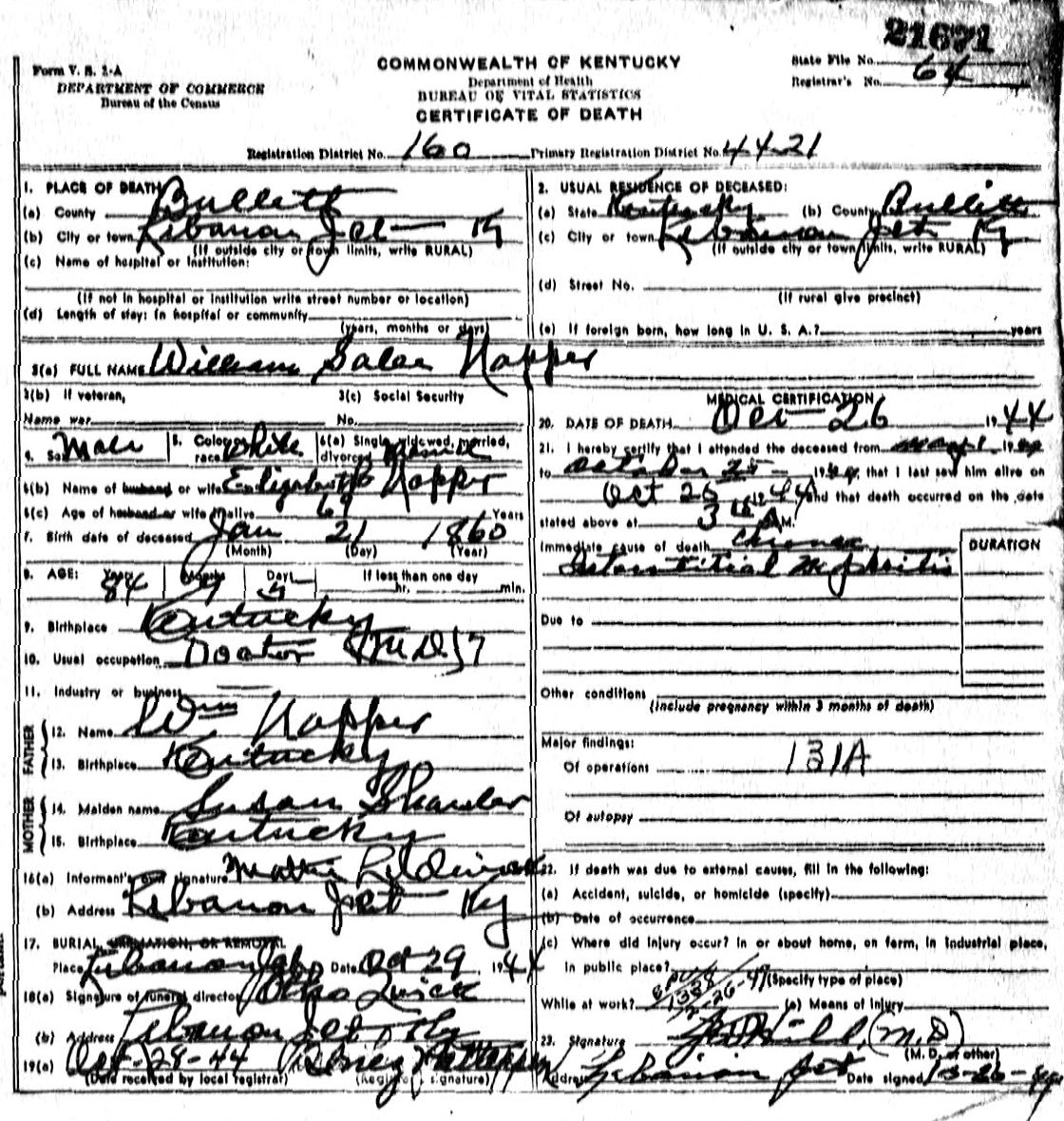 ---
If you, the reader, have an interest in any particular part of our county history, and wish to contribute to this effort, use the form on our Contact Us page to send us your comments about this, or any Bullitt County History page. We welcome your comments and suggestions. If you feel that we have misspoken at any point, please feel free to point this out to us.