William Shepherd
We know from the following power of attorney signed by Adam Shepherd that his brother William "Billey" Shepherd was deceased sometime prior to 25 Jun 1798; that William had been responsible for handling Shepherd family affairs in the Spanish region around New Oreans, and that he may have been in or near New Orleans when he died.
---
Bullitt County Deed Book A, Page 54
State of Kentucky
Know all men by these presents that I Adam Shepherd of Bullitt County & State of Kentucky have authorized & empowered Joseph Bissett of Nelson County & State of Kentucky my true & lawful attorney for me & in my name & my behalf to act, transact, do & perform everything or things for all my business that I have in the Spanish Dominions on the Mississippi concerning all the papers & transactions I had put in the hands of William Shepherd deceased for which I do now empower my trusty friend Joseph Bissett to act for me & in my behalf as fully & effectually as I could do were I myself present in all & every thing or things matter accounts that concerned my brother Billey, or with any other persons touching my interest in that part of the world, so far all papers lodged in the Mississippi country may shew, and said attorney to settle all & every account that was lodged & put in the hands of said William Shepherd. And I do hereby ratify and confirm all & whatsoever my said attorney shall lawfully do in the premises by virtue of this power of attorney. In witness whereof I have hereunto set my hand & seal this twenty fifth day of June Anno Domini 179eight. (signed) Adam Shepherd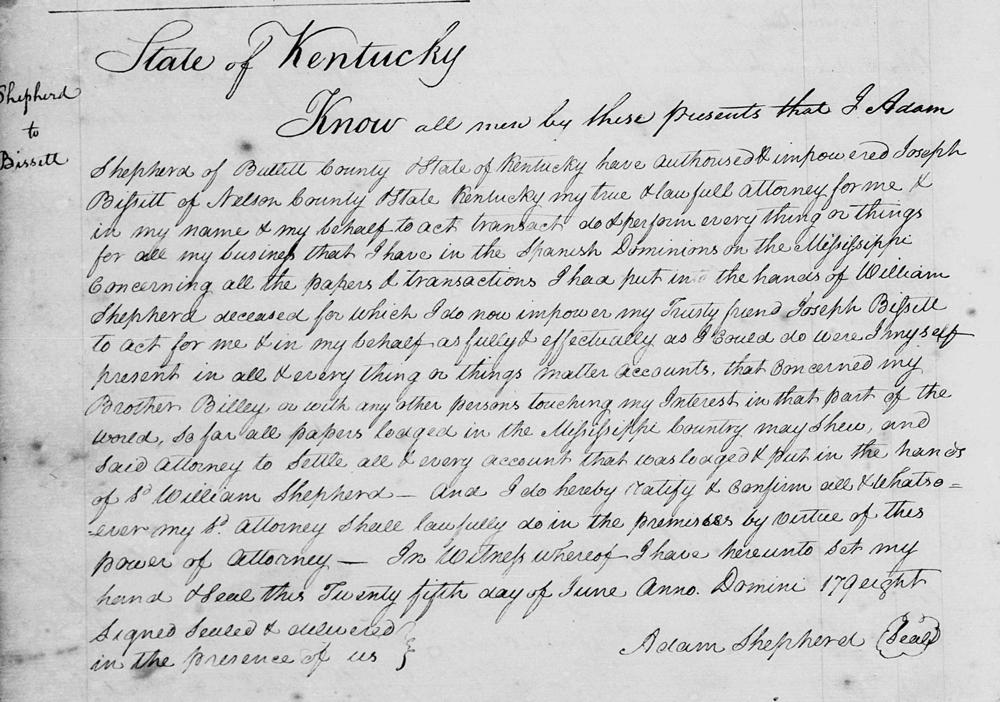 ---
If you, the reader, have an interest in any particular part of our county history, and wish to contribute to this effort, use the form on our Contact Us page to send us your comments about this, or any Bullitt County History page. We welcome your comments and suggestions. If you feel that we have misspoken at any point, please feel free to point this out to us.