The following biographical sketch of Dr. Walter Brashear describes a man who, though he spent most of his life away from Bullitt County, grew up here. His father was Ignatius "Nacy" Brashear.
The subject of this sketch was born in Prince County, Maryland, February 11, 1776; married Miss Margaret Barr in Lexington, Ky., in 1802, and died in Louisiana, October 23, 1860, where he is buried.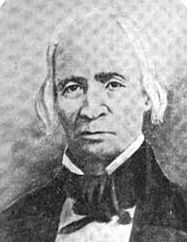 His father came to Kentucky when Walter was eight years of age, settling on a farm on Salt River, near Shepherdsville.
The boy was given the best education possible at his home, and at the age of twenty years went to Lexington, matriculating at Transylvania University. Remaining in Lexington two years, he made the then long horseback journey to Philadelphia, where he entered the University of Pennsylvania. After one course of lectures in Philadelphia, a nomadic spirit carried him to the far eastern country of China, and while there he acquired considerable fame by removing a mammary gland from one of the female Celestials.
It was after returning to his native heath that he immortalized himself by doing the first successful amputation at the hip-joint in America, and perchance the first in the world. This operation was performed on a seventeen-year-old mulatto slave boy in Bardstown, August, 1806, the boy living for many years subsequently.
Dr. Brashear practiced the circular method, securing the blood vessels, then making an incision over the major trochanter and bringing the head of the bone through this opening.
We can well imagine the courage necessary to undertake at that time, and with such surroundings and assistance (practically no skilled assistants), so great an operation.
Dr. Brashear moved to Lexington in 1813 and soon attained distinction in his profession, but remained there only nine years, when he went to St. Mary's Parish, Louisiana. Here, seeking his fortune as a planter and merchant, both proving financial failures, and engaging somewhat in politics, he abandoned his profession, only rendering service occasionally to his neighbors, and then gratis. He represented Louisiana in the United States Senate, and was a man of great professional and personal popularity.
If you, the reader, have an interest in any particular part of our county history, and wish to contribute to this effort, use the form on our Contact Us page to send us your comments about this, or any Bullitt County History page. We welcome your comments and suggestions. If you feel that we have misspoken at any point, please feel free to point this out to us.