1917 Shepherdsville Train Wreck - Papers
Extended Letter to Mr. Donohue
Transcription follows letter images below.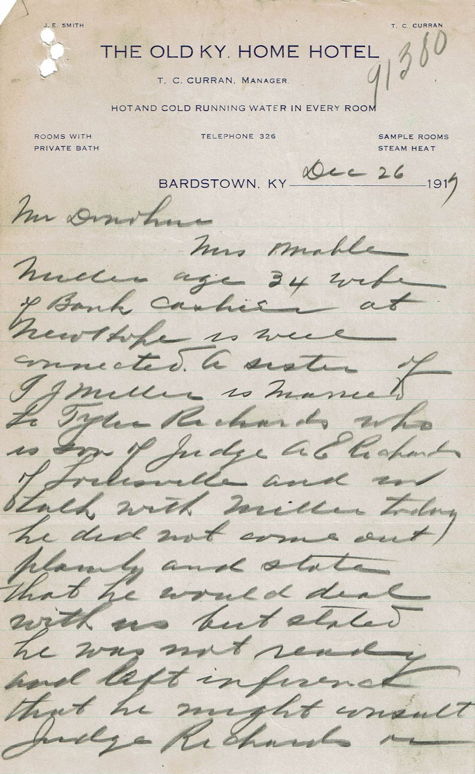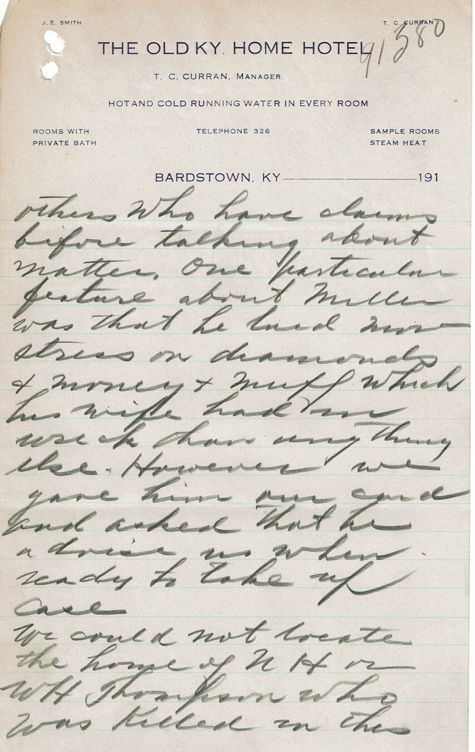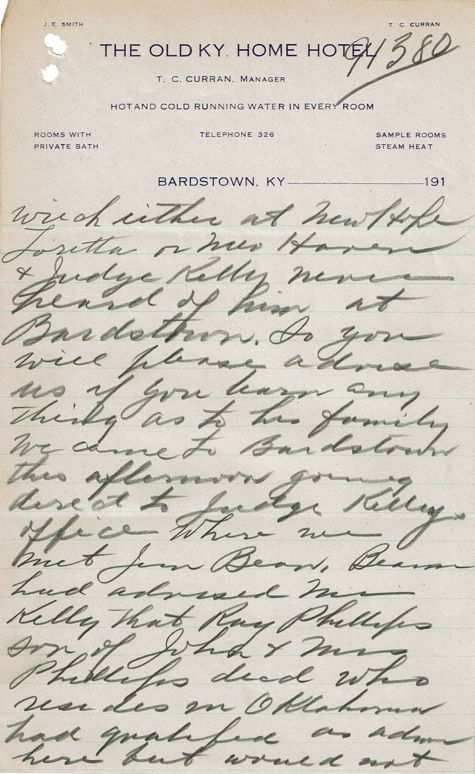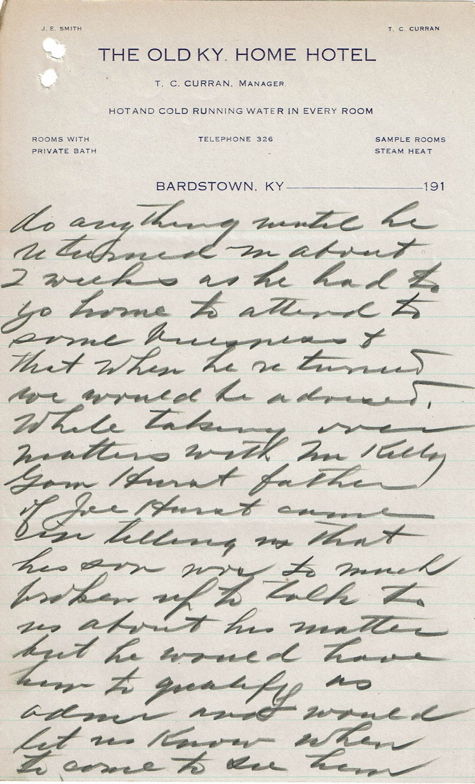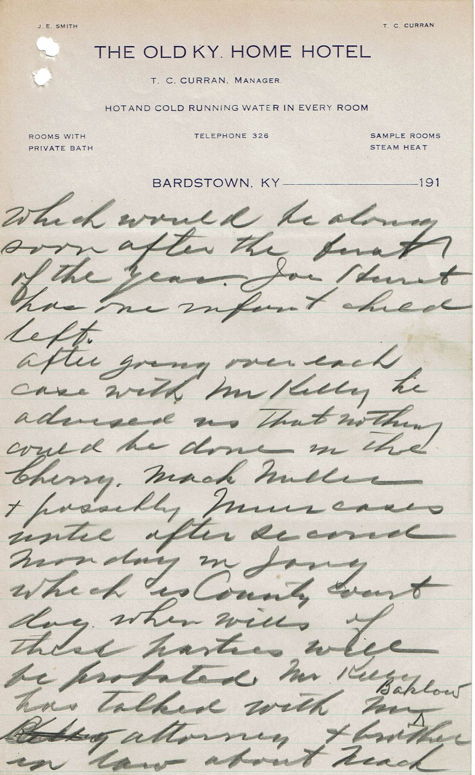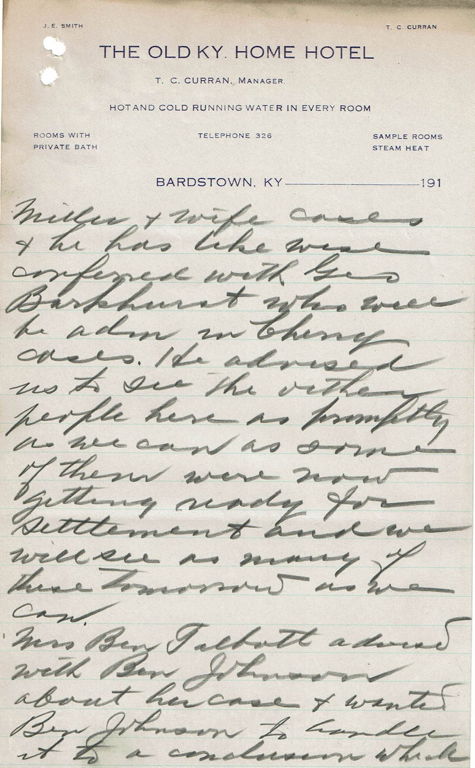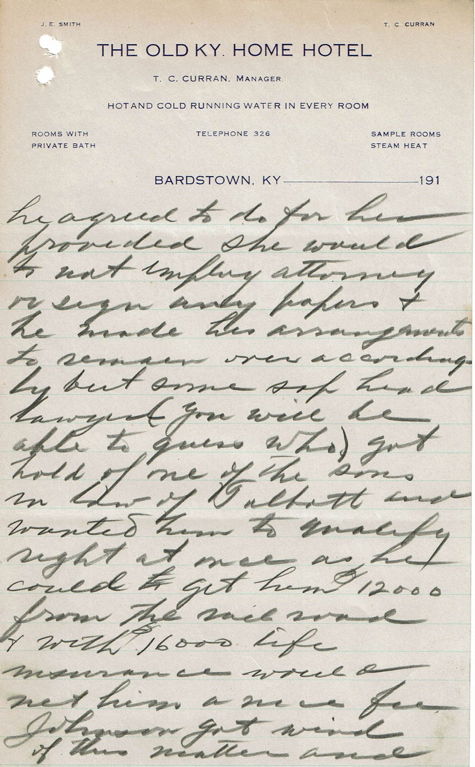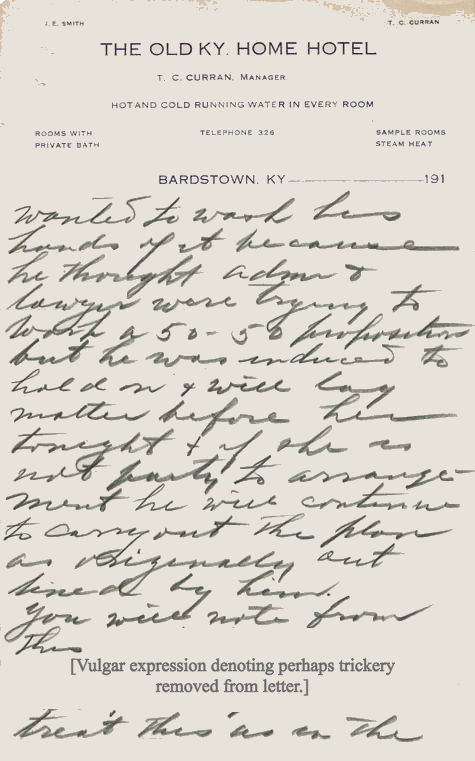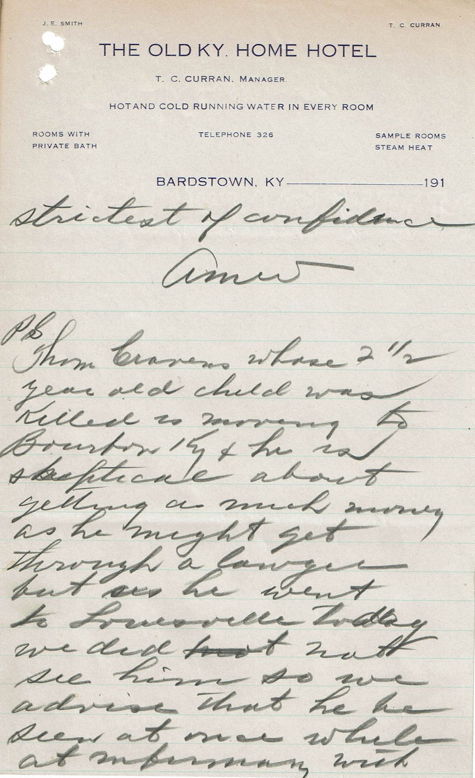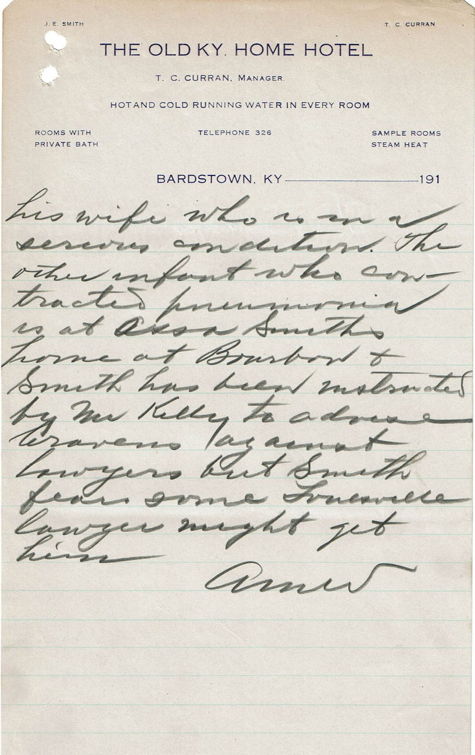 Transcript of 1917 Train Wreck Letter to Mr. Donahue (Written on "The Old Kentucky Home Hotel" letterhead)
Case # 91380
December 26, 1917
Mr. Donahue [likely James J. Donahue, lawyer for the railroad]
Mrs Mable Miller age 34 wife of Bank Cashier at New Hope is well connected. A sister [Carolyn] of TJ [Thomas Jefferson] Miller is married to [John] Tyler Richards who is son of Judge AE [Adolphus Edward] Richards of Louisville and in talk with Miller today he did not come out plainly and state that he would deal with us but stated he was not ready and left inference that he might consult Judge Richards or others who have claims before talking about matter. One particular feature about Miller was that he laid more stress on diamonds & money & muff which his wife had in wreck than anything else. However we gave him our card and asked that he advise us when ready to take up case.
We could not locate the house of NH or WH Thompson who was killed in this wreck either at New Hope Loretta or New Haven & Judge Kelly [likely John S. Kelley] never heard of him at Bardstown. So you will please advise us if you learn anything as to his family. We came to Bardstown this afternoon going direct to Judge Kelley's office where we met Jim Beam. Beam had addressed Mr Kelly that Ray Phillips son of John and Mrs [Bettie] Phillips dec'd who resides in Oklahoma had qualified as admin here but would not do anything until he returned in about two weeks as he had to go home to attend to some business & that when he returned we would be advised. While talking over matters with Mr Kelly Gam Hurst father of Joe Hurst came in telling me that his son was to much broken up to talk to us about his matter but he would have him to qualify as admin and would let us know when to come to see him which would be along soon after the first of the year. Joe Hurst has one infant child [Sarah Carolyn] left.
After going over each case with Mr. Kelly he advised us that nothing could be done in the Cherry, Mack Miller & possibly Muir cases until after second Monday in January which is County Court day when wills of these parties will be probated. Mr Kelly has talked with Mr Barlow attorney & brother in law about Mack Miller & wife cases & he has likewise confirmed with Geo Barkhurst who will be admin in Cherry cases. He advised us to see the other people here as promptly as we can as some of them were now getting ready for settlement and we will see as many of these as we can.
Mrs Ben Talbott advised with Ben Johnson about her case & wanted Ben Johnson to handle it to a conclusion which he agreed to do for her provided she would not employ attorney or sign any papers & he made his arrangements to remain over accordingly but some sap head lawyer (you will be able to guess who) got hold of one of the sons in law of Talbott and wanted him to qualify right at once as he could get him $12000 from the rail road & with $16000 life insurance would net him a nice fee. Johnson got wind of this matter and wanted to wash his hands of it because he thought admin & lawyer were trying to work a 50-50 proposition but he was induced to hold on & will lay matter before her tonight & if she is not party to arrangement he will continue to carry out the plan as originally outlined by him.
You will note from this [Vulgar expression denoting perhaps trickery removed from letter.] treat this as in the strictest of confidence.
AMW [likely A. M. Warren, Chief Law Agent for L&N.]
PS
Thom Cravens whose 2 1/2 year old child was killed is moving to Bourbon KY & he is skeptical about getting as much money as he might get through a lawyer but as he went to Louisville today we did not see him so we advise that he be seen at once while at infirmary with his wife who is in a serious condition. The other infant who contracted pneumonia is at Alzo Smith's home at Bourbon & Smith has been instructed by Mr. Kelly to advise Cravens against lawyers but Smith fears some Louisville lawyer might get him.
AMW
---
If you, the reader, have an interest in any particular part of our county history, and wish to contribute to this effort, use the form on our Contact Us page to send us your comments about this, or any Bullitt County History page. We welcome your comments and suggestions. If you feel that we have misspoken at any point, please feel free to point this out to us.