1917 Shepherdsville Train Wreck - Papers
Mrs. Trunnell Letter to Ernest Woodward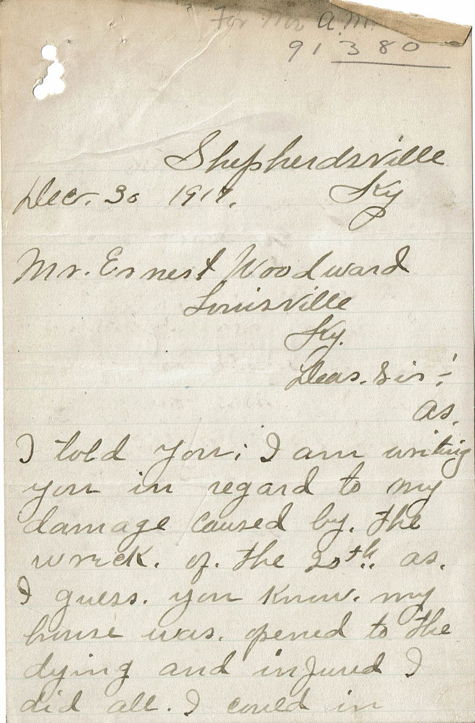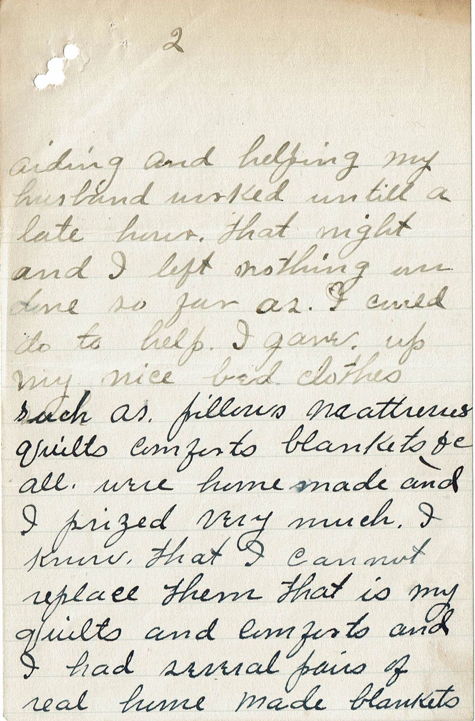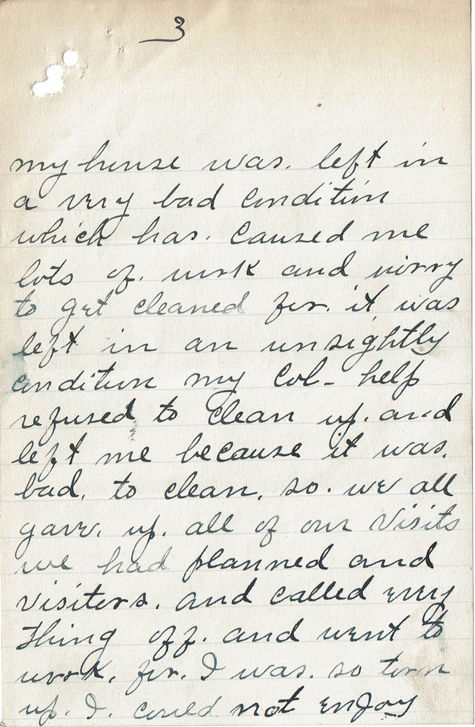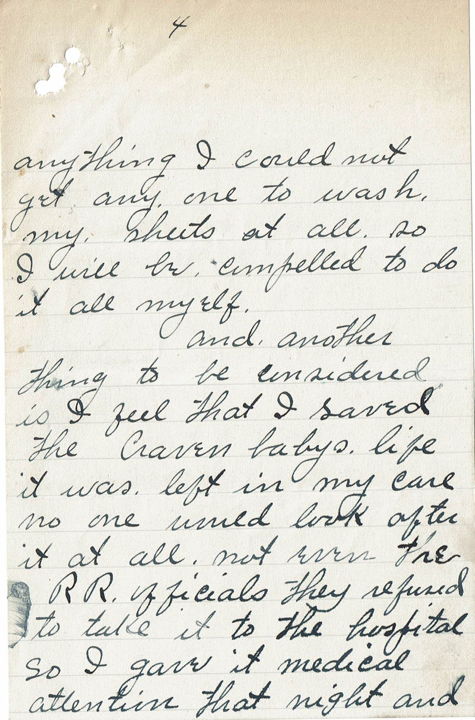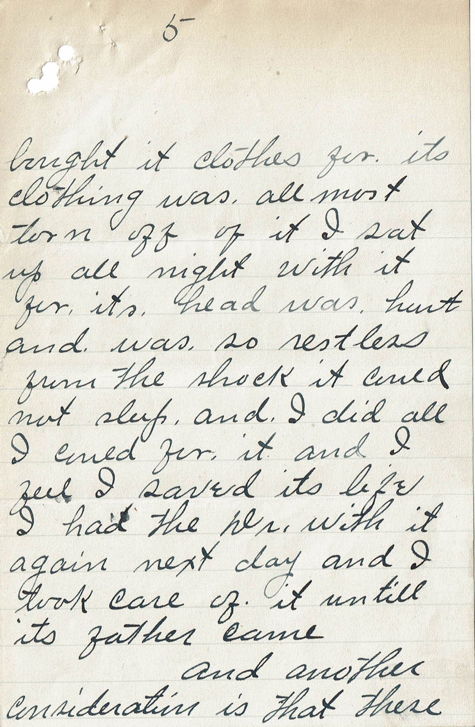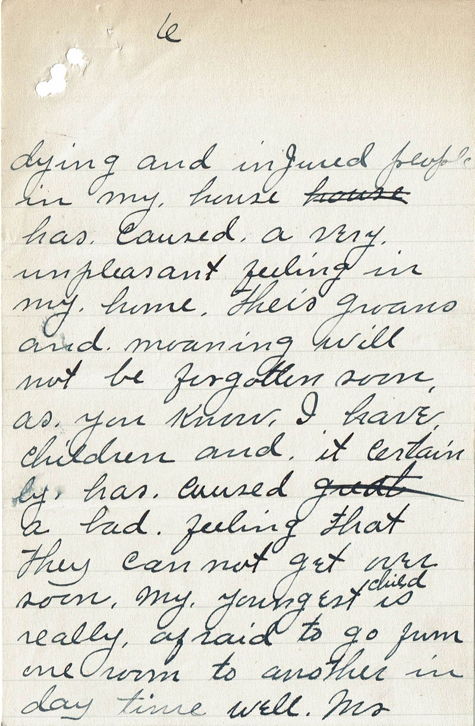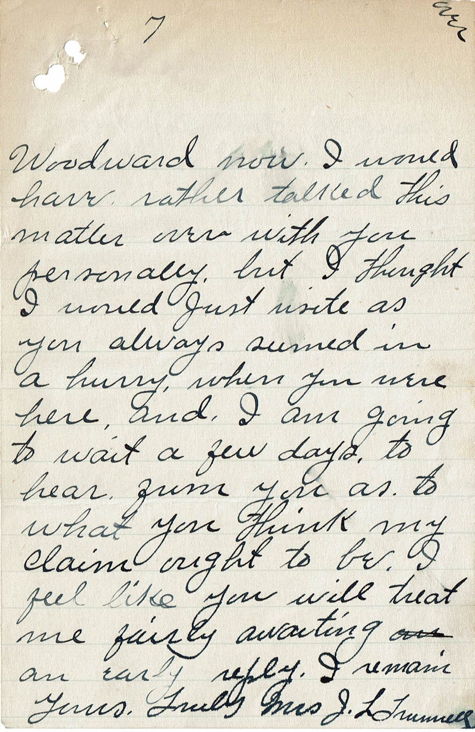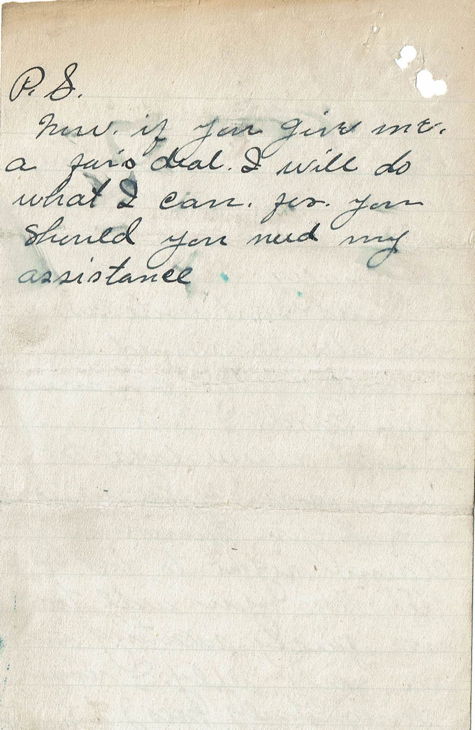 Transcript of 1917 Train Wreck Letter About the Trunnell House Hotel Damage
[annotations in these brackets were added by the transcriber]
For Mr. A.M.W. 91380 [Note added at top of page. The number is thought to be the case number. A.M.W. is likely A. M. Warren, Chief Law Agent for L&N.]
Shepherdsville, Ky
December 30, 1917
Mr. Ernest Woodward [Ernest Woodward was a railroad attorney. He boarded the train at Shepherdsville long enough to meet George Duke's wife, and then left the train before the crash.]
Louisville Ky
Dear Sir: As I told you I am writing you in regard to my damage caused by the wreck of the 20th as I guess you now, my house was opened to the dying and injured. I did all I could in aiding and helping my husband worked until a late hour that night and I left nothing undone so far as I could do to help. I gave up my nice bed clothes such as pillows mattresses quilts comforts blankets & all were home made and I prized very much. I know that I can not replace them that is my quilts and comforts and I had several pairs of real home made blankets my house was left in a very bad condition which has caused me lots of work and worry to get cleaned for it was left in an unsightly condition my Col[ored] help refused to clean up and left me because it was bad to clean. So we all gave up all our visits we had planned and visitors and called everything off and went to work, [plans were presumably for holiday celebrations and hotel stays] for I was so torn up I could not enjoy anything I could not get anyone to wash my sheets at all so I will be compelled to do it all myself.
And another thing to be considered is I feel that I saved the Craven baby's life it was left in my care [Annie Craven was ten months old on the day of the wreck. She was thrown clear of the wreckage into a snow drift. Later when she was found, no one knew who she was] no one would look after it at all, not even the RR officials they refused to take it to the hospital so I gave it medical attention that night and brought it clothes for its clothing was almost torn off of it. I sat up all night with it for its head was hurt and was so restless from the shock it could not sleep and I did all I could for it and I feel I saved its life. I had the Dr. with it again next day and I took care of it until its father came.
And another consideration is that these dying and injured people in my house has caused a very unpleasant feeling in my home. Their groans and moaning will not be forgotten soon as you know. I have children and it certainly has caused a bad feeling that they can not get over soon. My youngest child is really afraid to go from one room to another in day time. Well, Mr. Woodward now I would have rather talked this matter over with you personally but I thought I would just write as you always seemed in a hurry when you were here and I am going to wait a few days to hear from you as to what you think my claim ought to be. I feel like you will treat me fairly awaiting an early reply.
I remain yours truly Mrs J. L. Trunnell
P.S. Now if you give me a fair deal I will do what I can for you should you need my assistance.
---
If you, the reader, have an interest in any particular part of our county history, and wish to contribute to this effort, use the form on our Contact Us page to send us your comments about this, or any Bullitt County History page. We welcome your comments and suggestions. If you feel that we have misspoken at any point, please feel free to point this out to us.