1917 Shepherdsville Train Wreck - Papers
List of People Fatally Injured in Wreck at Shepherdsville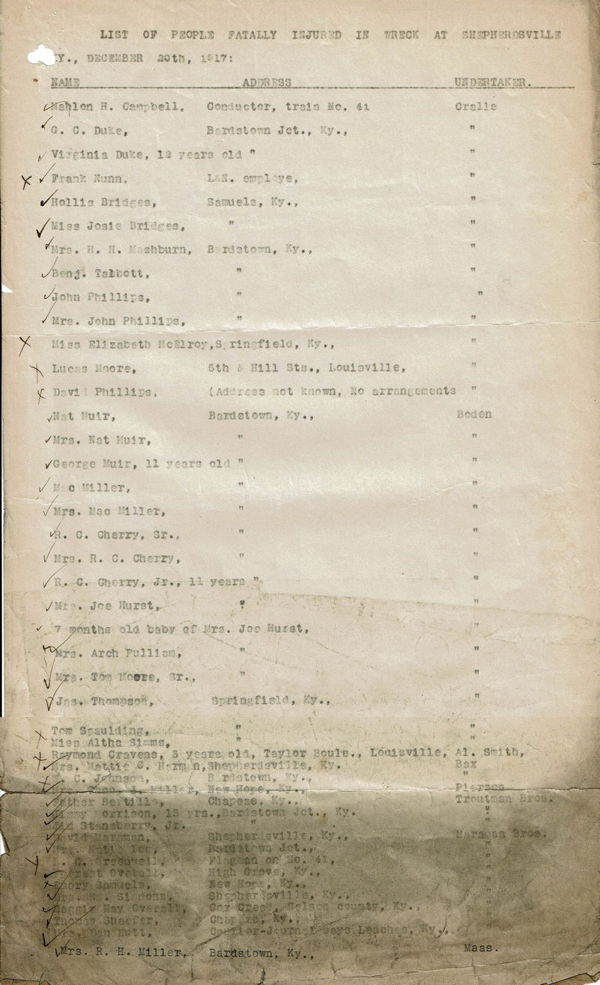 This list was likely compiled by a railroad lawyer sometime before Dec. 24th, as it does not include Henry Z. Hardaway who died on that date.
Name
Address
Undertaker
Mahlon H. Campbell
conductor, train No. 41
Cralle
G. C. Duke
Bardstown Jct.
Cralle
Virginia Duke
12 years old
Cralle
Frank Nunn
L&N employe
Cralle
Hollis Bridges
Samuels, Ky.
Cralle
Miss Josie Bridges
Samuels
Cralle
Mrs. H. H. Mashburn
Bardstown
Cralle
Benj. Talbott
Bardstown
Cralle
John Phillips
Bardstown
Cralle
Mrs. John Phillips
Bardstown
Cralle
Miss Elizabeth McElroy
Springfield
Cralle
Lucus Moore
5th & Hill Sts, Louisville
Cralle
David Phillips
(Address not known, no arrangements)
Cralle
Nat Muir
Bardstown
Boden
Mrs. Nat Muir
Bardstown
Boden
George Muir
11 years old, Bardstown
Boden
Mac Miller
Bardstown
Boden
Mrs. Mac Miller
Bardstown
Boden
R. C. Cherry, Sr.
Bardstown
Boden
Mrs. R. C. Cherry
Bardstown
Boden
R. C. Cherry, Jr.
11 years, Bardstown
Boden
Mrs. Joe Hurst
Bardstown
Boden
7 months old baby of Mrs. Joe Hurst
Boden
Mrs. Arch Pulliam
Bardstown
Boden
Mrs. Tom Moore, Sr.
Bardstown
Boden
Jas Thompson
Springfield
Boden
Tom Spaulding
Springfield
Boden
Miss Altha Simms
Springfield
Boden
Raymond Cravens
3 years old, Taylor Boule., Louisville
Al. Smith
Mrs. Mattie C. Harmon
Shepherdsville
Bax
W. C. Johnson
Bardstown
Bax
Mrs. Thos J. Miller
New Hope
Pierson
Father Bertillo
Chapeze
Troutman Bros.
Jimmy Morrison
15 yrs, Bardstown Jct.
Troutman Bros.
Jim Stansberry, Jr.
Bardstwon Jct.
Troutman Bros.
David Maraman
Shepherdsville
Maraman Bros.
Mrs. Katie Ice
Bardstown Jct.
Maraman Bros.
L. C. Greenwell
Flagman on No. 41
Maraman Bros.
Forrest Overall
High Grove
Maraman Bros.
Emory Samuels
New Hope
Maraman Bros.
Mrs. Wm. Simmons
Shepherdsville
Maraman Bros.
Maggie May Overall
Cox Creek, Nelson County
Maraman Bros.
Thomas Shaefer
Chapeze
Maraman Bros.
Mrs. Dan Nutt
Courier Journal says Leaches KY
Maraman Bros.
Mrs. R. H. Miller
Bardstown
Maas.
---
If you, the reader, have an interest in any particular part of our county history, and wish to contribute to this effort, use the form on our Contact Us page to send us your comments about this, or any Bullitt County History page. We welcome your comments and suggestions. If you feel that we have misspoken at any point, please feel free to point this out to us.