1973 Train Wreck in Shepherdsville
The following article is transcribed from The Pioneer News, Thursday, January 10, 1974 edition. It describes a train wreck in Shepherdsville on 31 Dec 1973. We are presenting the transcription here with permission from the newspaper which holds the article's copyright.
---
26 Cars Derailed in Shepherdsville
Everybody likes the old nostalgic sound of a train whistle in the distance, but it's another matter when a railroad car comes right into your house while you're sleeping. This happened to Charlie Mann and his wife, Juanita, at 7:40 a.m. on December 31st, when one of 26 cars derailed cars came rolling down a steep embankment and crashed into their home at Third and Walnut Streets in Shepherdsville. Luckily, Mr. and Mrs. Mann had been out the night before and left their two children, James and Charles, ages 3 and 2 years of age, with Mr. Mann's brother, Michael, and it was the children's bedroom which was struck the morning of the wreck. The derailed car when we visited the scene this Monday, was still embedded in the bedroom. Mr. and Mrs. Mann were shook up, but apparently uninjured.
The Mann home is of frame construction, with a concrete block foundation. Some of the enamel on the aluminum siding was split and the impact was so great that many of the concrete blocks were split at the seams. The rear of the home was completely demolished.
Mann and his family have been living with his mother, Mrs. Clydeen Rynn, since the accident. As of Monday of this week he was busily engaged in salvaging what furniture he could, has rented a home on Highway 44, and has been moving in any furniture that was intact; and, with help of others, was repairing the damaged furniture for use in the rented home.
"We're trying to make with what we got," said Mann, "until we get our bearings and can settle down permanently." He also indicated that the incident was such a shock that he just could not explain how he felt when it happened. Mann, who is a Bullitt County policeman, had other worries on his mind, stating that he was supposed to leave today for 10 weeks of instruction in law enforcement basics at Eastern Kentucky University.
An interesting sidelight – Since the above was written we have learned that many people have been hauling away salvage grain from the scene, with permission of a buyer or buyers of the grain. The salvage buyers took what they wanted and left the balance for the natives who were coming in trucks of all sorts to haul it away.
According to one source, Monday, a local man came to the area with a tractor and trailer and "carried off about 100 bushels of corn."
---
We have found this incident reported in The Journal News of Hamilton, Ohio [1 Jan 1974] as well, as shown below.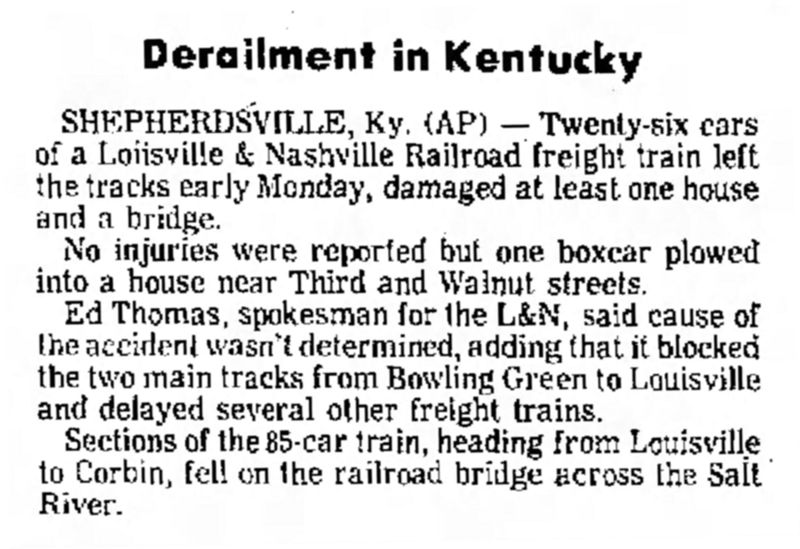 ---
If you, the reader, have an interest in any particular part of our county history, and wish to contribute to this effort, use the form on our Contact Us page to send us your comments about this, or any Bullitt County History page. We welcome your comments and suggestions. If you feel that we have misspoken at any point, please feel free to point this out to us.