Thomas Phelps' 1797 Will
A transcription of this will is given below, with an image of it following. Earlier researchers had mistakenly placed this document in the will book, but it is actually recorded in the first Bullitt County deed book.
Bullitt County KY Deed Book A, Pages 145-6
In the name of God, Amen, I, Thomas Phelps, being in my Right mind, tho weak in body, do make this my last will and Testament as followeth towit, I give and bequeath to my grand-daughter, _____ Brashear, one Heifer to her and her Heirs forever; my grandson Richd Brashear & Eden one heifer to each of then their heirs together - My granddaughter, Cynthia Williams, my young Bay mare and six pounds to her and her heirs forever - I give & bequeath to my Grandson, John Williams one cow & calf to him & his Heirs, forever. I give and bequeath to my three Sons, Anthony, Edwin and Guy Phelps my plantation and tract of land where I now live, the said to be equally divided between the sons. Should any prior claim arise to any part the residue to be equally divided. I give and bequeath what cash I have to my three Sons, Anthony, Edwin and Guy, equally. The residue of my Estate to be equally divided between my three Sons, & daughter Anthony, Edwin, Guy & Sarah. And lastly it is my will that my three Sons, Anthony, Edwin and Guy Phelps be Executors to this my Last Will & Testament. In witness whereof, I've set my hand & seal this 5th March 1797. Signed, Sealed, and Delivered in the preasents of Samuel Simmons, Susannah Pope, William Brashear. Thos Phelps (s)
Bullitt County Sct.
At a monthly Court held for said County on the 25th day of February 1800 This Will was proved to be the Act and Deed of Thomas Phelps decd by the oath of Samuel Simmons and Susanna Pope and ordered to be Recorded. Teste. Tho. Speed clk.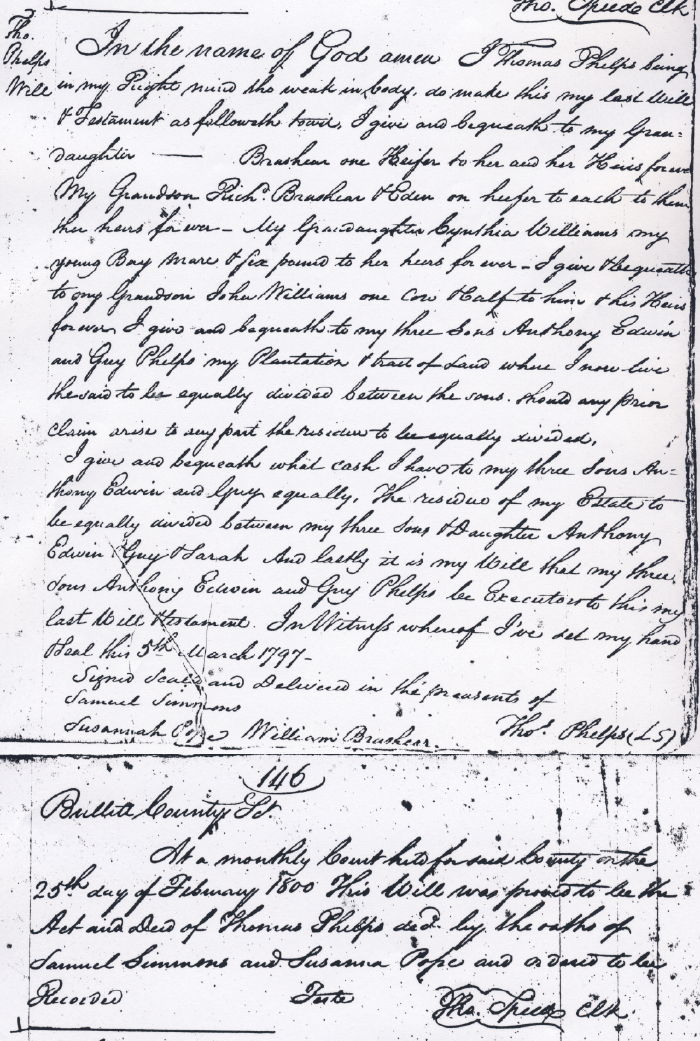 ---
This transcription and image are copyright 2009 by Charles Hartley, Shepherdsville KY. All rights are reserved. No part of the content of this page may be included in any format in any place without the written permission of the copyright holder, except that individuals who descend from this Thomas Phelps may use the transcription and image freely in their own family research.
---
If you, the reader, have an interest in any particular part of our county history, and wish to contribute to this effort, use the form on our Contact Us page to send us your comments about this, or any Bullitt County History page. We welcome your comments and suggestions. If you feel that we have misspoken at any point, please feel free to point this out to us.