Thomas McGee's 450 Acre Tract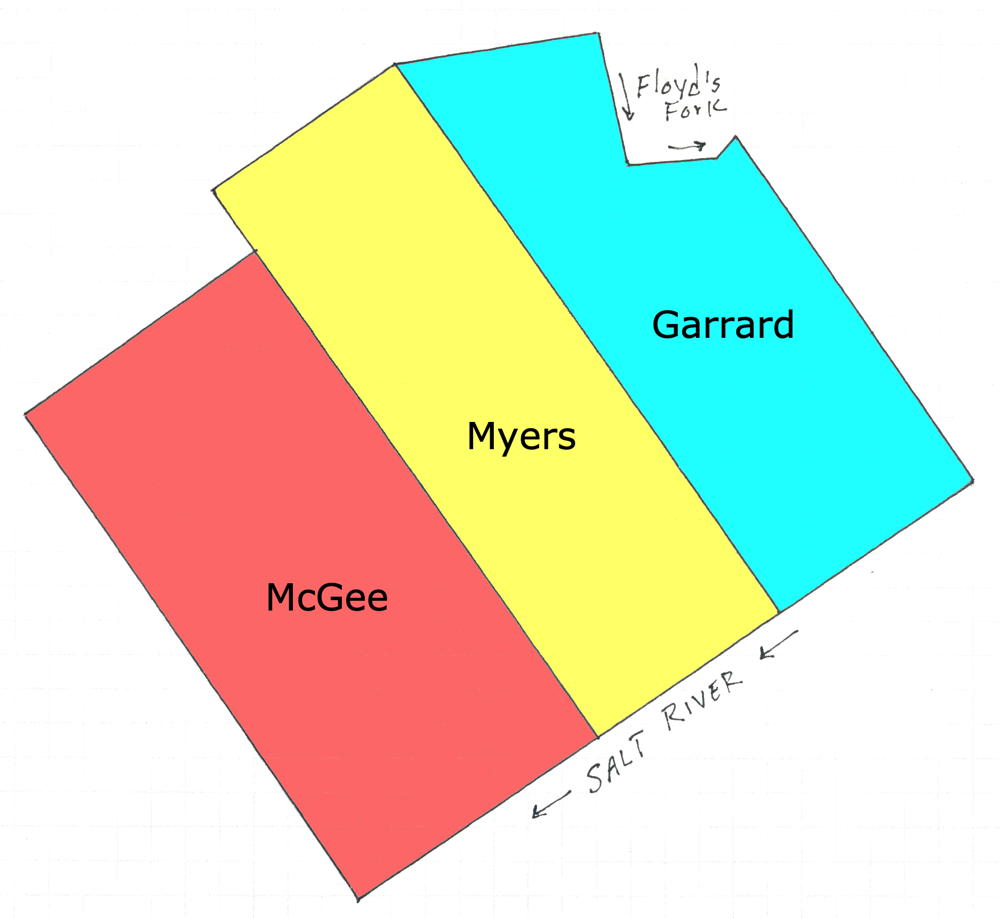 Thomas McGee patented a 450 acre tract that in the future would include the Parakeet Lick and later Paroquet Springs. It lay to the west of Jacob Myers' 400 acre tract that contained Dowdall's Station; and to the east of Shepherdsville.
Below is a digital image of the original plat and description drawn by James Hord. It and the following patent are provided by the Kentucky Secretary of State's web site.
Survey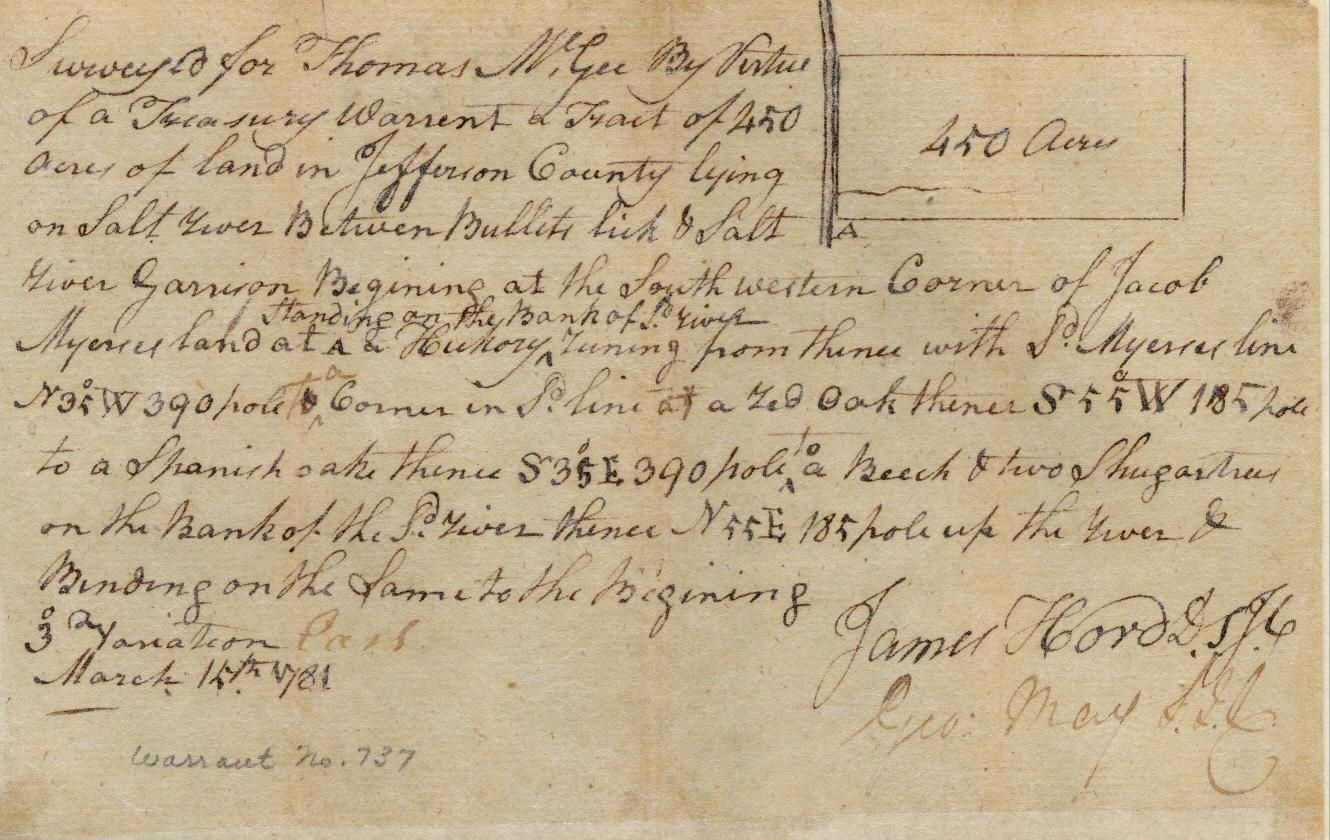 Note that this plat was drawn facing west instead of north. McGee's land was on the north or upper side of Salt River.
Although Hord completed the survey in 1781, it was not until 1782 that McGee's patent was granted. A digital image of that patent, as written in Grant Book 1, pages 22-23, is shown below. A transcription appears beneath the image.
Deed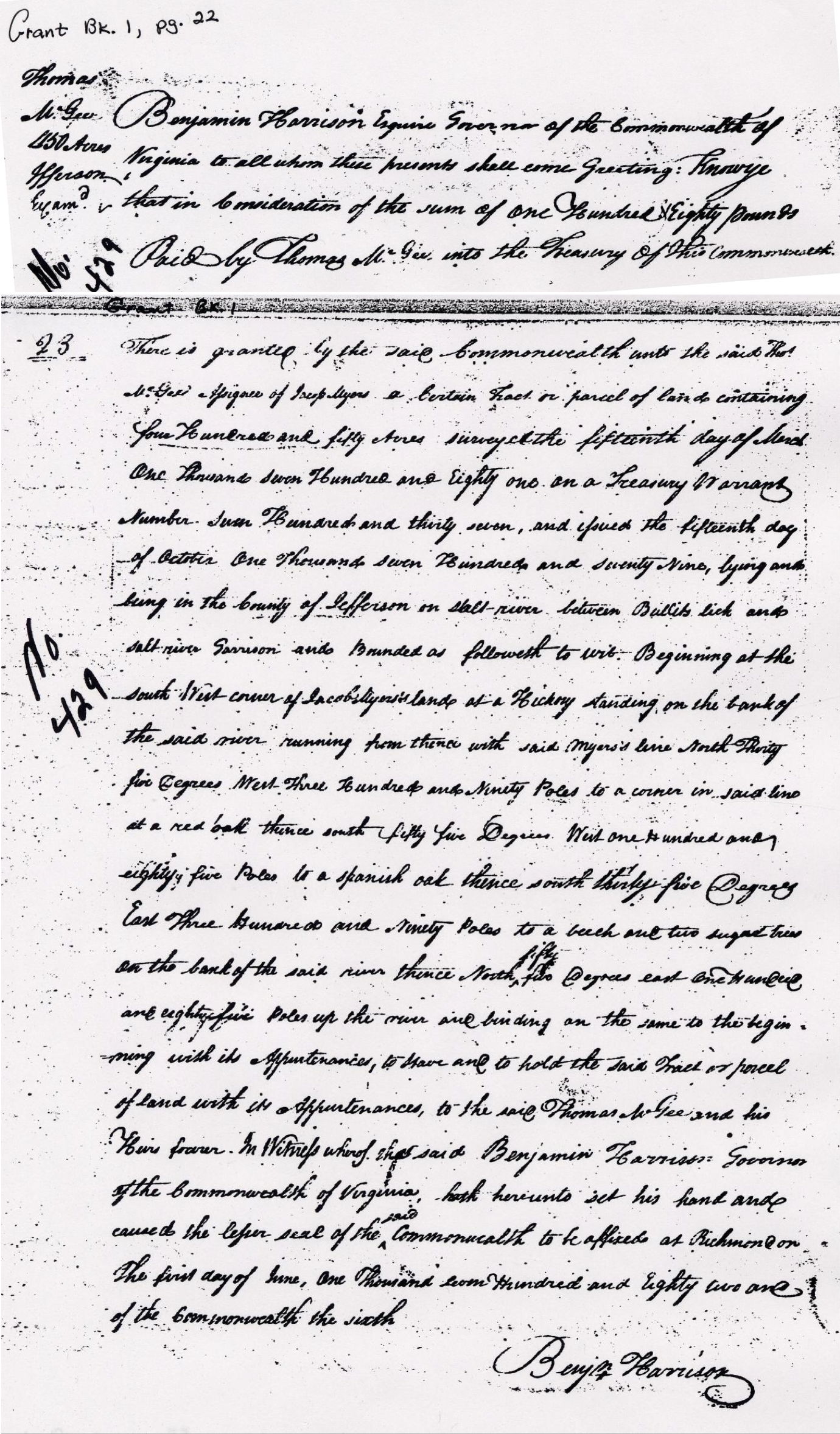 Grant Bk 1, pg 22
Thomas McGee 450 acres in Jefferson County
Benjamin Harrison Esquire Governor of the Commonwealth of Virginia to all whom these presents shall come greeting. Know ye that in consideration of the sum of one hundred eighty pounds paid by Thomas McGee into the treasury of this Commonwealth there is granted by the said Commonwealth unto the said Thos McGee assignee of Jacob Myers a certain tract or parcel of land containing four hundred and fifty acres surveyed the fifteenth day of March one thousand seven hundred and eighty one on a treasury warrant number seven hundred and thirty seven and issued the fifteenth day of October one thousand seven hundred and seventy nine, lying and being in the County of Jefferson on Salt River between Bullitt's Lick and Salt River Garrison and bounded as followeth to wit. Beginning at the south west corner of Jacob Myer's land at a hickory standing on the bank of the said river running from thence with the said Myer's line North thirty five degrees West three hundred and ninety poles to a corner in said line at a red oak thence south fifty five degrees West one hundred and eighty five poles to a spanish oak thence south thirty five degrees East three hundred and ninety poles to a beech and two sugar trees on the bank of the said river thence North fifty five degrees East one hundred and eighty five poles up the river and binding on the same to the beginning with its appurtenances, to have to to hold the said tract or parcel of land with its appurtenances to the said Thomas McGee and his heirs forever. In witness whereof the said Benjamin Harrison Governor of the Commonwealth of Virginia hath hereunto set his hand and caused the legal seal of the said Commonwealth to be affixed as Richmond on the first day of June, one thousand seven hundred and eighty two and of the Commonwealth the sixth.
Benjamin Harrison
---
If you, the reader, have an interest in any particular part of our county history, and wish to contribute to this effort, use the form on our Contact Us page to send us your comments about this, or any Bullitt County History page. We welcome your comments and suggestions. If you feel that we have misspoken at any point, please feel free to point this out to us.