Therese Samuels Stibbins' 1883 Will
Therese Stibbins, daughter of James and Diana Samuels, had married William H. Stibbins. She survived him, and wrote her will shortly before her death in 1883.
---
Bullitt County Will Book J, Page 54-56
Firmly believing in the Providence of God and feeling my dependency on him, not only for life, but all other blessing; and being duly impressed with the fact that my future stay on earth can be but short, I Therese Stibbins of Bullitt County, State of Kentucky, being strong in mind but weak in body, do hereby this day make, publish and declare this my last will and testament.
Item 1st. I wish after my decease to have all my just debts and funeral expenses paid.
Item 2nd. It is my desire that my executor shall out of the proceeds of a note I hold against Joseph Funk to purchase a good substantial set of tea spoons and present them to Mobile, wife of said Joseph. The spoons are to be of solid silver with the initials of her name on them.
Item 3rd. It is also my request that out of the proceeds of a note I hold on Silas Barrall that my said executor shall purchase as in the preceding case a set of solid silver tea spoons to be presented to his daughter Theresa, also containing the initials of her name.
Item 4th. I also want the note I hold against my nephew Henry Samuels to be expended for a set of silver tea spoons each for Abby, Minnie and Theresa, his three daughters, also with their initials.
Item 5th. It is also my wish that Flora Samuels, my niece, shall have my silver table and tea spoons consisting of three of the former and six of the latter; also my trunk and a book.
Item 6th. It is my will and desire that my nephew Alexander S. Samuels (known as Bally) shall have all of the land I own on the right hand side of the County Road known as the church field in which I have recently had constructed a house, also the hill of timbered land above the house this side of the road and reserved in a deed of recent date to Simon Arnold. These tracts of land I give and bequeath to the said A. S. Samuels during his natural life, and then to his children. But in the event he should die without issue, then said realty shall revert to my nearest kin.
Item 7th. I also give and bequeath to my nephew John Franklin, son of Hiram Samuels the sum of $200 as a legacy, which sum is to be put out at interest for his benefit until he is of age, the interest to be paid him annually.
Item 8th. I also give to my brother Caleb Samuels the sum of $100 which is a present. But this is the sole interest I leave him in my estate.
Item 9th. I give to my preacher brother L. B. Davidson the sum of six dollars which is to pay my church dues for the present year.
Item 10th. I also give the sum of ten dollars to the Knob Creek Church to aid in its completion.
The remainder of my estate I wish and desire to be equally divided between my sister Ann Miller, the children of James Samuels with the exception of Franklin (whose pro rata interest is to go to A. S. Samuels (Bally)); the chidren of Hiram Samuels, and the children of William Samuels. That is to say Mrs. Ann Miller is to have one-fourth, and the children of each of my brothers James, Hiram and William one-fourth part; the children to share in proportion to number. The said John Franklin Samuels is in no wise to be excluded from the prorata distribution on account of the above legacy of $200.
I hereby appoint my nephew Henry Samuels executor of this my last will in whom I have explicit confidence. Given under my hand this 3rd day February 1883.
(signed) Therese Stibbins, (in presence of) Lem W. Nichols, J. D. Skinner.
Codicil
It is understood that on account of the low price I sold the home tract of land to Simon Arnold for that his wife Berta is not to have an interest in the $800 due on it. I wish to make a change in that part of my will wherein I bequeathed the part of the remainder of my estate that would naturally have fallen to Franklin Samuels to my nephew A. S. Samuels, so that one half of said portion shall be given to my niece Flora Samuels. I also wish my executor Henry Samuels to erect a good substantial fence around the family grave yard, expenses of which to be paid out of my estate before a distribution is made.
(signed) Therese Stibbins (in presence of) A. B. Applegate, J. L. Vaughn.
[Will was produced in court on 19 Feb 1883.]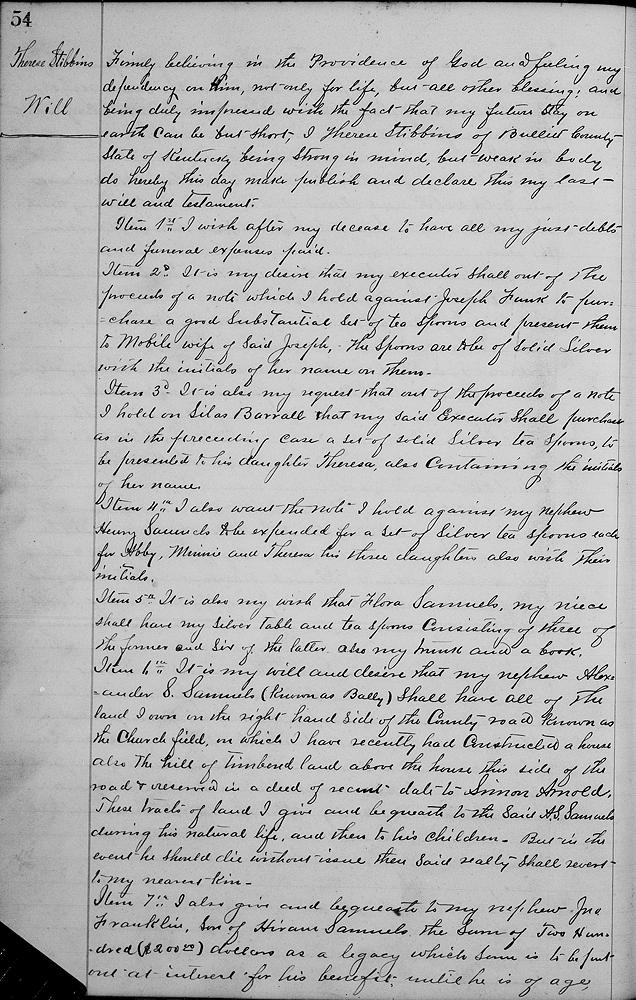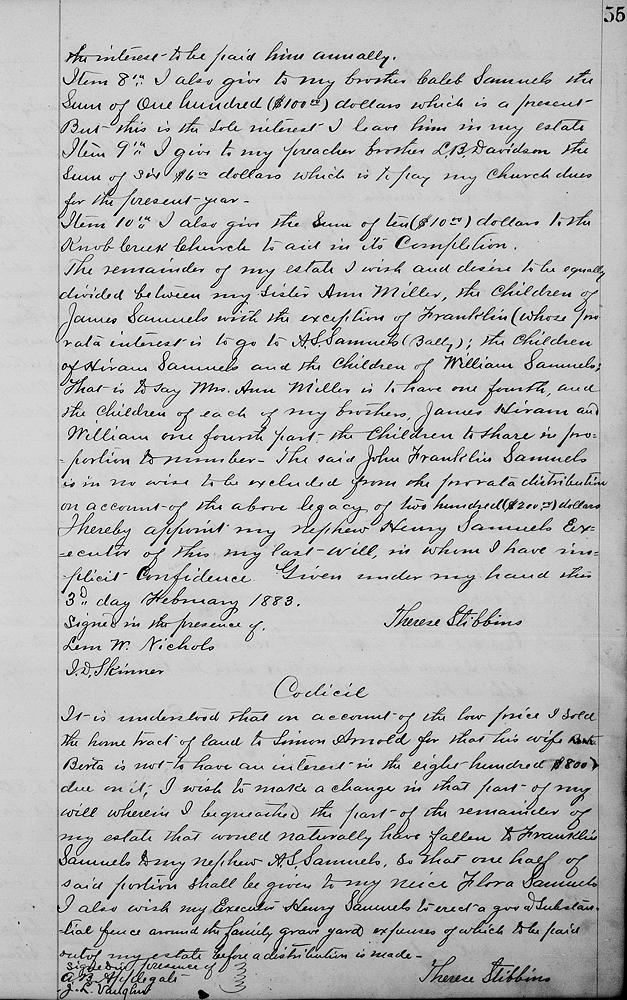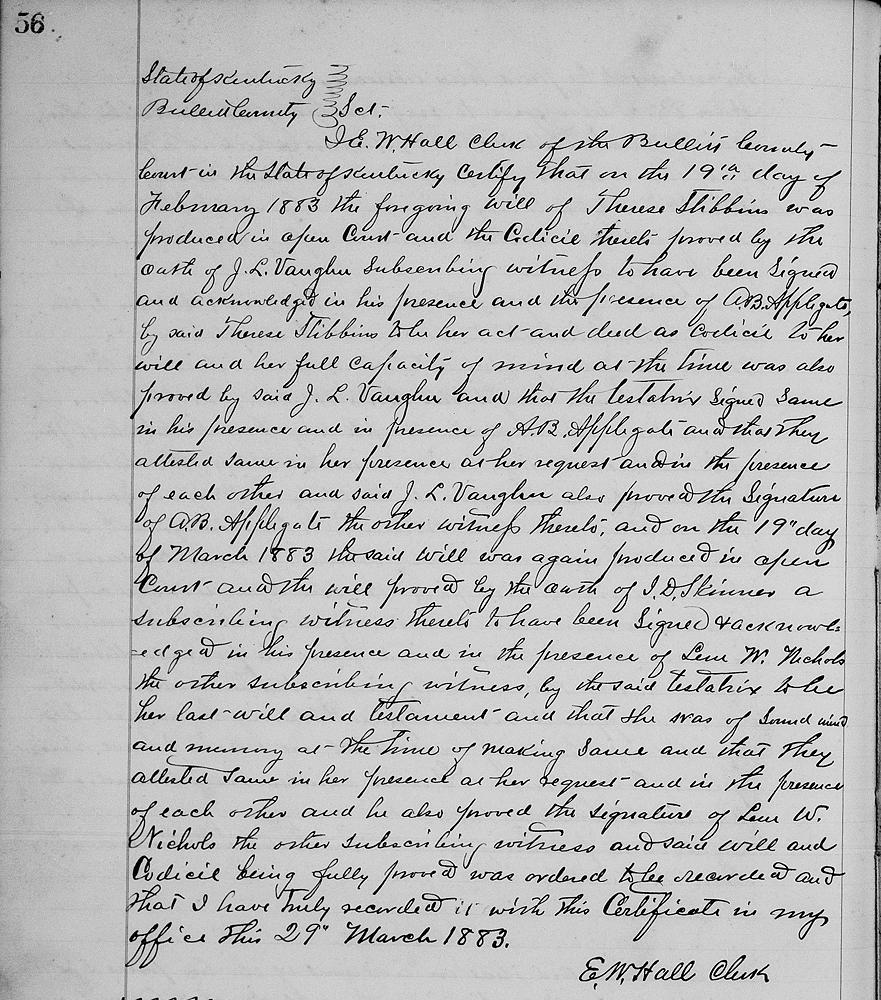 ---
If you, the reader, have an interest in any particular part of our county history, and wish to contribute to this effort, use the form on our Contact Us page to send us your comments about this, or any Bullitt County History page. We welcome your comments and suggestions. If you feel that we have misspoken at any point, please feel free to point this out to us.