St. John's Chapel
The first Catholic Chapel built in Bullitt County was St. John's, built in 1812 on land owned by Joseph Aud along Rocky Run Creek near the Bullitt-Nelson county line and present-day Deatsville. In 1814, Joseph Aud "deeded ten acres which he called 'Asusmption Hill' adjoining his plantation to the Rt. Rev. Benedict Joseph Flaget, Bishop of Bardstown, for the purpose of providing a site for a Catholic Chapel and a cemetery." [quote by Sister Mary Philippa (Mary A. Henderson) who was a great, great granddaughter of Joseph Aud; printed in "Cemetery Records of St. John's Chapel, Bullitt County, Kentucky" Filson Club History Quarterly, Volume 24, Oct. 1950.] That deed is recorded in Deed Book C, pages 141-2, at Shepherdsville. The actual deed and its transcription are shown below.
Because St. John's was in a remote location, when St. Gregory's was built at Samuels in 1851 most of St. John's parishioners moved there. The chuch was closed for good not long after the tragic death of Father Bertello in 1917. The cemetery is still there.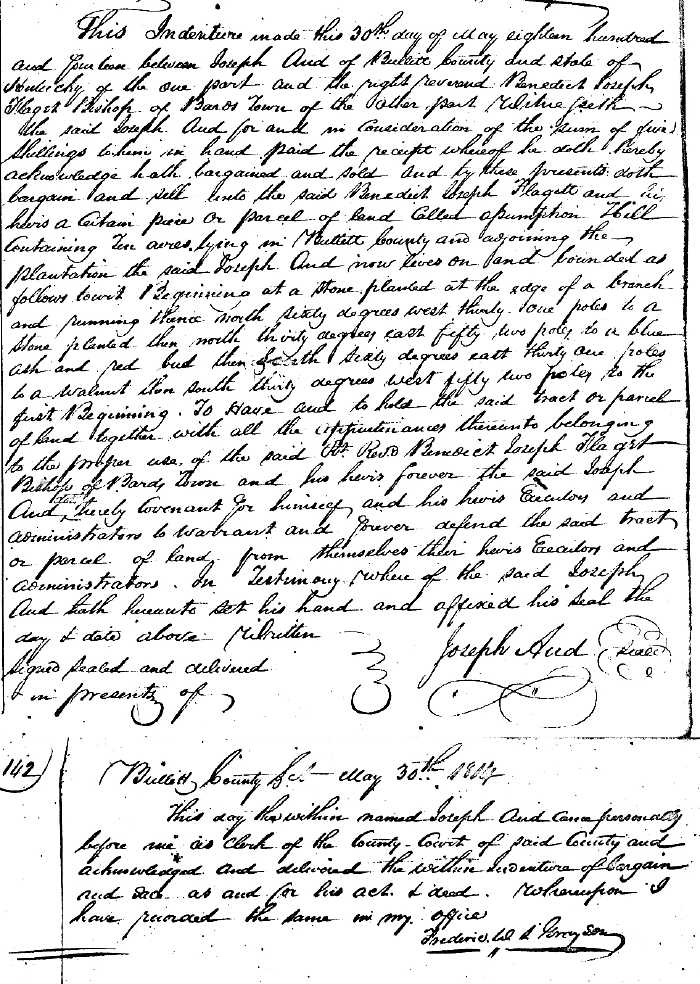 Transcription
This indenture made this 30th day of May eighteen hundred and fourteen between Joseph Aud of Bullitt County and state of Kentucky of the one part and the right reverend Benedict Joseph Flaget Bishop of Bardstown of the other part witnesseth the said Joseph Aud for and in consideration of the sum of five shillings to him in hand paid the receipt whereof he doth hereby acknowledge hath bargained and sold and by these presents doth bargain and sell unto the said Benedict Joseph Flagett and his heirs a certain piece or parcel of land called Assumption Hill containing ten acres, lying in Bullitt County and adjoining the plantation the said Joseph Aud now lives on and bounded as follows to wit Beginning at a stone planted at the edge of a branch and running thence north sixty degrees west thirty-one poles to a stone planted then north thirty degrees east fifty two poles to a blue ash and red bud then South sixty degrees east thirty one poles to a walnut then south thirty degrees west fifty two poles to the first Beginning. To have and to hold the said tract or parcel of land together with all the appurtenances thereunto belonging to the proper use of the said Rt. Rev'd Benedict Joseph Flaget Biship of Bardstown and his heirs forever the said Joseph Aud doth hereby covenant for himself and his heirs Executors and administrators to warrant and forever defend the said tract or parcel of land from themselves their heirs Executors and administrators. In testimony whereof the said Joseph Aud hath hereunto set his hand and affixed his seal the day and date above written. (signed) Joseph Aud [seal]
Signed sealed and delivered in presents of
Bullitt County Sct - May 30th, 1814
This day the within named Joseph Aud came personally before me as clerk of the County Court of said County and acknowledged and delivered the within indenture of bargain and sale as and for his act and deed. Whereupon I have recorded the same in my office.
(signed) Frederic W. Grayson
---
This is a work in progress. It is copyright 2007 by Charles Hartley, Shepherdsville KY. All rights are reserved. No part of the content of this page may be included in any format in any place without the written permission of the copyright holder.
---
If you, the reader, have an interest in any particular part of our county history, and wish to contribute to this effort, use the form on our Contact Us page to send us your comments about this, or any Bullitt County History page. We welcome your comments and suggestions. If you feel that we have misspoken at any point, please feel free to point this out to us.