Jesse Simmons' Church Site
In 1797, Jesse and Rachel Simmons set apart a plot of their land as a site for a church. At this time, we are uncertain exactly where the land was, or whether the church was ever constructed. We have transcribed this deed below, leaving in all of the misspellings as they help give us a flavor of the times in which it was written.
Information given online at this Find A Grave page indicates that Delaney's Ferry was located on Salt River in the eastern part of the county in the Cox's Creek area.
An image of the actual recorded deed is also given below.
---
Know all men by these presence that I Jesse Simmons of the County of Bullitts and State of Kanetuck due for myself my hairs exr adms and assigns freely give for ever unto the Seperate Babtis Church on Salt River of the County and State aforesaid one acre of land lying and being in the said county on the north side of the main road as follows. Begining corner forty yards down the road from the folks of the main road leeding from Bullets Lick to Bardstown and Delaneys ferry at a poplar saplin then from the road ten poles then turning square corner and runing sixteen poles and then square off to the main road and thence to the Begining corner and I the above said Simmons due give unto the above said church all the timber stone waters minerals and every priveledge thereunto belonging with the proviso that there is a meeting house built there on thirty feet long and twenty four feet wide sole and purpously for the worship of God and likewise this house of God is to be free for all gospell minesters to prech in at all times Except every forth Saturday and Sabeath Day in every month throughout every year and further I the above said Simmons for the safety and secuerty of the above said Babtis Church notetiously give the above said land to the above said church for the above said purposes and likewise without an defroad I solemly and unfainealy bind myself my hairs Exr and Adm and assignes for ever to quit all rights and titel to the above said land at the signeing and sealing of these presents in witness whereof I set my hand and seal this eighteenth day of March one thousand seven hundred and ninety seven in presence of William Clark, Loya Miles.
(signed) Jesse Simmons, Rachel Simmons
---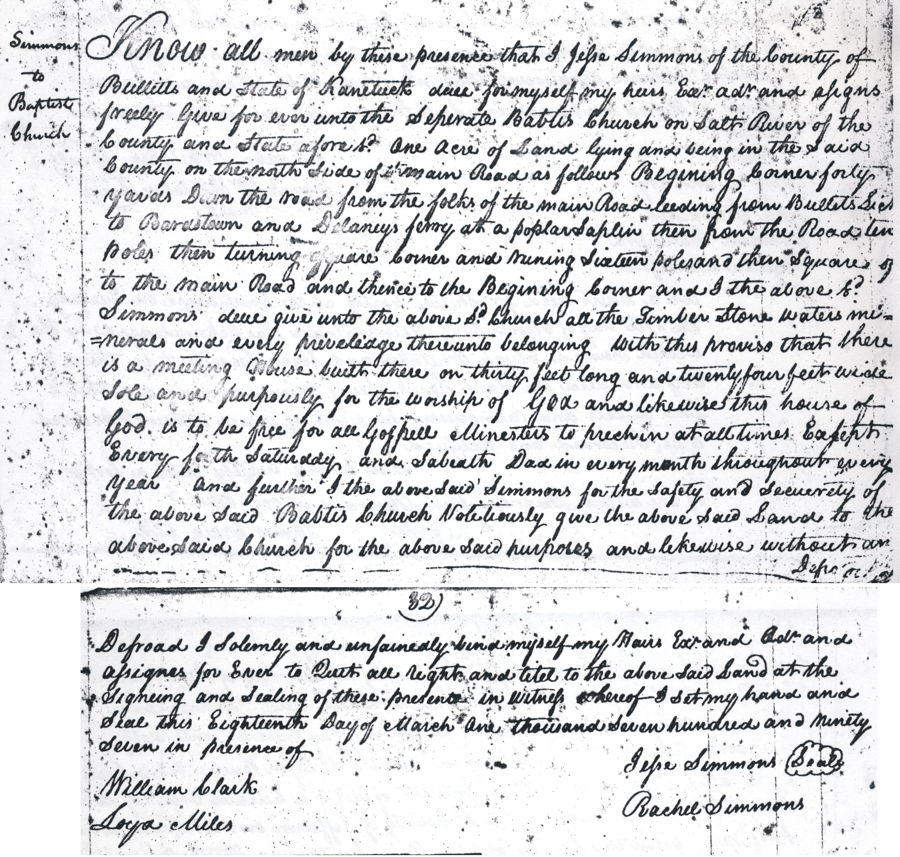 ---
If you, the reader, have an interest in any particular part of our county history, and wish to contribute to this effort, use the form on our Contact Us page to send us your comments about this, or any Bullitt County History page. We welcome your comments and suggestions. If you feel that we have misspoken at any point, please feel free to point this out to us.