Shepherdsville High School Faculty - 1954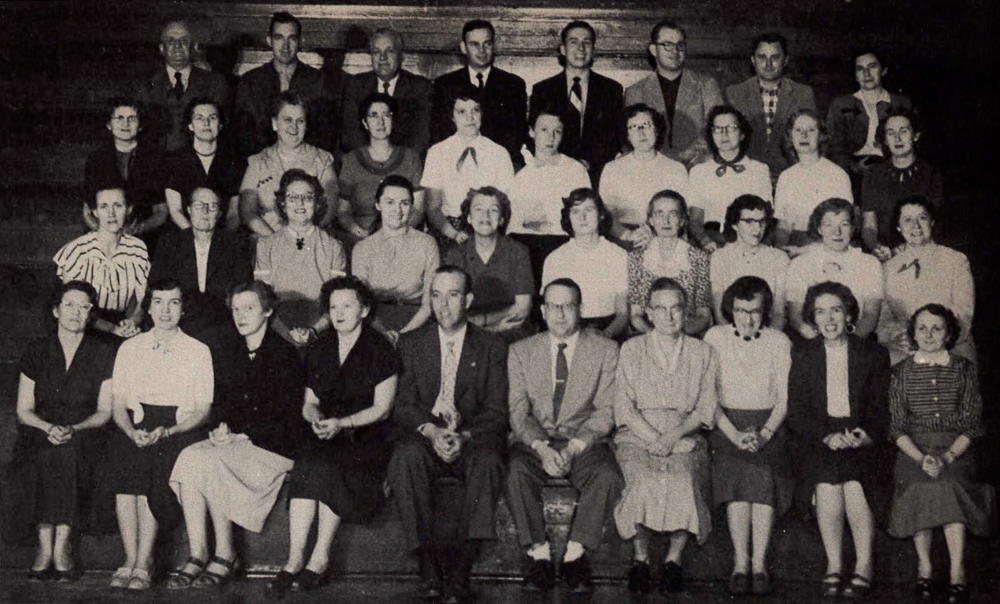 First row: Mrs. Richardson, Miss Bottom, Mrs. Masters, Mrs. Pope, Mr. Rodgers, Mr. Tanner, Miss Z. Dawson, Mrs. Shaw, Mrs. Ferring, Mrs. Williams.
Second row: Mrs. Wigginton, Mrs. Hardesty, Mrs. Larimore, Mrs. Lee, Mrs. Cruise, Miss Roby, Miss A. Dawson, Mrs. Terry, Mrs. Price, Mrs. Kniesler,
Third row: Mrs. Cook, Mrs. Feltner, Mrs. Napier, Mrs. Mickovsky, Mrs. Hedrick, Mrs. Farris, Mrs. Singleton, Mrs. Lee, Mrs. Gibson, Mrs. Sullivan.
Fourth row: Mr. Black, Mr. Horrell, Mr. Wilson, Mr. Pendergrass, Mr. Nitzken, Mr. Moody, Mr. Farris, Mrs. Myers.
Not pictured: Mr. Abramson, Mrs. Jeffries, Mr. Masden
---
If you, the reader, have an interest in any particular part of our county history, and wish to contribute to this effort, use the form on our Contact Us page to send us your comments about this, or any Bullitt County History page. We welcome your comments and suggestions. If you feel that we have misspoken at any point, please feel free to point this out to us.