Shepherd Heirs to William Pope
On 19 May 1827, the widow and children of Adam Shepherd signed a deed to William Pope, that gave him several parts of the 600 and 900 acre surveys originally patented in the name of Adam's father, Peter Shepherd. The deed transcription and images of the deed are shown below.
---
Bullitt County Deed Book F, pages 384-5
This indenture made and entered into this nineteenth day of May in the year of our Lord one thousand eight hundred and twenty seven between Rachel Shepherd widow and Benjamin Chapeze and Elizabeth his wife, Sally Shepherd, Charlotte Shepherd, Julia Shepherd, Jane and Elizabeth Prior heirs and representatives of Adam Shepherd dec'd of the county of Bullitt and state of Kentucky of the one part and William Pope of the county of Jefferson and state aforesaid of the other part. Witnesseth that whereas the said Pope represents that was on about the first day of January 1803 the purchaser of two tracts of land lying in Bullitt County on Salt River the property of said Adam Shepherd dec'd at a sale made by William then deputy marshall for the district of Kentucky the said tracts containing the one nine hundred and the other six hundred and the said Pope having by deed conveyed the said tracts with certain reservations to the above named Sally and Charlotte Shepherd which deed bears date the 15th day of March 1827 and is of record in the clerk's office of the Bullitt County Court, now for and in consideration of the premises and the further consideration of one dollar to the parties of the first part by the said Pope in hand paid the said parties of the first part have sold and by these presents doth sell alien release convey and confirm unto the said William Pope the several parcels so by him reserved as aforesaid, to wit: one hundred and twenty acres to adjoin Honey's and Brend's surveys with lines parallel to the lines of said surveys and equal quantity on each and to adjoin the lands of Maraman and Standsbury as claimed by them out of said six hundred acres survey, thirty nine and one half acres out of the nine hundred acre survey back of Shepherdsville and adjoining McGee's survey agreeably to a platt made out by the surveyor of Bullitt County and also three hundred and sixty eight and one half acres out of the nine hundred acre tract to adjoin Beckwith's two hundred and fifty acres, Burkes' thirty acres and the line of said nine hundred acre tract next to Bullitt's Lick. To have and to hold the said one hundred and twenty acres, thirty nine and one half acres, and three hundred and sixty eight and one half acres to him the said William Pope his heirs and assigns to his and their only proper use, benefit and behoof forever and the said parties of the first part covenant to and with the said party of the second part that they will warrant and defend to him the before described parcels or tracts of land and to his heirs & against the claim of themselves their heirs and all and every person or persons claiming or to claim the same by through from or under them but not against the claim or claims of any other person or persons whatsoever. It being expressly understood that this deed is made to confirm the purchase of the said tracts made by said Pope as herein before described and is to be taken and considered only as a release and quit claim of the said parties of the first part and they are not to be responsible for title. In testimony whereof they have hereunto subscribed their names and affixed their seals this day and date first above written. (signed) Rachel Shepherd, Ben Chapeze, Sarah Shepherd, Charlotte Shepherd Julia M. Shepherd, Jane B. Pryor, Elizabeth Chapeze, Elizabeth Pryor
State of Kentucky
Bullitt County Court Clerk's Office
May 19th, 1827
I Noah C. Summers, Clerk of the County Court of said county, do certify that on this day this indenture was acknowledged by Rachel Shepherd, Benjamin Chapeze, Sarah Shepherd, Charlotte Shepherd, Julia Shepherd and Jane Pryor all parties thereto to be their acts and deed for the purposes therein mentioned and the same is thereupon truly recorded in my office as also the .. certificate of action. (signed) Noah C. Summers, Clerk
State of Kentucky and County of Nelson Sct
I Thomas T. Grayson, clerk of the county court of the said county do certify that on the 30th day of July 1827, Elizabeth Chapeze the wife of Benjamin Chapeze and Elizabeth Pryor tow of a party to the above indenture did in my presense acknowledge the same to be their act and deed and I further certify that the said Elizabeth Chapeze was examined by me privately and apart from her said husband when she declared to me that she did freely and willingly seal and deliver the said indenture and wished not to retract it. Witness my hand. (signed) Thomas T. Grayson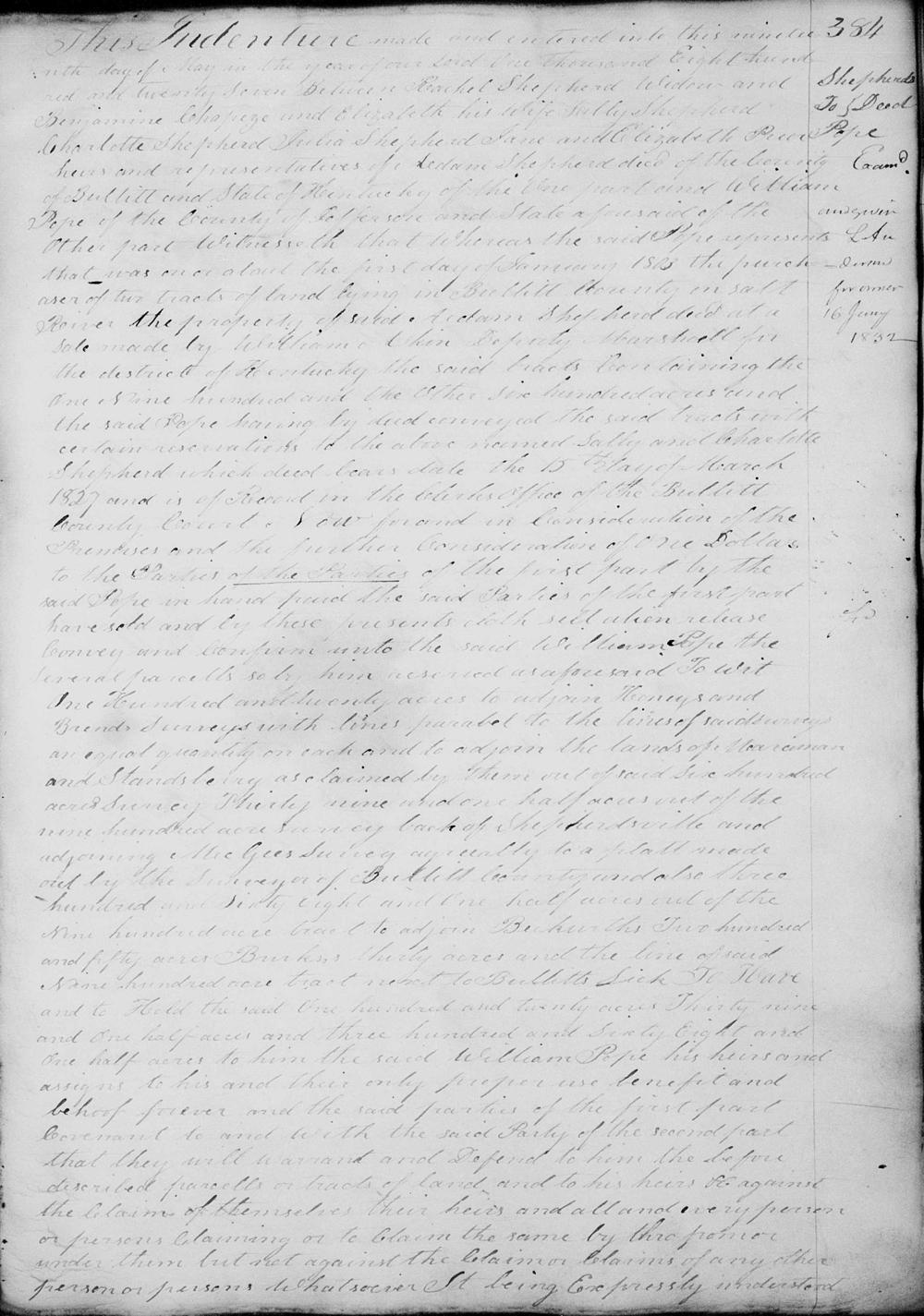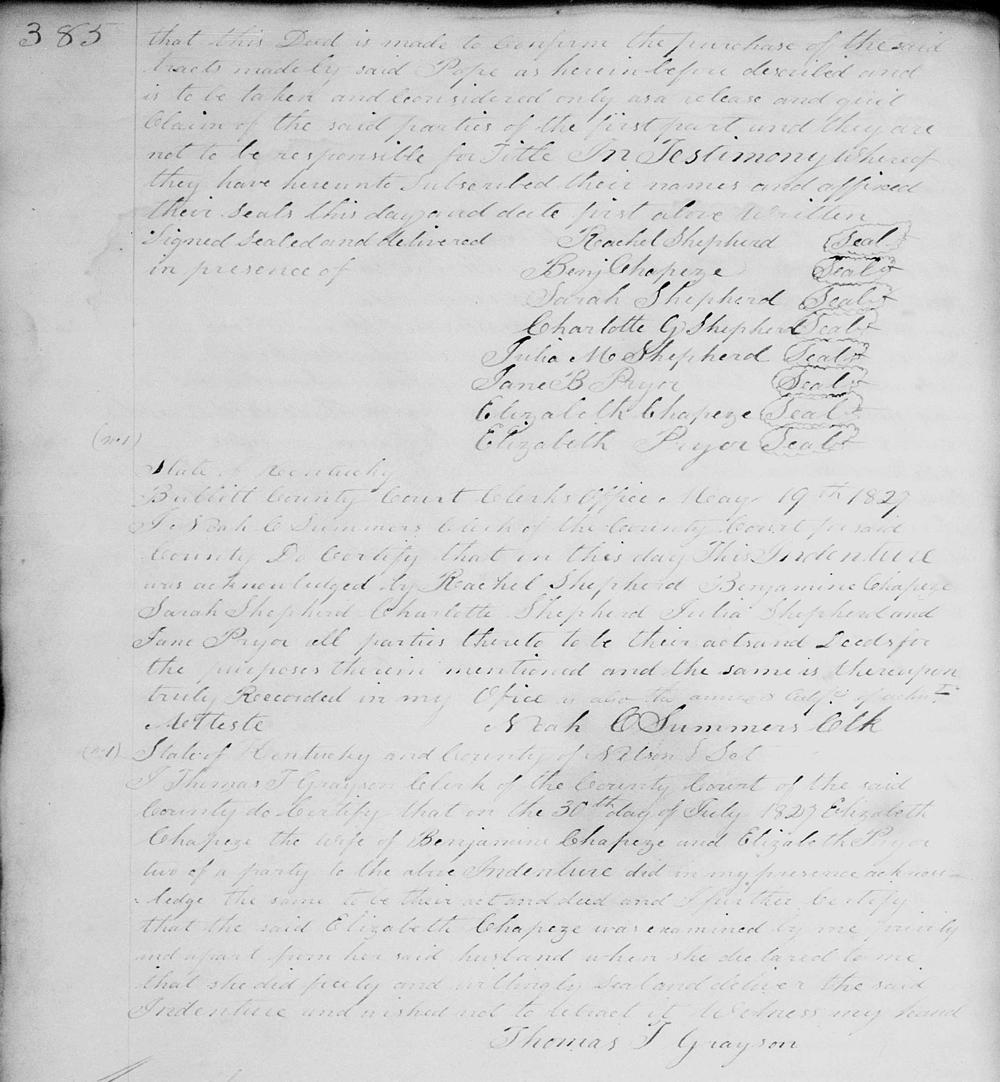 ---
If you, the reader, have an interest in any particular part of our county history, and wish to contribute to this effort, use the form on our Contact Us page to send us your comments about this, or any Bullitt County History page. We welcome your comments and suggestions. If you feel that we have misspoken at any point, please feel free to point this out to us.