Deaths at Bardstown Junction Crossing, 1918
The following article appeared in The Courier-Journal on 19 Jun 1918. It is transcribed below, with an image of the article beneath the transcription.
---
FIVE KILLED AS TRAIN HITS AUTO
Accident Second to Occur at Bardstown Junction Crossing.
Family Planned Picnic
Grade crossings in Kentucky again claimed their toll of lives yesterday when five persons were hurled to death when an automobile in which they were riding was struck by L. & N. passenger train No. 24 a mile south of Bardstown Junction. The accident occurred at 8 o'clock yesterday morning while the party was on its way to a picnic. Train No. 24 was several minutes late and those in the automobile are believed to have presumed that it had passed and did not alight when their machine became stalled on the tracks.
Those killed:
Mrs. Emma Shelton, 55 years old, wife of Henry Shelton.
John Henry Lee, 21 years old, son of Mrs. Shelton by a former marriage.
Mrs. Letitia Lee, 24 years old.
Sarah Elizabeth Lee, month-old baby of Mrs. Lee.
Ethel Lee Howlett, 7 years old, daughter of Mr. and Mrs. Lawrence Howlett, of Shepherdsville, and granddaughter of Mrs. Shelton.
All but Mrs. Letitia Lee were hurled to instant death and their bodies scattered with the wreckage of the automobile. Mrs. Lee was brought to Louisville to Sts. Mary and Elizabeth Hospital, where she died at 12 o'clock yesterday afternoon. Nearly every bone in her body was broken.
The bodies of the victims were also brought to Louisville on train No. 24 to the morgue of Lee Cralle, at Sixth and Chesnut streets. All the bodies were so badly mangled that positive identification was not made until several hours later when Mrs. Lawrence Howlett came to Louisville from Shepherdsville with a party of friends and went through the ordeal of viewing the bodies of her mother, brother, sister, her little daughter and infant niece, all of whom she had seen alive and well but a short time before.
In John Henry Lee's pocket was found a draft registration card, which give his residence as 913 East Market street, Jeffersonville, Ind. He lived at the home of Mrs. Jennie Watts while working in Jeffersonville and had recently enlisted in the navy. Thursday he left, telling Mrs. Watts that he was going to Shepherdsville to see his mother before reporting at the Great Lakes Training Station.
The train which struck the automobile was Louisville bound and in charge of Engineer William Bowles and Conductor A. L. Haynes. It was due in Louisville at the time of the accident. Superintendent of the Division W. F. Sheridan said the accident occurred at a point where the track was straight and his report on the affair from members of the crew was that the automobile engine went dead on the tracks. The engineer had just signaled for the station at the junction when the accident occurred. He said there was nothing to obstruct the view of the train from the automobile party. He said, according to the engineer, the man in the automobile had gotten out or was getting out, presumably to crank the auto when it was struck.
The Shelton and Howlett families are well known in Bullitt county. Mrs. Shelton's first husband was a Mr. Lee. Lawrence Howlett, father of one of the victims had gone from his farm at Salt River to Pitts Point and did not know of the accident until several hours later. J. W. Barral, of The Pioneer News, of Shepherdsville, who was acquainted with both families, came to Louisville yesterday and assisted in the identification.
The accident yesterday is the second to occur recently at the Bardstown Junction crossing. Two members of an auto party met death in practically the same manner.
The bodies of the victims were sent to Shepherdsville last night.
The accident yesterday morning brought the total up to eleven in two accidents in the State Monday and Tuesday. George Hunn, his wife and four sons were killed when an auto in which they were riding was struck by a Queen & Crescent train at a crossing at Moreland, near Stanford, Ky., late Monday afternoon. Hunn was a merchant of Moreland. Coulter White, a 3-year-old nephew, was seriously hurt.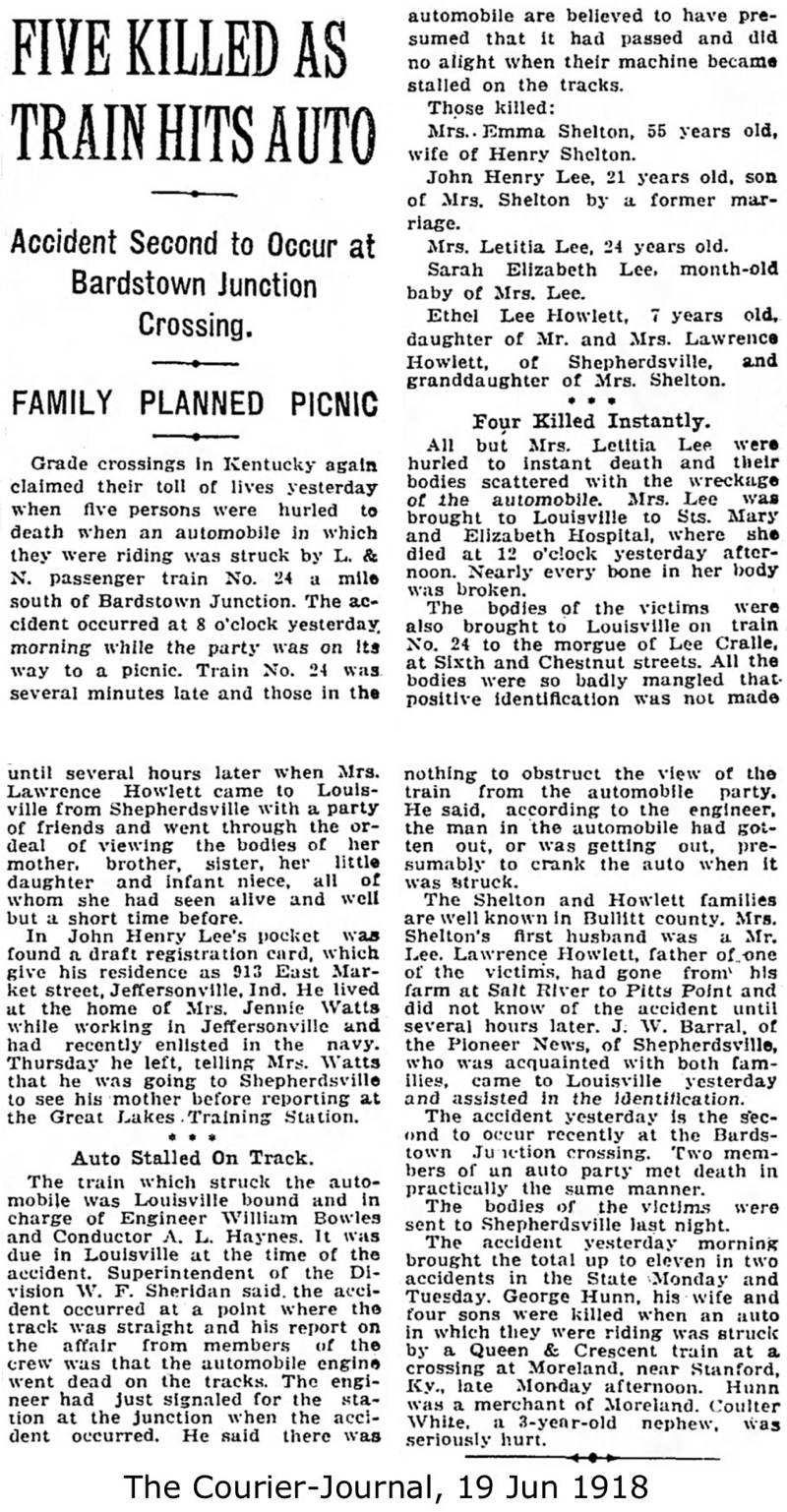 ---
If you, the reader, have an interest in any particular part of our county history, and wish to contribute to this effort, use the form on our Contact Us page to send us your comments about this, or any Bullitt County History page. We welcome your comments and suggestions. If you feel that we have misspoken at any point, please feel free to point this out to us.