Rebecca Brooks' Family Bible
The museum is in possession of the family Bible said to be the Bible of Rebecca Brooks, likely wife of David Brooks Sr. Below are images of different family history pages taken from this Bible, together with our attempts to transcribe them.
Births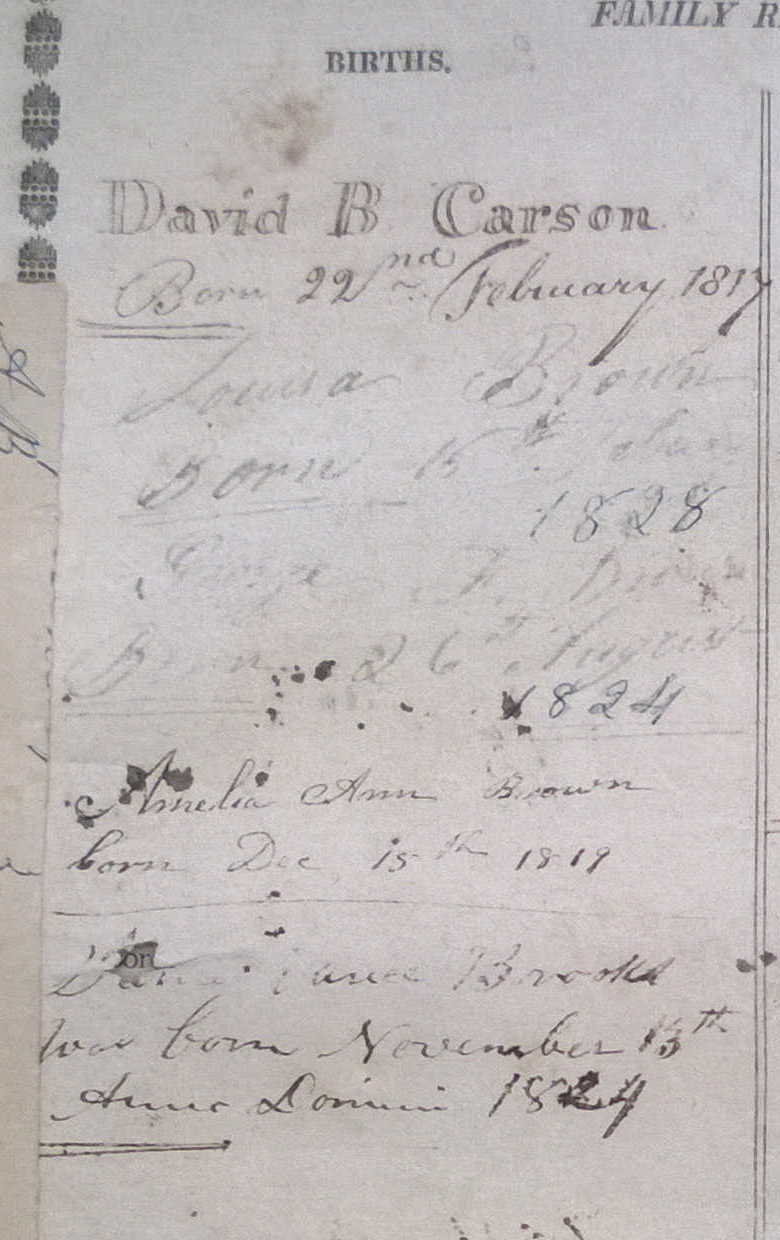 David B. Carson, born 22nd February 1817.
Louisa Brown born 16th February 1828.
George F. Brown, born 26th August 1824.
Amelia Ann Brown born December 15th 1819.
.. .. Brooks was born November 13th, 1824.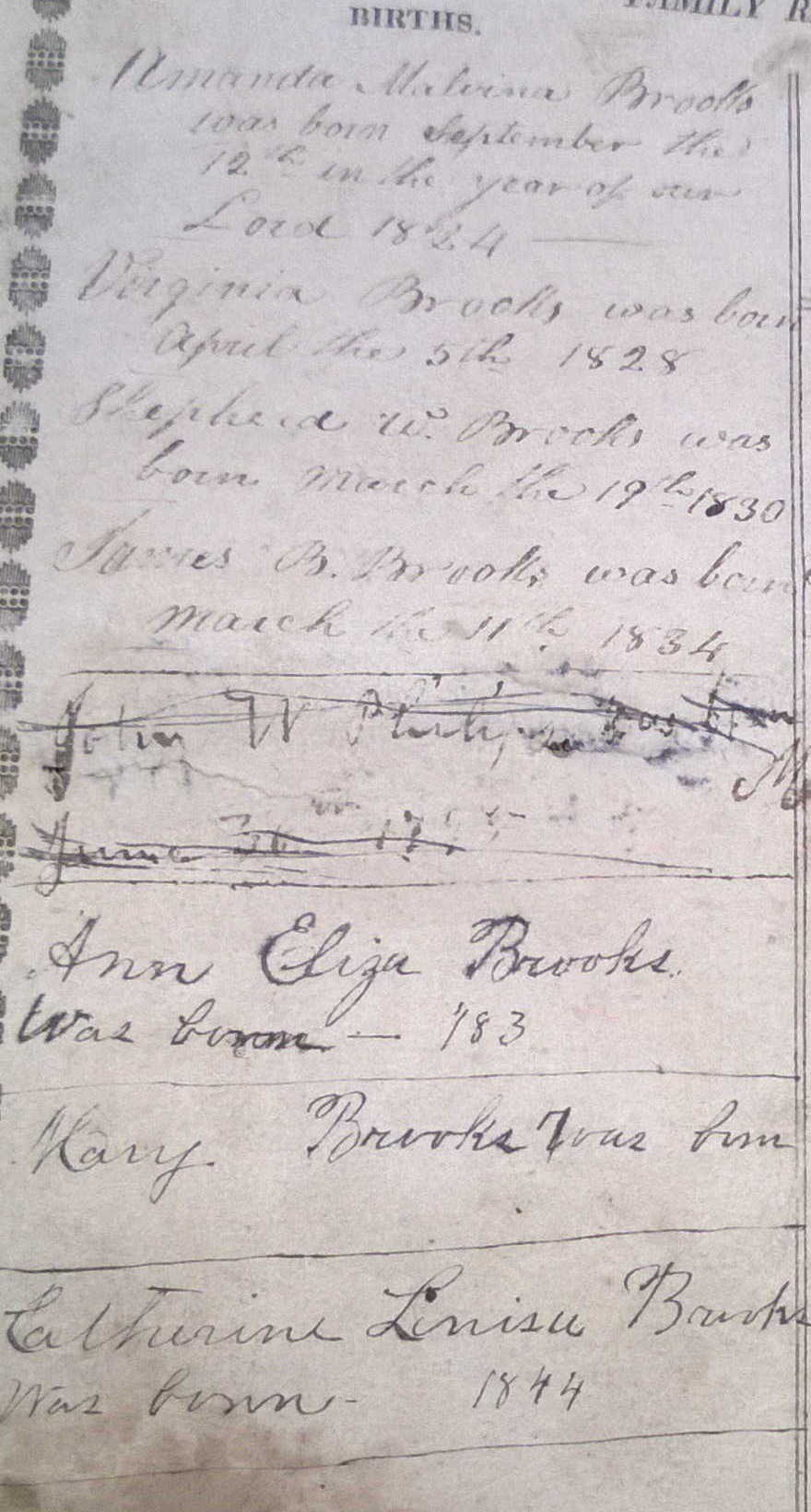 Amanda Malvina Brooks was born September the 12th in the year of our Lord 1824.
Virginia Brooks was born April the 5th 1828.
Shepherd W. Brooks was born March the 19th 1830.
James B. Brooks was born March the 11th 1834.
(marked out) John W. Philips was born June 30th 1795.
Ann Eliza Brooks was born 183_
Mary Brooks was born __ .
Catherine Louise Brooks was born 1844.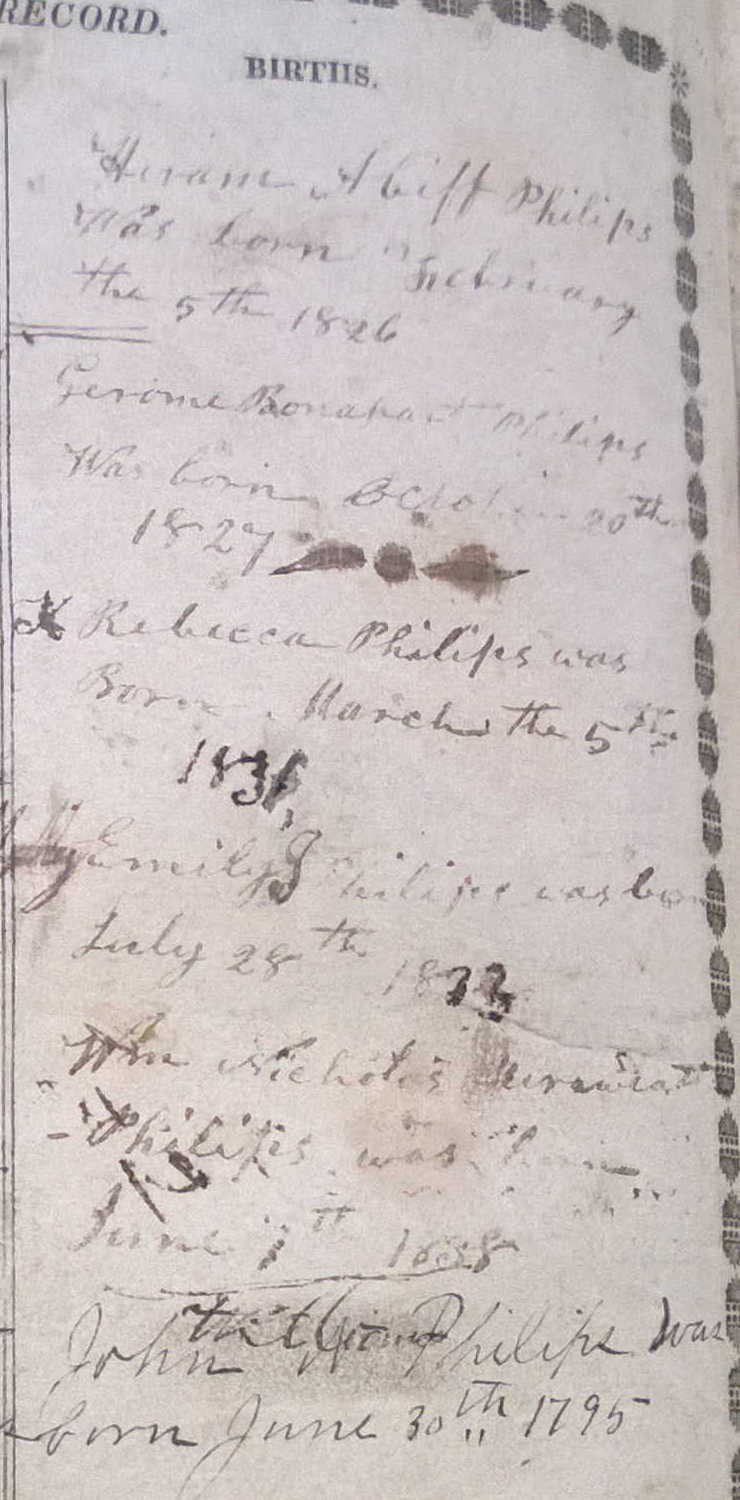 Hiram Abiff(?) Philips was born February the 5th 1826.
Jerome Bonapart Philips was born October 30th 1827.
K. Rebecca Philips was born March the 5th 1831.
Emily J. Philips was born July 28th 1823(?).
William Nicholas ... Philips was born June 7th 1838.
John William Philips was born June 30th 1795.
Marriages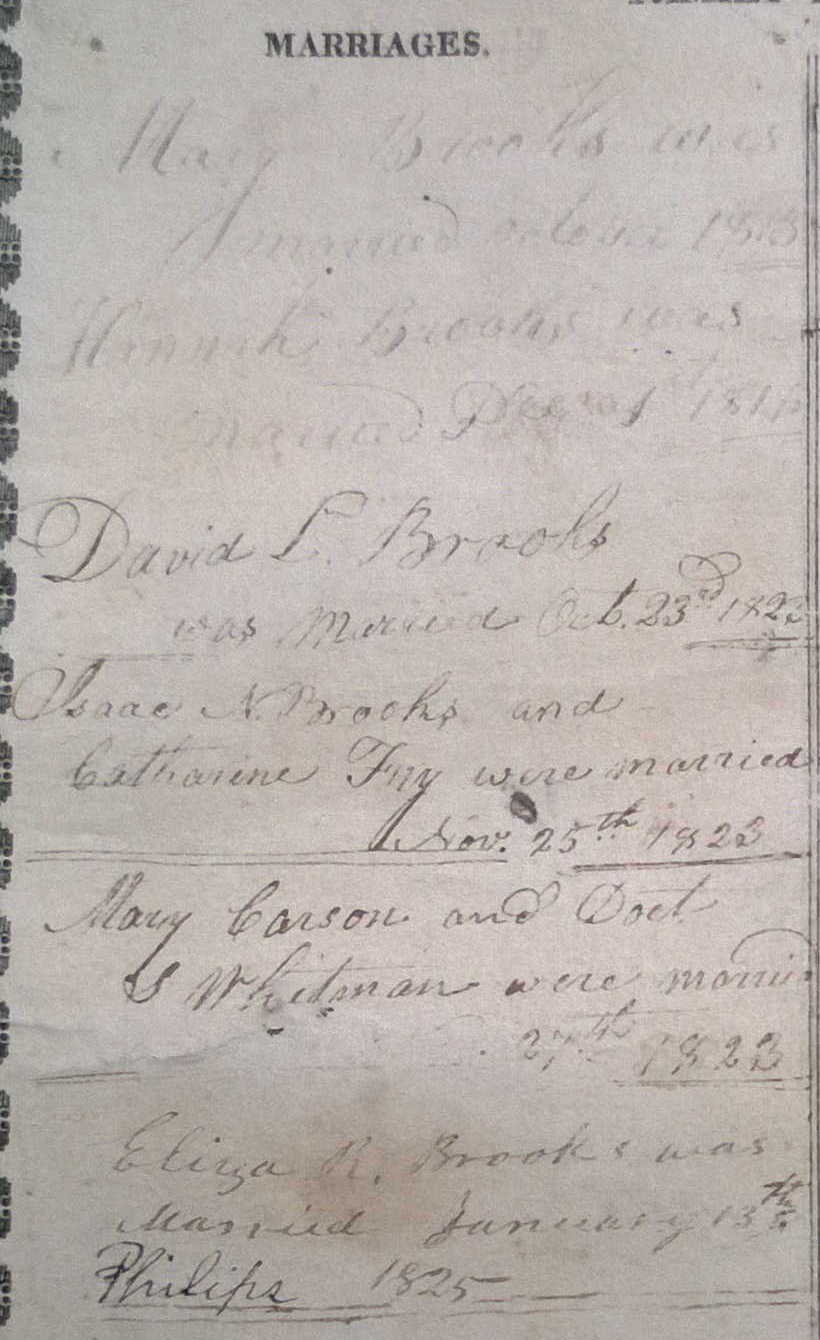 Mary Brooks was married October 1813.
Hannah Brooks was married December 1818.
David L. Brooks was married October 23rd 1823.
Isaac N. Brooks and Catherine Fry were married November 25th 1823.
Mary Carson and Doct S. Whitman were married .. 27th 1823.
Eliza R. Brooks was married January 13th, 1825 Philips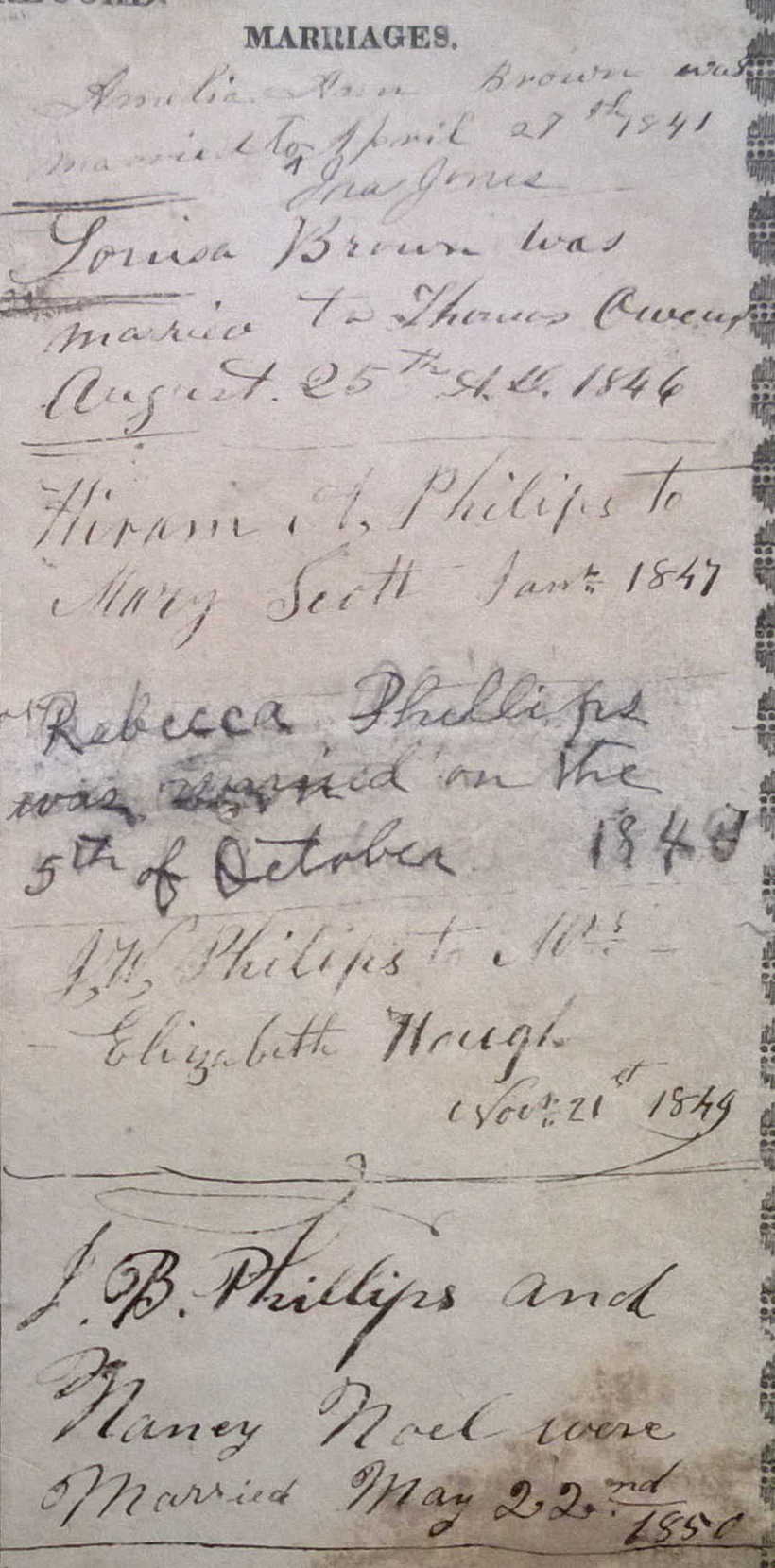 Amelia Ann Brown was married to Ira Jones, April 27th 1841.
Louisa Brown was married to Thomas Owens August 25th 1846.
Hiram A. Philips to Mary Scott, January 1847.
Rebecca Phillips was married on the 5th of October 1849(?).
J. W. Philips to Elizabeth Hough, November 21st 1849.
J. B. Phillips and Nancy Noel were married May 22nd 1850.
Deaths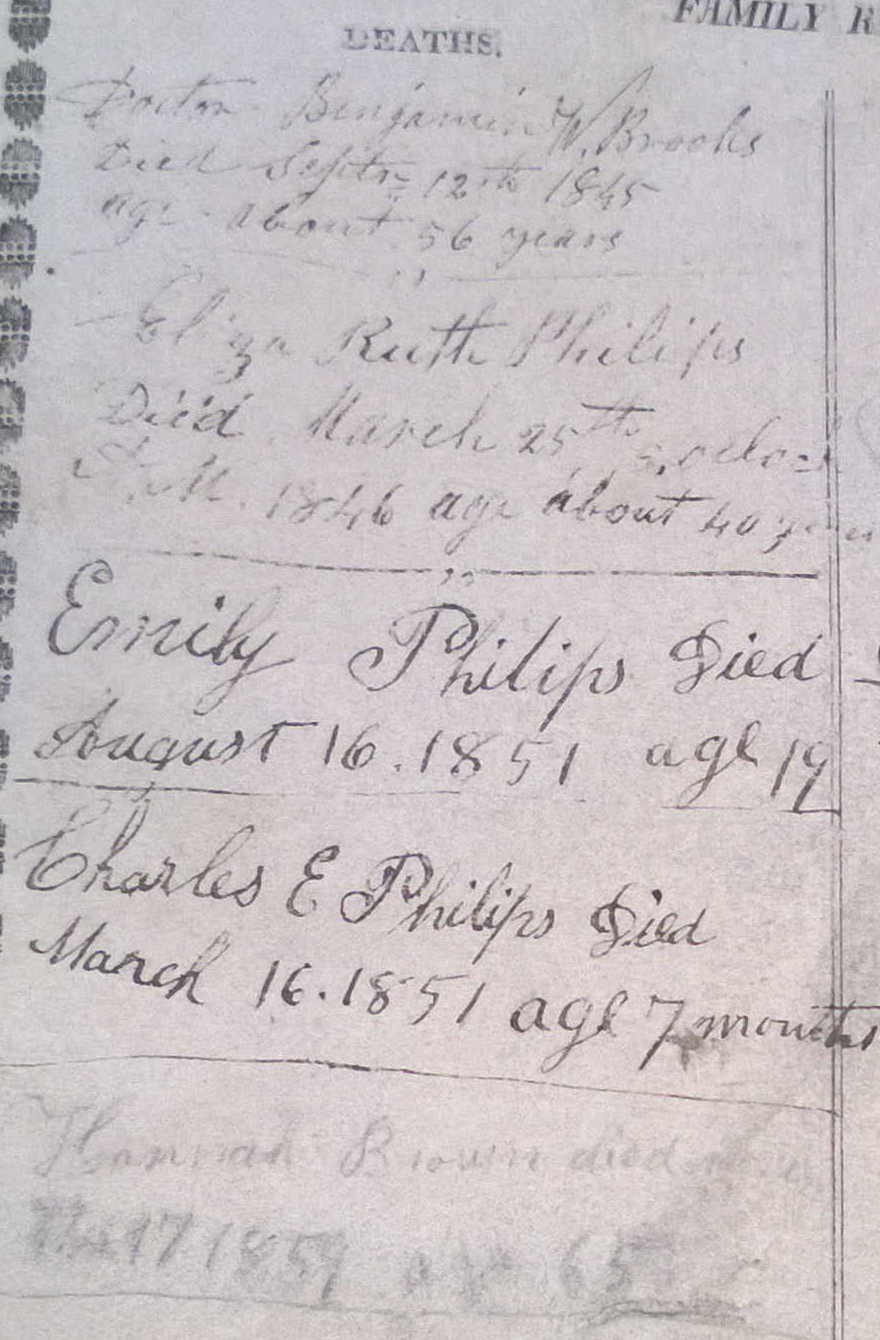 Doctor Benjamin W. Brooks Died September 12th 1845 Age: about 56 years
Eliza Ruth Philips Died March 25th, 5 o'clock A.M., 1846 Age: about 40 years
Emily Philips Died August 16, 1851 Age 19
Charles E. Philips Died March 16, 1851 Age 7 months
Hannah Brown died November 17, 1859, age 65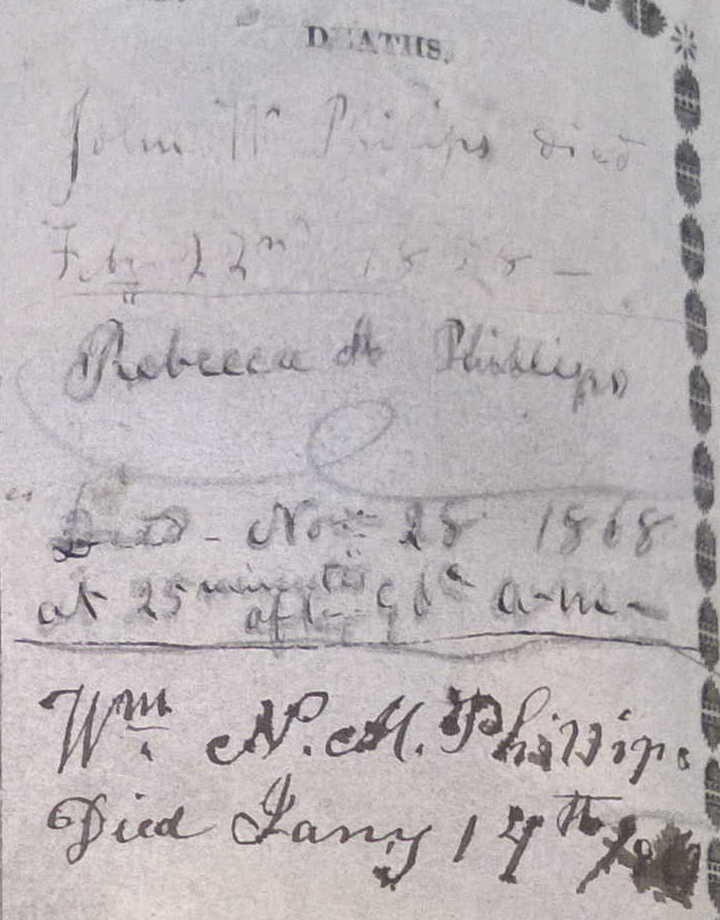 John W. Philips Died February 22, 1858(?)
Rebecca A. Phillips Died November 28, 1868 at 25 minutes after 9 a.m.
William N. M. Phillips Died January 14th ????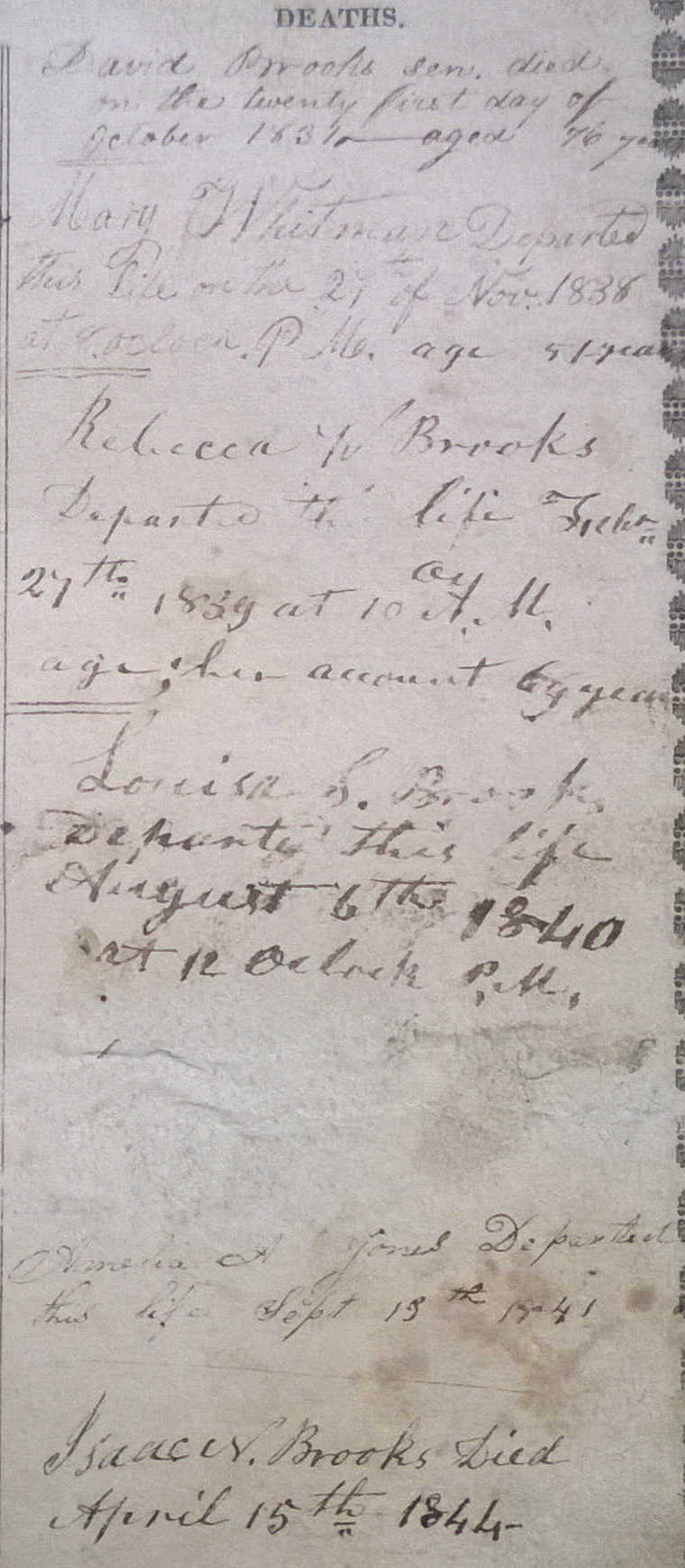 David Brooks Sr. died on the twenty-first day of October 1831, aged 76 years.
Mary Whitman departed this life on the 27th of November 1838 at 8 o'clock P.M.; age 51 years.
Rebecca W. Brooks departed this life February 27th 1839 at 10 A.M., age her account 69 years.
Louisa S. Brooks departed this life August 6th 1840 at 12 o'clock P.M.
America A. Jones departed this life September 13th 1841.
Isaac N. Brooks died April 15th 1844.
The Bible itself is located in the Bullitt County History Museum archives.
---
If you, the reader, have an interest in any particular part of our county history, and wish to contribute to this effort, use the form on our Contact Us page to send us your comments about this, or any Bullitt County History page. We welcome your comments and suggestions. If you feel that we have misspoken at any point, please feel free to point this out to us.