The third son of Wilford and Margaret Lee, was born in Bullitt County, Ky., October 22d, 1832. His father, who emigrated from Virginia in early life, was intimately related to the old revolutionary families of that name, and possessed, in no ordinary degree, their high sense of freedom, and that decision of character which forbids a man to halt between duty and interest, principle and policy. The subject of our sketch was educated at St. Joseph's College, Bardstown, graduating at that institution at eighteen years of age. He shortly afterward entered the University of Louisville, and, in 1852, at the age of twenty, he graduated in the law class there, and was admitted to the bar. In the practice of his profession, he has always been considered by his friends an able advocate, and particularly so before juries.
In 1853, not having yet attained to his majority, he was elected to represent Bullitt County in the Legislature, and was, it is said, the youngest member who ever sat in that body. Here he served two terms, having been reelected in 1855. In 1856, he was a candidate for presidential elector on the Fillmore ticket, in opposition to Gov. Magoffin; and, in 1860, was on the electoral ticket for Bell and Everett, opposed by Judge Marcus R. Hardin and Capt. Graves. This canvass is described as a most spirited one. The country was aroused; danger to our institutions seemed imminent; and the speakers were excited to more than common exertion. For three months they addressed the people almost daily; and, in this contest, the strong points of Col. Lee, as a popular debater, so fully developed themselves, that, before the close of the campaign, he had won a reputation for ready polemic wit, a certain sharp invective, and, when it better suited his turn, a broad, old Kentucky humor, all of which combined to make him an antagonist to be feared on the stump, since these characteristics enabled him to suit his address to the occasion, and to reach every class of people, whose sympathies, it appears, he always enlisted in his favor, if not in that of the men whom he represented.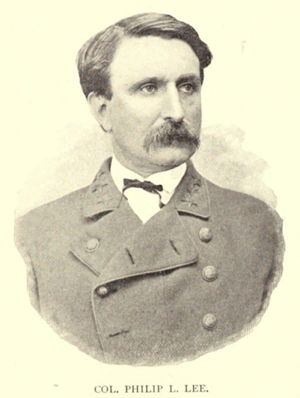 Early in 1861, true to his blood and lineage, he came out boldly for the South, declaring that the honor of Kentucky was at stake, that an alliance with the South was the only natural and legitimate course that Kentucky could pursue. He pronounced the neutrality policy "a foolish and impracticable thing," a trick of demagogues to deceive the too-confiding people; and he advised them to take no counsel of their fears, nor to consider for a moment the promptings of that unworthy spirit of policy that led men to stand against the weak.
He continued his opposition to the purposes and measures of the government until further efforts were in vain, and the chances for giving the Confederacy substantial aid were growing more and more dangerous and uncertain, when he set about enlisting men for the Southern service, and soon repaired, with more than a hundred young men -- emphatically young men, for there was but one married man among them all -- to a point in Tennessee, near the Kentucky line, where, in company with Moss, Breckinridge, and Tilghman, July 4th, 1861, he assisted in laying out the now historic Camp Boone. July 16th, his company was organized under the designation of C, Second Kentucky, of which he was elected captain. Shortly after this, he was ordered by Col. Bob Johnson, then commanding, to take charge of a hundred picked men, and penetrate as far as practicable into Kentucky, for the purpose of disarming home-guards, and securing guns for the Confederate troops. Accordingly, August 20th, he set out with his detachment, (among whom was the gallant and soldierly Graves), and, capturing a train of cars, he proceeded almost as far as Bowling Green. But the news preceded him; the cry had been raised that the rebels were coming, and the points along the route were hastily abandoned by the redoubtable militia, while the "rebel" captain, who was compelled to confine himself to the road, returned with no other fruits of his expedition than having proved a dreadful fright to "the defenders of their homes." This incident is noteworthy chiefly on account of its having been the first Confederate raid in Kentucky, and the capture of the first train.
Henceforth, until the disastrous close of the great struggle, his history is interwoven with that of the immortal Second Regiment, whose exploits at Donelson, in which it alone of the First Brigade took part, as we have elsewhere noticed, sent a thrill of joy to the hearts of Kentucky soldiers everywhere. Though they were defeated and in captivity, there was a secret pride to those who had not yet engaged the foe, in the knowledge that these, their brothers, had upheld the traditional honor of Kentucky on one bloody field, and that, sooner or later, their example should be emulated; that the old State, through these her representatives in the Army of the South, should still preserve her prestige; should still be known as the chivalrous old Kentucky -- first and worthy daughter of the "Mother of States" -- "land of fair women and brave men.
Imprisoned for six weary months, his regiment at length came forth to win new laurels at Hartsville. It is unnecessary to dwell upon his particular conduct on every occasion, for that has passed into history, to be known and read of all men. Suffice it to say, that (what the reader has, perhaps, observed, in the course of the general narrative) he was present at every engagement in which his regiment participated during the war, except that of 22d of July, near Atlanta, and demeaned himself alike in all. Always active and vigilant, he inspired confidence and won honors in the path of danger and of duty. At Chickamauga, though yet in the line, and suffering, too, with illness, he was acting field officer, and is referred to in the report of the commanding officer as having done his duty "with his accustomed gallantry." Shortly after this battle, he was promoted to major, and November 5th, to lieutenant-colonel. On the campaign from Dalton to Atlanta, he received the only wounds that were inflicted on him during the war. He was painfully wounded at Resaca, May 14th, and received at Dallas, May 28th, a slight wound. On the fall of Moss at Jonesboro, August 31st, he was promoted to colonel, and commanded the Second Regiment till the close of the war.
By reference to our account of the operations in South Carolina, it will be seen that, by a well-planned, timely, and properly executed ambuscade, at McClernand's Ford, Lee, with his regiment alone, succeeded in repulsing and heading off an overwhelming Federal column, and saving the brigade train from falling into their hands.
A write in the Louisville Courier, some years ago, gave us a description of Col. Lee in the following terms, which, though very general, are yet accurate, and give us a tolerably fair idea of his personnel: "In stature, medium, with a heavy, muscular frame; a piercing gray eye, and a countenance beaming with genial good humor."
In the army, as well as at home, the suavity and cheerfulness of his general deportment made him friends; and the esteem in which he was held in his own regiment attested the goodness of his heart. To him it was a source of great pride that he always had the love of the brave boys who were under his orders; that he was always welcomed with a smile and pleasing courtesy, whether at the marquee of the general or the camp-fire of the soldier. Gen. Hanson once remarked that "Phil Lee's flow of spirits, his pleasantry, and genial wit go far toward lightening the toils of a campaign, since they always keep the regiment in good humor." The strength of his attachments, the generous feeling of his heart, are attested by the importance that he attached to these things. To have been the object of devoted friendship, to have possessed the brotherly esteem of his comrades in arms, was as much a source of honest and soldierly pride as to have walked undismayed over the many fields where Death held his carnival. Speaking of the fall of his lieutenants, Thomas and Rogers, there was a pathetic force in the language that went to the heart, and it bears out the estimate of this feature in his character. "Poor fellows!" said he, "after having suffered a long imprisonment with me at Camp Chase and Johnson's Island, they were killed under my eye at Hartsville, within five minutes of each other. Rogers, who had been my schoolmate, my earliest and best friend, and who loved me as an elder brother, died in my arms. Two braver hearts than those that beat in the bosoms of Charlie Thomas and John Rogers never gave their life's blood for the cause of freedom!"
Returning to Kentucky soon after the war closed, he resumed the practice of law, at first in Bardstown, but afterward locating in Louisville. There he married (June 23d, 1866,) an elegant and accomplished lady, Miss Belle B. Bridgeford, daughter of James Bridgeford, one of the leading stove founders of the country.
In 1868 he was nominated on the Democratic ticket for Commonwealth's Attorney for the Louisville district, and elected by a large majority, and was re-elected in 1874. Soon after entering upon this second term, however, and when still a young man he died (July 12th, 1875). The high esteem in which he was held is indicated by the fact that on the announcement of his death the flag on the City Hall was lowered to half mast, and the bells were tolled.
The Commercial of July 13th, spoke of his ability, worth and influence as follows:
"He filled the position of prosecuting attorney with distinguished ability. As a pleader the Louisville bar has had b ut few men who could compare to Col. Lee. Brilliant and passionate as a speaker, he never failed to exert a wonderful effect upon the jury; and for the first time in the history of the court, a distinguished attorney for the defense in a certain case based a motion for a new trial on the ground of the undue influence of Col. Lee's passionate eloquence upon the jury; and the first time in the history of the court, a distinguished attorney for the defense in a certain case based a motion for a new trial on the ground of the undue influence of Col. Lee's passionate eloquence upon the jury. He was the most severe prosecutor that the Circuit Court has ever had, and perhaps did more to enforce the law and mete out justice to criminals than any man who ever held the position. It is said that while he was prosecuting there was not a single verdict of acquittal on the charge of homicide.
"He was a constant and hard worker, and, by close application to his profession and laborious efforts as prosecuting attorney, he broke down his constitution. For nearly two years he has been unable to appear at his place in court, and for more than a year was so wasted by disease as to be little more than a walking skeleton. He breathed his last, surrounded by his family and a number of devoted friends."
If you, the reader, have an interest in any particular part of our county history, and wish to contribute to this effort, use the form on our Contact Us page to send us your comments about this, or any Bullitt County History page. We welcome your comments and suggestions. If you feel that we have misspoken at any point, please feel free to point this out to us.