A Victory School Remembrance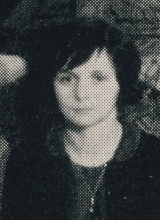 Nancy Pauline Daugherty was born in May 1912, a daughter of Gilbert and Nina (Ridgway) Daugherty. She graduated from Shepherdsville High School in 1930, and is shown here in a clip from the junior class picture from the previous year.
She would marry Burks Williams Jr. in 1938, following several years as a teacher in rural Bullitt County.
Among her teaching experiences were three years at the Victory School located along Ridge Road, and among her students there was George Lane.
Years later, as she relates, she was asked to participate in a "This is Your Life" event honoring George but was unable to attend as her mother was quite ill at the time. Afterward, she chose to share a remembrance of her time at the school.
Recently a relative shared with us that remembrance, and we have transcribed it below.
---
Several weeks ago, I was asked to be on "This Is Your Life "program for one of the pupils that I taught years ago. In reminiscing over the bygone days and the events in a one-room school house, I was prompted to write a résumé on my three years of teaching at Victory.
A snake in the chimney flue, the well bucket falling in the well, a music club, singing over the radio, a pistol shot at a box supper, winning at the rally, the neighborhood going before the school board for me, the Christmas crêpe paper decorations falling to the floor, a fight at the flagpole, and many other exceptional events that might show others the way of life in a one-room school during the 1930s.
Here I was, a mere wisp of a spoiled girl scarcely 5 feet tall and weighing less than 90 pounds, getting ready to teach all grades in a one-room school in the ridge section of Bullitt County. I accepted my job over the party line phone. My parents were friends of the trustee. In taking a second thought, I decided not to go all way up in the county and board in that far away section where I knew very few people. Another call over the party line gave me the job again. By this time, I had one year of college and it was necessary for me to go to work, whether I liked it or not.
Everyone who taught at the school always boarded with this middle-aged childless couple, so I followed suit. They were so good to me and even moved the upright piano out of the parlor so I could play on it every night. They were especially fond of hymns "Help Somebody Today" being in their favorite. I slept in a folding bed in the parlor. She put sofa pillows on me to keep me warm. Some nights I never stretched out and slept in a knot all night, because it was so cold. Sometimes an iron would be heated on the drum stove and put in my bed. Two neighbors (a man and his father) came over on the long winter nights and we played rook. Their memory was too good for me. I played for fun, but they remembered every trump that had been played. The old man had a very keen mind, as did his grandchildren that I taught.
But, here I am reminiscing – now back to school again –
On the first day, the children seemed petrified and so was I. You could hear a pin drop. When I rang the big bell, they would line up to march in. They looked bright, eager to learn and were as clean as a pin. Later in the year, a seventh grade girl remarked, "You don't look like you did on the first day of school. I thought you were the prettiest thing I ever saw."
On the second day of school, the small wooden porch was filled with girls wanting to walk to school with me. Goodness gracious! I thought. They had already walked a couple of miles, why walk farther, just to walk to school with the teacher? As bad weather progressed, they didn't take the extra walk, but the Lane girls, who lived down the road, came by every morning. One rainy, winter morning, our feet mired down so far in the mud that I lost one of my galoshes and we had to pull our feet out one at a time. They suggested that we cut across the field by the church. This helped matters a lot. The children in our neighborhood today don't even walk down the driveway to catch the bus. Mama drives them. What a contrast!
Did you ever hear of a well bucket? I found out the hard way that it could come off the rope and fall in the well. The children knew that it could be fished out with the poker on the end of a rope. With some of our $20 or $25 that was made from the yearly box supper, I purchased a crock cooler with a spout. This was more sanitary than the bucket and dipper. Each child brought a glass or jar with his name on it. This was some improvement in sanitation. Each Friday was house cleaning day and those glasses were washed. My dad made a small table which I painted green and covered the top with oil cloth as it was slightly rough. I made chairs and a bookcase out of orange crates. We had green ruffled curtains that were kept clean and starched. The inside walls were brown and drab, but we had bright pictures and the children always brought bitter-sweet, black-eyed susans, goldenrods, red berries and wild flowers for decorations. In the front of the school we had a flagpole, and the flag was put up each day. During the summer vacation, I would write each child a postal card, asking them to come to school and bring some flower seed. We would plant flowers around the flagpole in front of the schoolhouse and made a round bed. Every child would show up and we all worked together. We were just like one big happy family.
Several of the students could play the guitar and were musically inclined. I played the piano, so I hoped and wished for a piano. We sold eggs, took donations (we only had one dollar) and used the box supper money to purchase a used upright piano. We formed a music club and elected officers. Yes, we had a secretary who read the minutes. The program committee prepared a program for each Friday afternoon, and each child who was asked took part in the program. I took two girls to audition over a new radio station in Louisville, but did not hear from the audition. Later this family had a weekly radio program over a Louisville station.
One day a small boy chimed out in the midst of class, which was unusual for him. He said, "Miss Pauline, look at that snake sticking his head out." The flue hole for the stove was just above his head. With my $63.00 a month salary, paying board, saving money for the spring term of college, I couldn't afford a flue hole cover. I am deathly afraid of snakes. I had to act brave, so I calmly asked, "Who can kill a snake?" Almost every hand went up. The small children and the scared teacher went out into the yard. After hearing much beating and knocking, someone came out with a 4ft. to 6ft. long snake over the broom handle.
What about recreation? We had a recess in the morning and afternoon, and an hour for lunch. With all eight grades, it took a long time to have all classes. Even though I had only 26 or 28 children enrolled, there was usually one in every grade. School usually lasted from 8 am until 3:30 or 4 pm, so they needed a break. They played Red Rover, Ante-Over, baseball and made play houses in the edge of the woods. They also enjoyed the grapevine swings.
Yes, there was "Sis," as everyone called her. The children knew she was mentally retarded. When she was saying the nursery rhymes one day and said, "Little Jack Horner sat in a corner, eating his Christmas tree," everyone understood and no one laughed.
Then there was Sammy. One day, he twisted his hands together when I was giving out spelling and said "d-e-e-p spells pie." Pie and deep were two of his four spelling words. Another day, Sammy said, "Teacher, it's going to storm and the crick will raise, so I'll have to go home early."
Once a year Mrs. Harris would make a big box of homemade candy and send to school. Each child got the same number of pieces. On bitter cold mornings, different parents would go to school early and build a fire in the drum stove. The older children took turns carrying in the big pieces of stove wood from the shed.
For a Christmas program the schoolhouse ws decorated with crepe paper strung from one corner to the other. The next morning we found the decorations had sagged and touched the floor. We had to redo the decorations.
At our annual box supper, a shot in the dark rang out. No harm done, but the following year the sheriff was there and that eliminated the monkey shines.
Each year there was the school rally and a truck was hired to take the children. Prizes were given for the best writing, spelling, and arithmetic in each grade. Most of our box supper money was spent to hire the truck. My little group scarcely got to the county seat and they were like little scared rabbits. They had their orders not to run around and get lost, but to stay together. I was like a mother hen with a brood of chicks. They never made a move and when the contest was over and the winners were announced, it was VICTORY, VICTORY all down the line. We won many awards. You see, the children were smart, and "Miss Thelma" was a good teacher in previous years.
The little one-room schoolhouse of Victory has been gone for years, but many happy memories of the children and events of Victory will ever remain in my heart.
Yes, George Lane went to school to "Miss Pauline" during his third, fourth and fifth grades. He sat in the front seat, not because he was bad; the children were seated according to grade. He was a handsome little boy. In the morning, I would look at those big brown eyes so bright, his face so freshly scrubbed and shining, and his hair had a slight wave in the front. I thought, "My what a handsome man you will be. You will break some girl's heart." In the summertime, when he would without a shirt, his skin would get as brown as an Indian. He wore what all the other boys wore - bib overalls and carried his lunch in a paper bag or a little tin bucket.
Don't feel sorry for George. This was the "way of life" in days gone by. All the school children walked several miles to school. Our road was dusty in the summer and muddy in the winter, which made it easier on bare feet.
All of the Lanes were "A" students. One day George gave that timid little smile and said, "Miss Pauline, do you know a good way to remember how to spell geography?" I said, "No, tell me." He replied, "George eats old gray rats and paints houses yellow."
I am not surprised at the success that George has attained. I feel honored to have been his teacher.
Due to the illness of my mother, who was in the hospital and at the point of death, I was unable to attend in his honor. This is what I have written about George Lane and the one-room schoolhouse.
Narrated by Pauline Williams
Transcribed by Gayle Smith, 2004.
---
While we are uncertain when "Miss Pauline" narrated this remembrance, it is likely to have occurred at some point following her mother's death in January 1979, given her comments about the reason she was unable to attend the event in George Lane's honor.
As for George Lane, he was born in March 1925 to John and Edna (Grant) Lane. After attending school at Victory, he graduated from Shepherdsville High School, and first went to work in Louisville as a bank messenger for the Lincoln Bank & Trust Company. He entered the military where he served as a turret gunner in a bomber squadron.
Following the war, George returned to banking, going to work at the Shelby County Trust and Banking Company where he advanced to assistant cashier before moving to the Citizens Trust Company in Jeffersonville, Indiana where he worked for 30 years before retiring in 1987. He had been both president and chairman of the bank.
Needless to say, it is understandable why Miss Pauline was proud to have had George as a student.
George Lane died in Henryville, Indiana in 2004 following an illustrious career in both banking and as an active member of his community.
Miss Pauline was approaching her 99th birthday when she died in 2010.
---
If you, the reader, have an interest in any particular part of our county history, and wish to contribute to this effort, use the form on our Contact Us page to send us your comments about this, or any Bullitt County History page. We welcome your comments and suggestions. If you feel that we have misspoken at any point, please feel free to point this out to us.