Paroquette Springs Sale Advertisement - 1872
This advertisement appeared in The Courier-Journal, Monday, March 11, 1872, page 4. The deed concluding this sale is located on another page.
---
PAROQUETTE SPRINGS,
The Most Attractive and Valuable
Watering-Place in Kentucky,
AT PUBLIC SALE
S. G. HENRY & CO., Auctioneers.
As assignee of the "Paroquette Springs Company," bankrupt, I will offer at public auction (freed from incumbrances), at the Court house door, in the city of Louisville, Ky., at 11 o'clock A.M. of MONDAY, March 11, 1872, the tract of land in Bullitt county, Ky., adjoining the town of Shepherdsville, known as the Paroquette Springs. The land lies along the banks of Salt River, and upon the line of the L. & N. railroad, 18 miles distant from Louisville, and consists of 150 acres, one half of which is in cultivation, and the balance in beautiful grove, in the midst of which are the improvements.
On the tract are a number of wells and springs of mineral water, justly esteemed for its valuable medicinal quality, the water of the principal spring greatly resembling, but far superior to the celebrated Blue Lick water. The improvements consist of a two story frame building 410 feet long by 70 feet wide, entirely surrounded by two-story porches 12 feet wide, and having in the rear the necessary kitchens, offices, and servants' rooms, built during the past year at a cost of over $33,000. The house is of modern style, and contains about 84 guest rooms, with spacious parlor, ball-room, and offices. It is newly and completely furnished at a cost of $13,000. The furniture will be offered at private sale to the purchaser on favorable terms. On the grounds are also stables, bath and boating houses, ten-pen alleys, &c. &c.
Considering the quality of the mineral waters, the accessibility of the place, and its nearness to the city at Louisville by whose patronage alone it might be supported, it offers superior attractions to any summer resort in the West.
Terms - $2,004.96 payable April 27, 1872; $2, 782.84 in one year; $3,406.77 in two years; $3,082.11 in three years; $3,591.23 in four years; $3242.89 in five years thereafter; the balance in four equal payments; 1/4 cash and 1/4 each in 6, 12, and 18 months, respectively; all notes bearing interest from day of sale, with lie retained and security required.
STEPHEN E. JONES, Assignee.
Below is an image of this advertisement.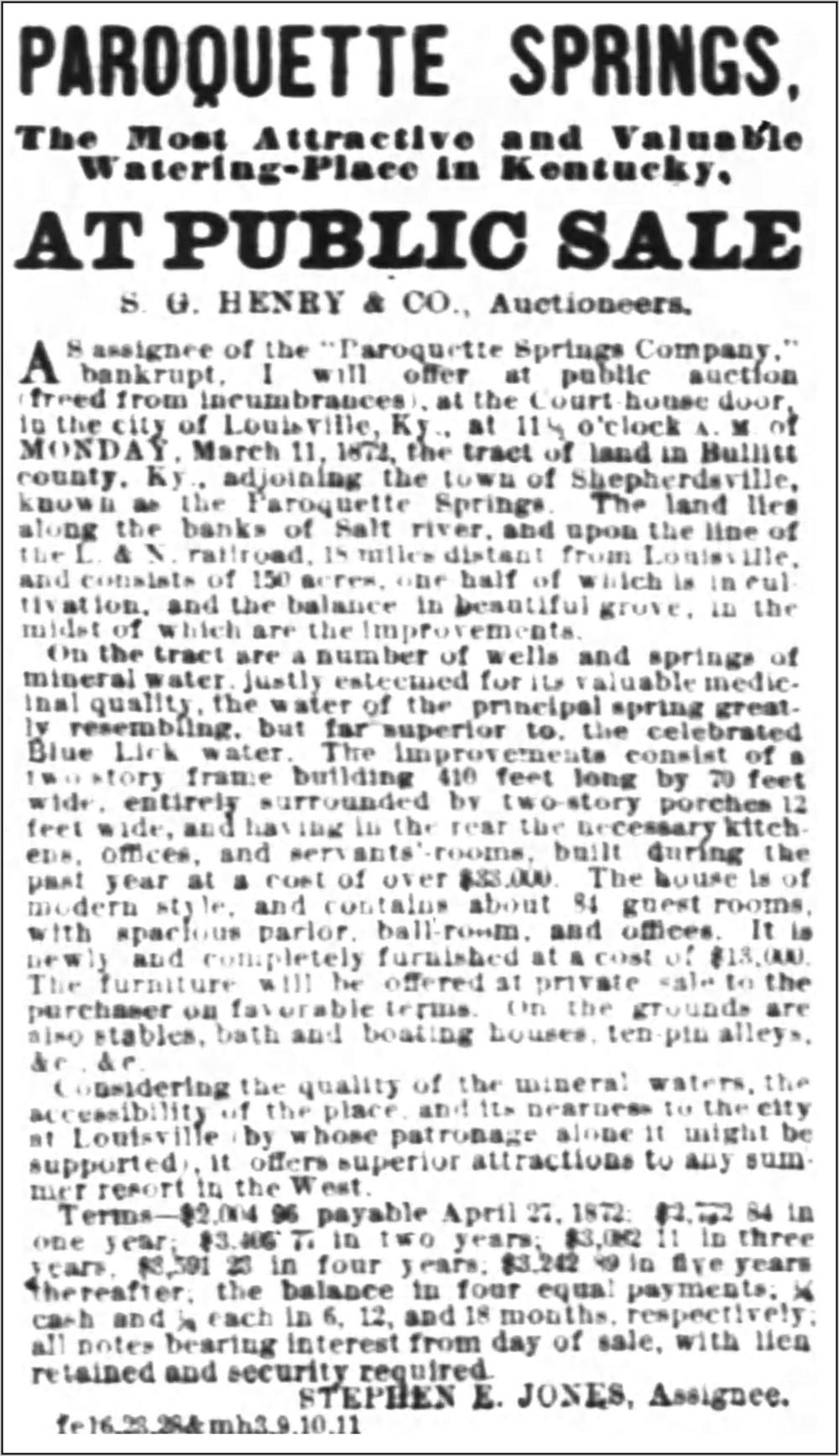 ---
If you, the reader, have an interest in any particular part of our county history, and wish to contribute to this effort, use the form on our Contact Us page to send us your comments about this, or any Bullitt County History page. We welcome your comments and suggestions. If you feel that we have misspoken at any point, please feel free to point this out to us.