Nicholas Brashear's 1000 Acre Warrant
Nicholas Brashear, son and heir of William Brashear, patented a 1000 acre tract north of Salt River and east of Floyd's Fork based on a preemption in his father's name. The first two images below show the original warrant issued to Nicholas' father William who was the heir of Joseph Brashear.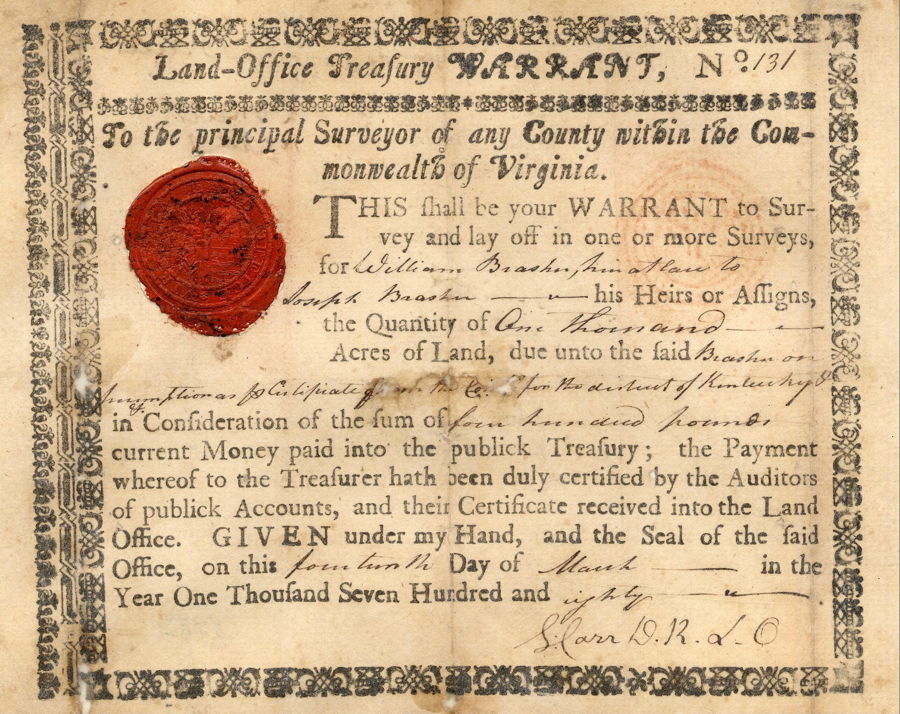 front of warrant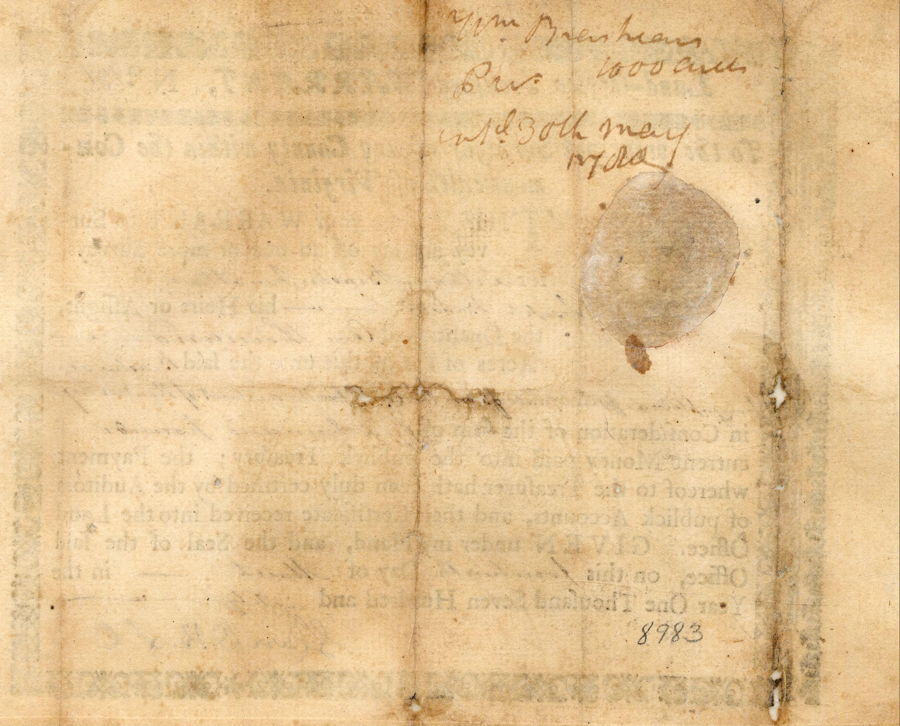 back of warrant
Here is the Virginia Commissioner's statement verifying that William was entitled to 400 acres as a settlement, and 1000 acres as a preemption. Then ater that is the statement that he paid 400 pounds for the 1000 acres.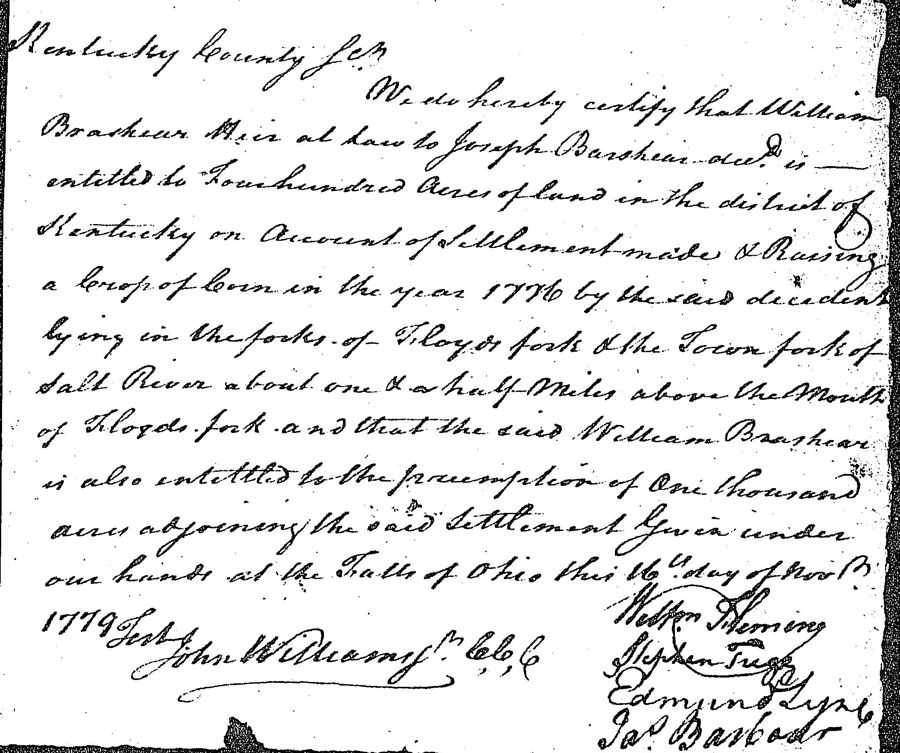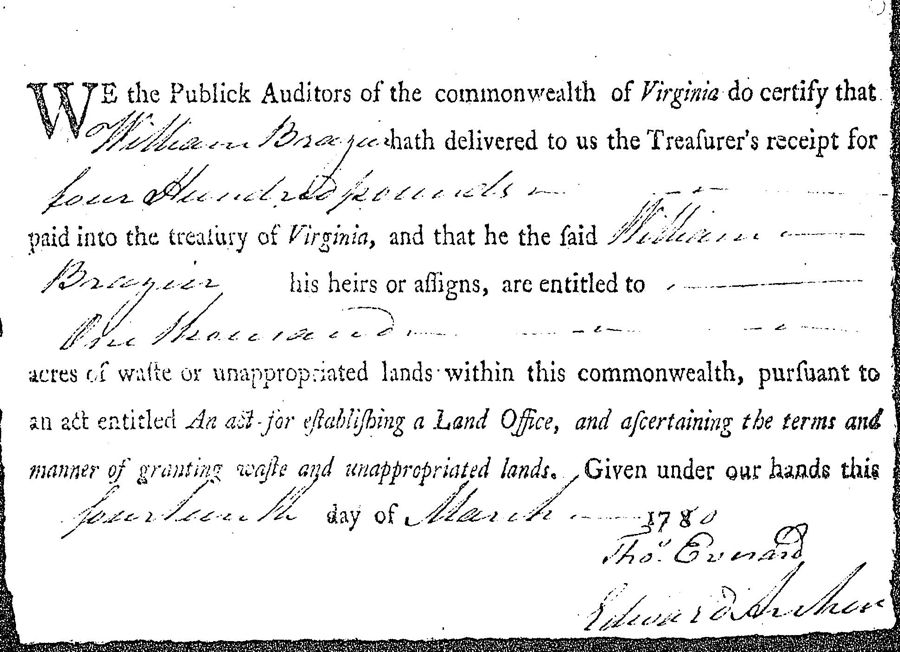 Below are digital images of the survey as it appears in Bullitt County Plat Book I, and of the original plat and description drawn by Thomas Whitledge.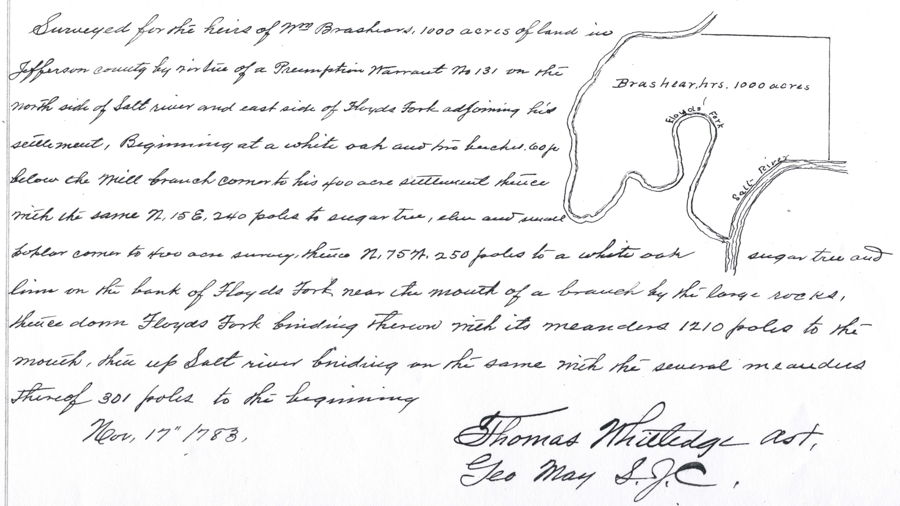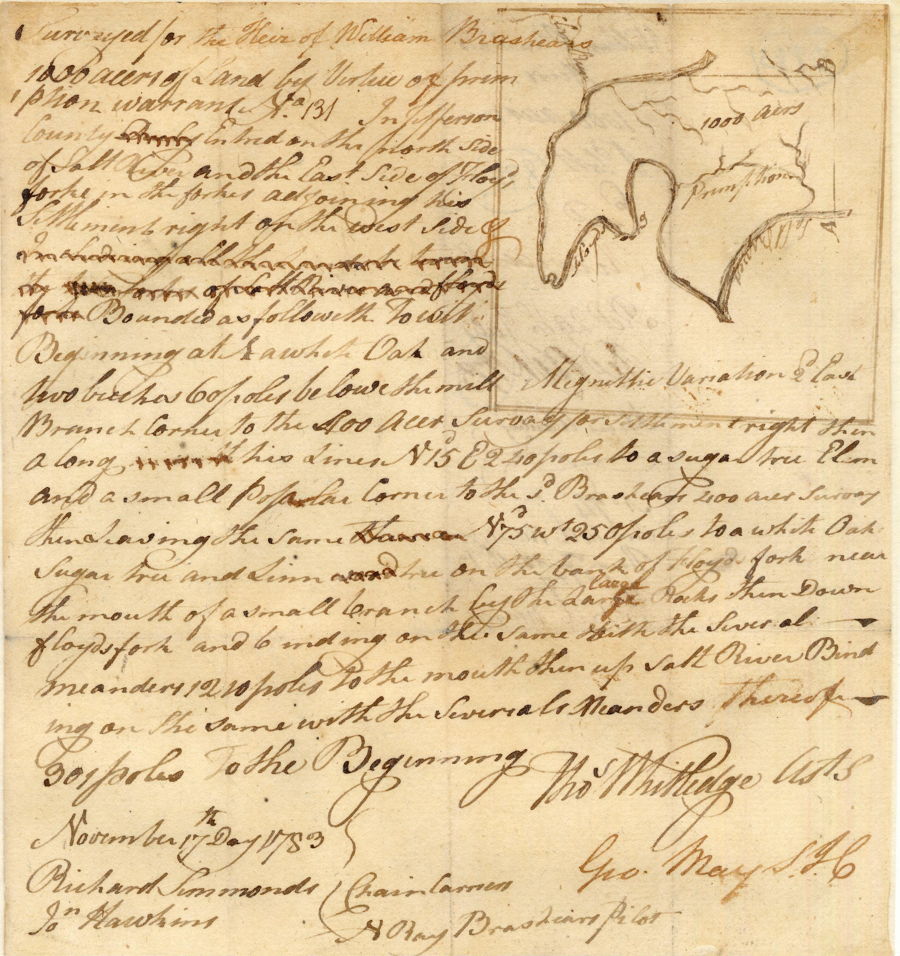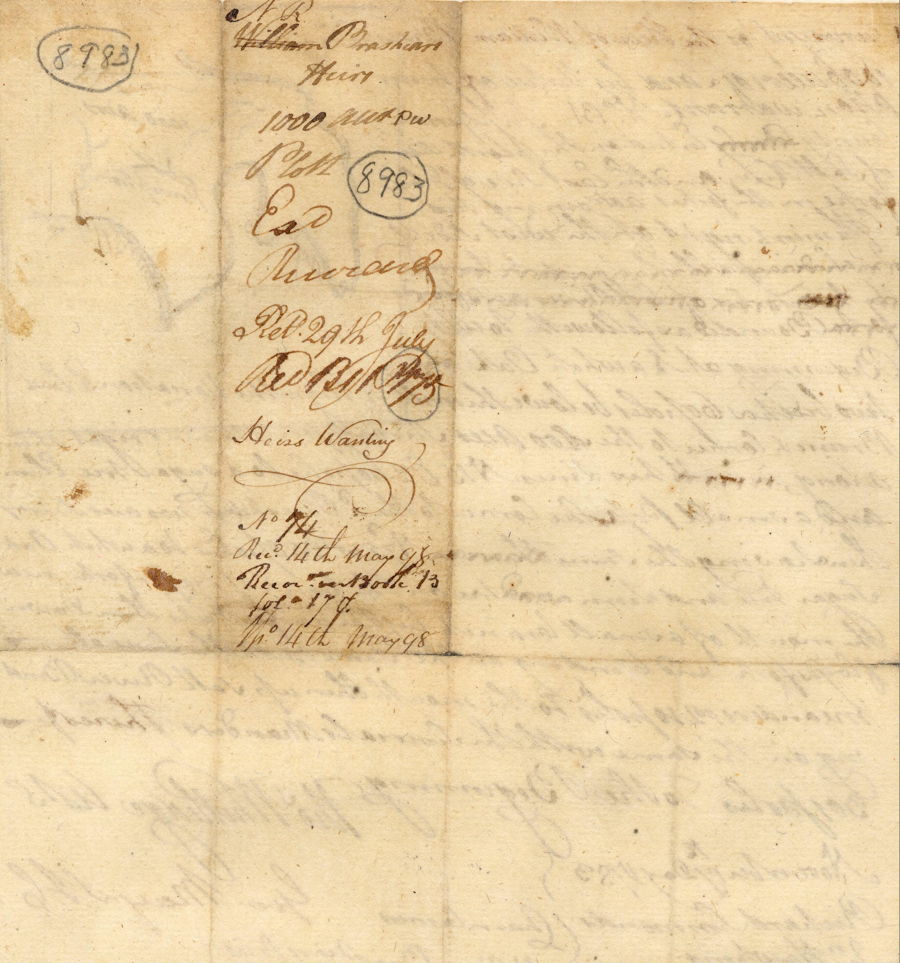 Although Whitledge completed the survey in 1783, it was not until 1798 that Brashear's patent was granted by the Commonwealth of Kentucky. A digital image of that patent, as written in Kentucky Grant Book 2, pages 27-28, is shown below.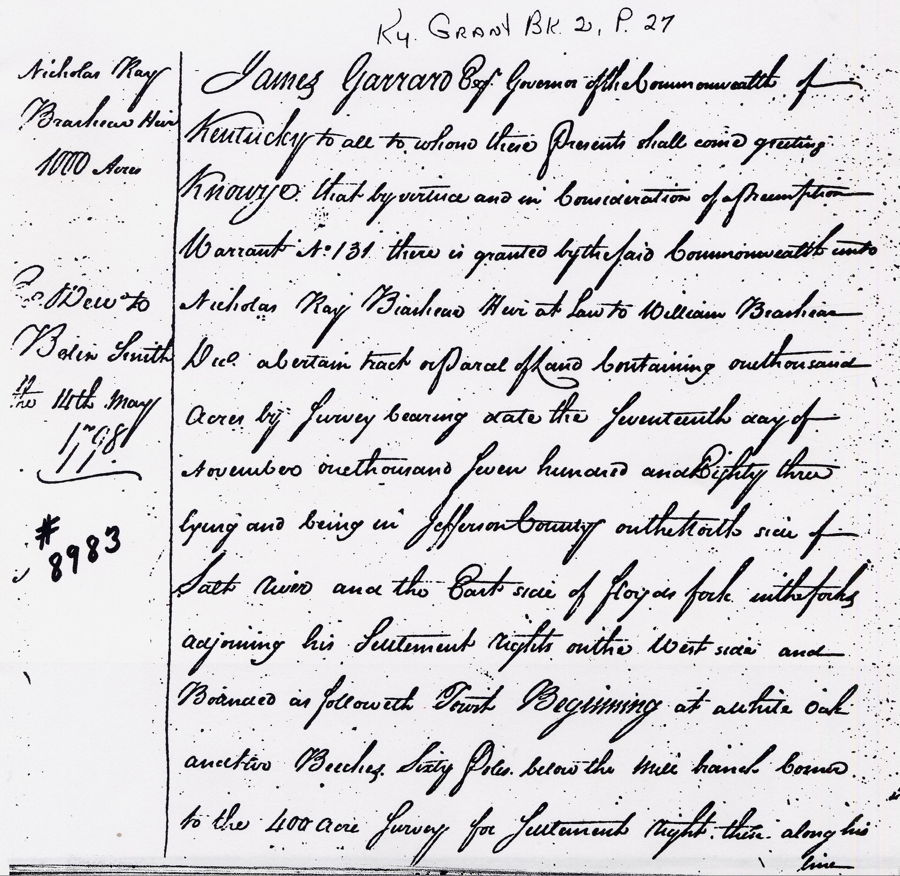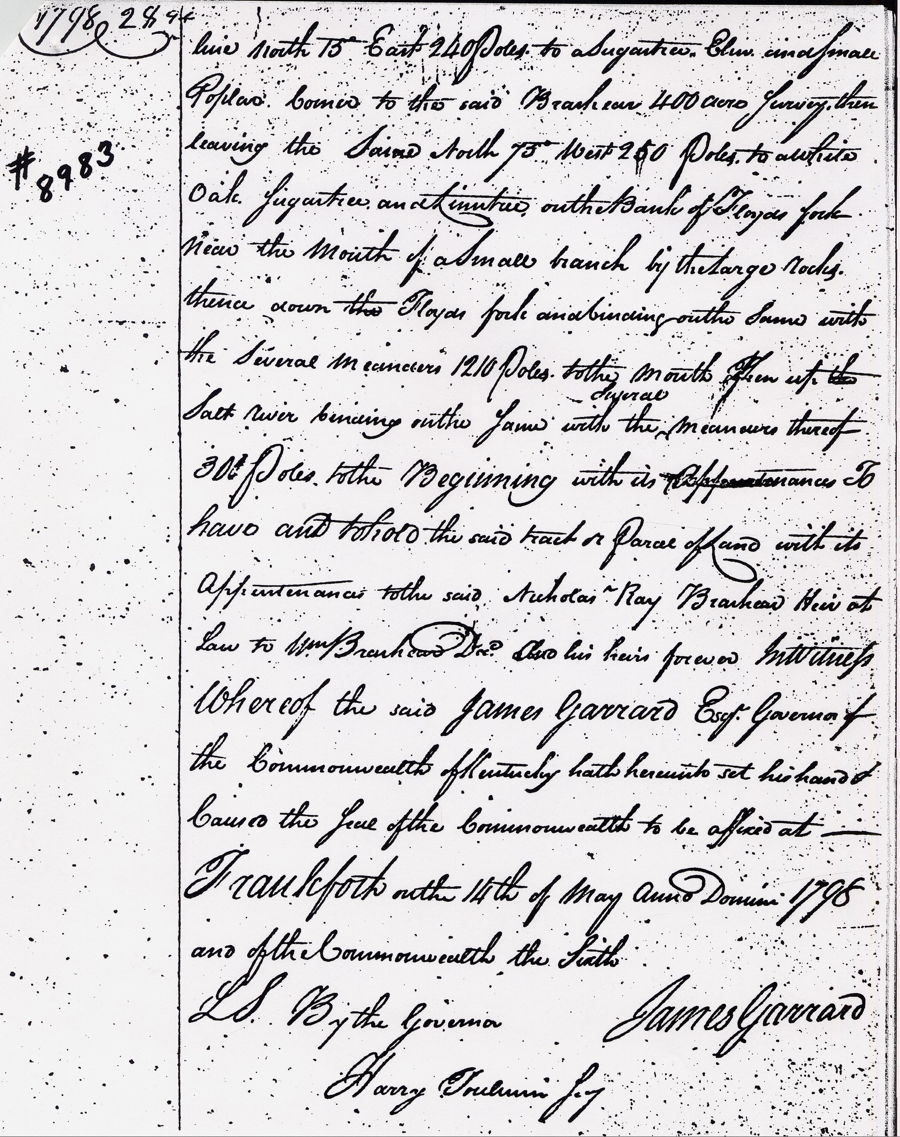 Here is a transcription of that grant.
"James Garrard Esq Governor of the Commonwealth of Kentucky to all to whom these presents shall come greeting. Know ye that by virtue and in consideration of presumption warrant No 131 there is granted by the said Commonwealth unto Nicholas Ray Brashear Heir at Law to William Brashear Decd a certain tract or parcel of land containing one thousand acres by survey bearing date the seventeenth day of November one thousand seven hundred and eighty three lying and being in Jefferson County on the north side of Salt River and the East side of Floyd's Fork with forks adjoining his settlement rights on the west side and bounded as followeth Towit Beginning at a white oak and two Beeches Sixty poles below the mill branch corner to the 400 acre survey for settlement rights then along his line North 15 degrees East 240 poles to a Sugartree, Elm and a small Poplar corner to the said Brashear 400 acre survey then leaving the same North 75 degrees West 250 poles to a white oak, Sugartree and Linntree on the bank of Floyds fork near the mouth of a small branch by the large rocks thence down the Floyds fork and binding on the same with the several meanders 1210 poles to the mouth and up the Salt river binding on the same with several meanders thereof 300 poles to the Beginning with its appurtenances to have and to hold the said tract or parcel of land with its appurtenances to the said Nicholas Ray Brashear Heir at Law to Wm Brashear Decd and his heirs forever. In witnesseth whereof the said James Garrard Esq Governor of the Commonwealth of Kentucky hath hereunto set his hand and caused the seal of the Commonwealth to be affixed at Frankfort on the 14th of May anno Domino 1798 and of the Commonwealth the Sixth."
---
If you, the reader, have an interest in any particular part of our county history, and wish to contribute to this effort, use the form on our Contact Us page to send us your comments about this, or any Bullitt County History page. We welcome your comments and suggestions. If you feel that we have misspoken at any point, please feel free to point this out to us.