Miss Mattie Owens
This tribute to Miss Mattie Owens was prepared by Daniel Buxton.
---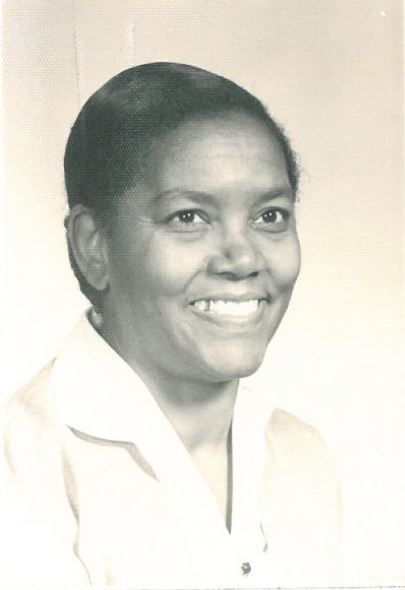 Miss Mattie Owens
Early records for the Owens Family, as well as many other African American family records are few and the story can be incomplete. As recorded on June 12, 1876, George Owens married Fanny Tull in Bullitt County, Kentucky. From all accounts George Owens is the grandfather of Mattie Owens. Mattie's father Henry was born on December 12, 1876, in Bullitt County and per his death certificate his father's name was George. When dealing with census records, death certificates and other early records that are filled out by hand and with human recall they sometimes can be in error. In the case of Henry Owens, his mother's maiden name was listed on his death certificate was Terrell, on the 1880 census it is listed as Tewell, and as stated earlier Tull on George and Fanny's marriage record. I believe each of these records is talking about the same woman and that her last name was spelled differently by different people. Fanny died January 1880, according to the 1880 Federal Census Mortality Schedule. In 1880 George, Henry and his sister Mattie are living in Bullitt County, Kentucky.
On March 24, 1898 Henry marries who is thought to be the love of his life Susie Simmons in Shepherdsville, presumably at the Bullitt County courthouse by Judge Leroy Daniel with J.F. Combs and R.F. Hays as witnesses. By June 1, 1900, Henry and his bride of 2 years had their first son Dewey William Owens. According to his family Henry worked for the Louisville and Nashville Railroad and he was also a farmer. Henry was a hard worker and a good provider and as a result on January 25, 1901 he was able to buy his home and farm for his family. Henry bought 50 acres from Henerietta Klosterman in Bardstown Junction. The price of the property was $600.00; he paid $150.00 cash up front and agreed to pay five notes over the next five years. The first four notes were for $100.00 each plus 6% interest and the last note was for $50.00 with 6% interest. Between 1902 and 1904 Henry would have two daughter's Mary Ann and Maggie. In 1906 their fourth child was born Mattie Lee Owens.
Mattie grew up in a big family she had five brothers and three sisters. After Mattie, came Henry, Rena, George, Clarence and Albert, born in that order. Mattie's mom and dad were Catholic and they were well liked and highly respected in the community. When their friends and family were in need whether they were black or white they were ready and willing to help with what they could such as any food they could spare from what they had raised on the farm. Not only Henry, but his sons when they got old enough also went to work for the Louisville and Nashville Railroad. While working for the railroad they laid tracks and also helped in the building of Highway 61. Henry and his sons also hired to work on other people's farms using the many teams of mules they owned. Mattie's mother, Susie, also worked doing housework for a local family. Education was in important to Henry and his wife and as a result four of their nine children went to college and all of them at least went to elementary school.
Mattie began her education in Bullitt County attending 1st through 3rd grade. She later moved to Indianapolis, Indiana to live with her Aunt and Uncle, Cleveland and Mattie Bottoms. While there she attended school, Grades 4 through 8. After completing the 8th grade she moved back home and attended high school at Central High School in Louisville, Kentucky and graduated, June 1926. After graduating high school Mattie went to Frankfort to attend Kentucky State College. She started college in 1926 and graduated in 1928 with a State Life Certificate issue by the State of Kentucky.
After college Mattie came back to Bullitt County and began her teaching career. There are no records for the one room school houses that dominated Bullitt County in the early part of the 20th century. The information we have was obtained from Mattie's resume and what was found in other sources such as newspapers and census records. The dates are not known but according to Mattie's resume she taught in Hart County for four years and at the Lebanon Junction Colored School. The Pioneer News records that Mattie taught at the Shepherdsville Colored school in 1928. The United States Census taken on April 5, 1930 records that Mattie was a public school teacher. During this time we know that Mattie continued her own education. Between 1931-1932 Mattie attended Louisville Municipal College and from 1937-1940 she attended Kentucky State College. According to the Pioneer News Mattie taught at the Bowman Valley Colored School in 1935 and 1936. The United States Census taken on April 4, 1940 records that Mattie was still a public School teacher.
In 1947 Mattie and her family suffered a tragedy. According to newspaper reports, Mattie's father, Henry, was home with his family on the evening of October 10, 1947 when he heard his dogs began to bark. His daughter (not identified) look out the window to see if someone was coming up to the house, when she looked out the window she could see a person smoking either a cigarette or cigar leaving their private garage. Henry then told his daughter to turn the light on at the front of the house, Henry then went to the back door and opened it up when he did the unknown man shot him in the chest with a shotgun killing him. According to the newspaper after arriving on the scene officers said that his car had been rolled part way out of the garage so Henry interrupted him as he was in the process of stealing Henry's car. Bullitt County Sheriff Hobart Roby and the Kentucky State Police mounted an investigation. The police brought in blood hounds pick up tracks and a trail around the house and followed it to the road where the dogs lost it. At the time of the shooting there was a neighbor passing by the home and according to him there was no car on the road or near the home. After hearing the shot fired and hearing the screams the neighbor ran to the Owens home and did not see anyone or any vehicle on the way. Three months later on January 15, 1948, Nello Bowman a colored man was arrested for Henry's murder in Louisville. William Shelby a white man was arrested and charged with being an accessory after the fact. According to the police Nello had only been in Louisville one day at the time of his arrest. Nello was indicted for the murder of Henry Bowman and would stand trial in April 1948 in Bullitt County. The Commonwealthís attorney asked for the death penalty. About 600 people attend the trial each day with more station outside the courtroom. On April 7, 1948 Nello Bowman was convicted of Manslaughter and sentenced to 21 years in prison.
Following this terrible tragedy, Mattie continued teaching at Bowman's Valley School until 1957 when the school closed when segregation was ended by the Supreme Court. After her job ended at Bowman Valley, Mattie went back to college she attended the University of Louisville from 1952 to 1953.
Miss Owens taught second grade at the new Roby Elementary in 1957, her first assignment in the Bullitt County School System.
She began taking classes at the Nazareth College and would do so from 1962 to 1964. In January 1964 Mattie earned her Bachelor of Science Degree in Elementary Education after 31 years of teaching experience. Mattie would continue to teach 2nd grade until she retired on July 6, 1970.
The following is a series of reviews done by the principals she served under while teaching at Roby Elementary.
June 1966 - She is always here early. She is very neat; she develops this attitude in her children, too. She stresses manners, too. - Roby Principal Billy Horrell
April 8, 1968 - Miss Owens is a hard worker, very cooperative and efficient. - Roby Principal Woodrow Masden
July 22, 1970 - Miss Owens does outstanding work and is a credit to the profession. - Roby Principal Woodrow Masden
Date Unknown - Miss Owens was well prepared for her students. She had a definite interest and love of the children, a wonderful sense of humor, recognition of individual differences, and an all-around outstanding attitude. She was ever so patient. She presented herself in a tactful manner, with interest and enthusiasm for her students, was always early to start the day being extremely organized with her lesson plans and materials - Author Unknown
It is unknown when but Mattie moved from Bullitt County to Jefferson County. She moved to Louisville and lived at 4511 Sunset Ave. Mattie was a member of The Pleasant View Baptist Church. Mattie eventually came to point where she could no longer take care of herself. She never married and had no children. She moved into the Brownsboro Hills Nursing Home where she died July 3, 1985. She was buried in Eastern Cemetery in Louisville, Kentucky.
---
If you, the reader, have an interest in any particular part of our county history, and wish to contribute to this effort, use the form on our Contact Us page to send us your comments about this, or any Bullitt County History page. We welcome your comments and suggestions. If you feel that we have misspoken at any point, please feel free to point this out to us.