Over the River Again - Anothe Ferry Near Shepherdsville
by Charles Hartley
First published in The Pioneer News in July 2023.
---
As we mentioned before, Francis Maraman obtained the county court's permission in October 1821 to establish a ferry across Salt River above the head of the falls near Shepherdsville. This was closer to town, and quickly became the preferred passage, soon bringing an end to the ferry established by Adam Shepherd and later operated by John and Elizabeth Griffin.
The Maramans lived in Nelson County until the death of his father Zachariah Maraman in 1810. Then Francis sold his property there and moved to Bullitt County with his wife Mary, daughter of John and Elizabeth Thompson Lee and sister to Wilford Lee. With them at that time were their children Charles, Nancy (who married George Lewis Robards), Eleanor, John, and Elizabeth (who married William Caldwell). After they moved to Bullitt County their family grew with the addition of George Washington Maraman who married Archibald Magruder's daughter Susan, Wilford Walton Maraman, Francis Maraman Jr., and Henry Oldham Maraman who married Elmira Troutman.
It appears that Francis Maraman's first Bullitt County property was a wedge-shaped tract of about 400 acres whose northern corner lay on the south bank of Salt River just upstream from Shepherdsville. This tract was patented in 1782 by George May, and then passed through the hands of Richard Bibb, James A. Sturgus, and John Beckwith before Beckwith's son John Williams Beckwith sold it to George Finley in 1812. Then two years later Finley sold it to Maraman.
It lay east of James Honey's 970 acre tract which would later belong to William Pope Jr. The Honey tract bordered Peter Shepherd's 600 acre tract. We've included a map here showing most of the land tracts that surrounded the ferry site.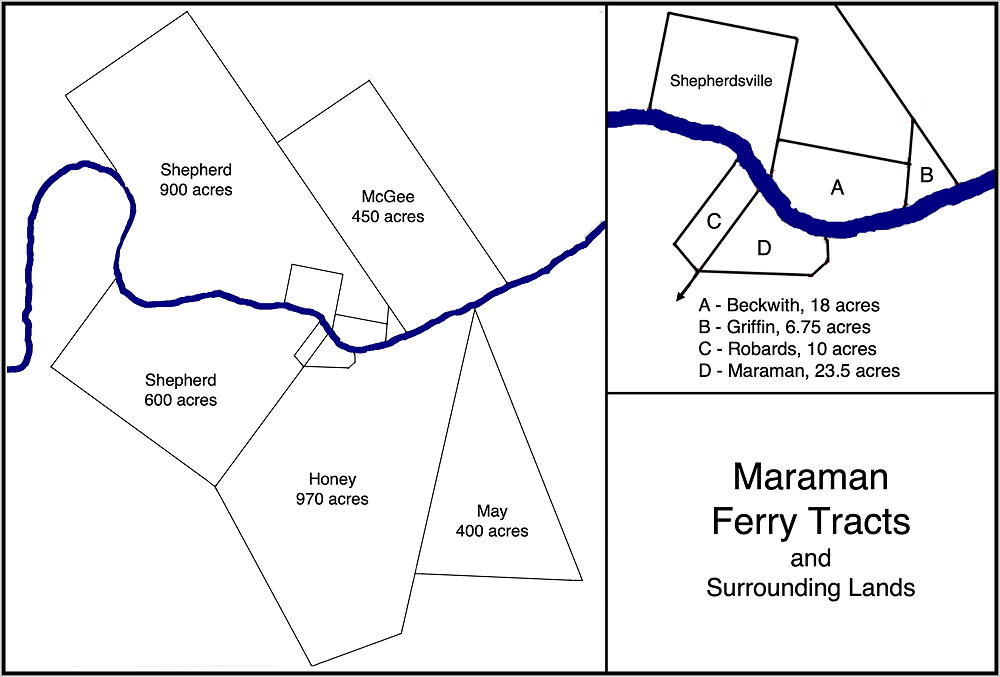 In 1818, Adam Shepherd sold 10 acres on the northeast corner of the 600 acre survey to George Robards, Francis Maraman's son-in-law. And in 1819, Francis bought 23½ acres from William Pope Jr., located on the northwest corner of the Honey patent, and adjoining the ten acres then owned by Robards, and he then bought the ten acres from Robards the following February for one dollar. Both of these are shown and labeled in the insert map.
As neither of these tracts adjoined Maraman's larger tract, we speculate that he already had a notion of establishing a ferry at this point just above the river rapids that passed by Shepherdsville; for we read in Bullitt County Order Book D that in October 1821 he requested the court "to establish a ferry in his name across Salt River near to the town of Shepherdsville."
After deliberation, the court ordered that the "ferry be established on condition that the said Maraman shall make and keep in repair the road from the public road leading to Mrs. Griffin's ferry on the north side of Salt River to his ferry herein established."
Maraman executed a bond with George Robards as his security, and the court ordered the new ferry "be rated as follows, for a wagon and team $1, for a man and horse 12½¢, a footman 6¼¢, a single horse 6¼¢, a cow 6¼¢, cart and horse 50¢, and horse and chair 50¢."
Then in December, Maraman petitioned the court for a license to keep a tavern at his house which was approved with George F. Pope and George C. B. Hedges his bond securities. This gave him additional income from the travelers who crossed the river at his ferry.
As Maraman's ferry was closer to town than the Griffin ferry, it quickly became the more popular route across the river. So much so that, by June 1823, Elizabeth Griffin was petitioning the court for "a summons against Francis Maraman to appear at the next court and show cause, if any he can, why the ferry of said Griffin shall not be restored to her and the ferry granted said Maraman across Salt River be vacated."
However, at the next month's session, the court rejected her request. By this time almost every traveler approaching town from the south or traveling through Shepherdsville on their way to Bardstown or Elizabethtown was crossing at Maraman's ferry, and he was making a tidy profit on this venture.
One remaining issue was that there was no established public road leading the short distance from the ferry crossing and the streets of town; so Maraman petitioned the court in June 1825 to have Thomas W. Riley, William R. Grigsby and George F. Pope act as commissioners to view "a proposed road from the courthouse to Maraman's ferry on Salt River, and report what seems the best way for such a road."
They filed their report the next month, and following some changed made to it, at the April 1826 court session, the court ordered that a public road be "established from the corner of lot No. 48 in the new plan of the town of Shepherdsville, thence running down East Street to Water Street, and from thence up the river agreeably to a contract signed by J. W. Beckwith given to Francis Maraman, until it reaches said Francis Maraman's ferry landing." Maraman was made responsible for seeing that this road was maintained.
Like many of his neighbors, Francis Maraman was a slaveholder. Census records indicate that he possessed seven slaves in 1820, and 22 by 1830. It seems reasonable to assume that he used slaves to operate his Salt River ferry.
Maraman appears to have used the profits from his tavern and ferry businesses to expand his land holdings. In January 1823 he purchased Shepherdsville lot #31 from Joseph Hislop for $500, a price that also covered Hislop's house, livestock, and furniture. This half-acre lot was located on the north side of Second Street between Minerva Alley and East Street.
In 1827, he purchased lot #80 from James Robinson for $50. This riverside lot at the southeast corner of town likely served his ferry business. Then two years later he added 230 acres of the old James Honey patent by purchasing it from William Pope for $930.
In August 1832, Maraman obtained 100 acres from a court-ordered sale of Benjamin Stansbury's property. Then two months later he closed a deal with William Pope to purchase five different tracts of land including seven acres east of Shepherdsville, and four tracts south of Salt River, one of 190 acres, another of 251 acres, a third that contained 30 acres, and a fourth of 173 acres.
Francis Maraman continued to add tracts of land near and adjoining his holdings, and extending southward onto lands watered by Long Lick Creek as late as 1837.
According to the research of Wenonah Maraman, a descendant, at his death in 1839, Francis Maraman owned more than 3,000 acres, a large number of slaves, and was worth more than $30,000 which would be by one calculation worth almost a million dollars today.
Following Francis Maraman's death, the ferry and surrounding tracts appear to have been controlled by his son Francis Jr. until February 1841 when he appeared in open court and gave up the ferry operation as he no longer controlled the lands on both sides of the river.
County authorities were quick to discover how important the ferry operation had been, and in January 1843, Bullitt County Order Book G recorded, "The court being satisfied that there is no ferry over Salt River at the old Maraman ferry near Shepherdsville, and one is greatly needed for public good; and that George W. Maraman is the owner of the lands on both sides of Salt River at said old ferry, and the court wishing to establish a ferry over said river at said point, orders that a summons issue against said George W. Maraman to appear here at next term to show cause, if any he can, why the court shall not establish a ferry at said point over said river agreeably to law."
It seems that George was not interested in maintaining the ferry, but his brother Henry was willing to do it, and suitable land transfers were made between the brothers so that when the court met again in February, Henry O. Maraman was appointed ferry keeper at the same site as his father before him. He was to keep a good ferry boat similar in size to the earlier boats, and the court set the rate schedule as follows: "six horses and 4 wheel wagon, $1; four horses and said wagon, 75¢; two horses and said wagon, 50¢; 2 wheel wagon or vehicle and 1 horse, 37½¢; man and horse, 12½¢; single horse led, 12½¢; or footman, 6¼¢; stock the prices the same as allowed to former ferry keepers at that place."
This might be a good time to discuss the different kinds of money in circulation in those days. Besides the dollars and coins with which we are familiar, there was an American half penny minted in Philadelphia as well. Plus, English money still circulated including the quarter-cent. Thus you have the various ferry passage charges shown above.
Henry Maraman was also responsible for maintaining the roadway between town and the ferry, and it appears that the Maraman's continued to maintain the ferry operation for about five years until a flood took out their ferryboat, forcing them to make do with a lesser vessel.
On 17 Jan 1848, the court "ordered that Wilhite Carpenter be appointed ferry keeper over Salt River at the old Maraman ferry above Shepherdsville in the room of H. O. Maraman, former surveyor assigned," thus ending nearly 27 years of Maraman ferryboat management. Of course, as many of you know, it was just the beginning of local businesses operated by Maramans in the years to come.
---
If you, the reader, have an interest in any particular part of our county history, and wish to contribute to this effort, use the form on our Contact Us page to send us your comments about this, or any Bullitt County History page. We welcome your comments and suggestions. If you feel that we have misspoken at any point, please feel free to point this out to us.