Joshua Fry Bullitt
Joshua Fry Bullitt was the president of the Shepherdsville Iron Manufacturing Company. A grandson of Alexander Scott Bullitt, his life is described in The National Cyclopaedia of American Biography, Volume XIII, 1906, pages 19-20; which is transcribed below.
---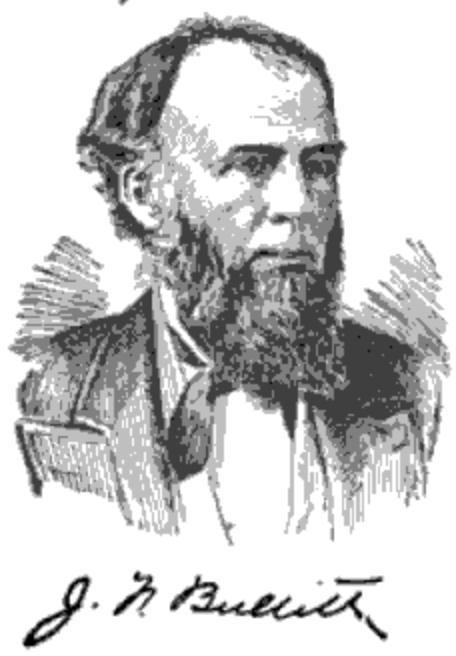 BULLITT, Joshua Fry, jurist, was born in Jefferson county, Ky,. Feb. 22, 1821. son of William Christian and Mildred A. (Fry) Bullitt, and grandson of Alexander Scott and Priscilla (Christian) Bullitt. His earliest American ancestor was Benjamin Bullitt, a Huguenot, who, shortly after the revocation of the Edict of Nantes, emigrated from France and in 1665 settled in Charles county, Md., near Port Tobacco. The name was originally Bullett, but was anglisized to Bullitt in order to evade the law of England which prohibited aliens from holding real estate in the colonies.
Benjamin Bullitt left one son, Benjamin, who prior to 1727, moved from Maryland to Fauquier county, Va., and in 1727 married Elizabeth Harrison. Their youngest son, Cuthbert Bullitt (1740-90), was educated for the bar, and practiced his profession with marked success until he was appointed judge of the supreme court of Virginia, an office he held until his death. He was also a member of the Virginia convention of 1770, and was one of the committee appointed "to prepare a declaration of the rights and plan of government."
In 1700 he married Helen Scott of Prince William county, and their eldest son was Alexander Scott Bullitt, grandfather of Joshua Fry Bullitt. He emigrated to Kentucky in 1785, and married the eldest daughter of Col. William Christian and Annie Henry, a favorite sister of Patrick Henry. William C. Bullitt was first lieutenant-governor of the state and president of the first constitutional convention.
He was married to a daughter of Joshua Fry, a noted teacher of the early days of Kentucky. The son was educated at Centre College, Danville, and the University of Virginia, and was admitted to the bar in 1844. In 1851 and 1853 he represented the city of Louisville in the legislature, and in 1801 was elected to the bench of the court of appeals to fill the vacancy caused by the death of Judge Henry C. Wood.
In July, 1804, while chief justice, he was arrested with a number of prominent citizens, by instructions of Gen. Sherman to Gen. Burbridge, under suspicion of favoring He was taken to Louisville, and after being exchanged by Gen. Forrest resumed his place on the bench Dec. 6th, and continued to discharge his official duties until Dec. 24th. He was so bitterly denounced by the Federal authorities that in January, 1805, having well-grounded fears for his personal safety, he went to reside in Canada. June 3, 1805, he was declared formally removed from office by address of the legislature, and was superseded by William Sampson, state senator from Barren county.
Subsequently he returned to Louisville, where he continued to reside and to practice law, in partnership first with Henry J. Stites. and later with his brother, Thomas W. In 1881 he became associated with his eldest son, Joshua F., Jr., who had just come to the bar. and this partnership continued until 1887. On Jan. 30. 1869, with other prominent jurists, he memorialized the legislature in favor of an act admitting negro testimony and other liberal laws toward the colored people. In March of that year the legislature adopted resolutions exonerating Judge Bullitt and declaring there had been "no legal or constitutional cause for his removal." His disabilities were removed by congress in 1871.
In 1872 he was appointed one of the commissioners to revise the code of practice, was one of the editors of the civil code in 1876 and was engaged on a new revision of the code in 1897. Judge Bullitt was a man of great force of character, but reserved and fond of study and writing. He was married in 1846 to Elizabeth B., daughter of Dr. George W. Smith. Thomas W. Bullitt, a prominent lawyer of Louisville, and John Christian Bullitt of Philadelphia, also a successful lawyer, were his brothers. He died in Louisville, Ky., Feb. 10, 1897.
---
If you, the reader, have an interest in any particular part of our county history, and wish to contribute to this effort, use the form on our Contact Us page to send us your comments about this, or any Bullitt County History page. We welcome your comments and suggestions. If you feel that we have misspoken at any point, please feel free to point this out to us.