John Dunn's 1835 Will
In the name of God, Amen. I John Dunn, being at this time afflicted in my body but of sound and disposing mind and memory, calling to remembrance the certainty of death and the uncertainty of the time thereof, to be better prepared for that event, do make, ordain and publish this my last will and testament in manner and form following. It is my will and desire and I do hereby direct that my beloved wife, Amy Dunn, should continue in the possession of the house and farm where I now live during her natural life and that she shall retain in her possession as many of my slaves as may be necessary to cultivate the farm, to be left to her own choice how many she shall retain, and she may keep all of my slaves if she prefers to do so for and during her natural life. And it is further my wish that the same shall be a home for any or all of my four daughters so long as they remain single and choose to reside with my said wife; and that my said daughters to wit, Mary Dunn, Ann Dunn, Sara Dunn, and Emily Dunn, shall be sustained and supported by the said farm and slaves so long as they remain single and continue to reside with my said wife.
It is further my will and desire that my executors herein after named, or such of them shall take upon himself or themselves the execution of this my last will and testament, shall proceed t osell all my lands in the state of Tennessee and all my lands in the state of Kentucky (except only the lands attached to the home plantation making jointly about 500 acres) and also to sell all my personal estate (my slaves excepted) and to collect all monies that be due and owing to me, and the money arising from such sales and debts and any money that I may have on hand at the time of my death, I direct my said executors to loan out at interest to create a fund for the following purpose to wit. The said money I wish and direct to be equally divided amongst my son Francis Dunn and my four daughters aforesaid, that is to say where any one of my daughters shall marry my will is that my said executors should put into her possession her proportion of the said fund or place it in the hands of a trustee or trustees for her benefit. And in this my executors are to exercise their own discretion whether they will give to such one and her husband the whole interest of such daughter in the said fund or place in the hands of trustees for her use and benefit as aforesaid, and if my said wife should not wish to keep all of my slaves for her own support upon the farm, it is my will and desire and I do hereby direct my said executors to hire out from year to year such slaves as she may not wish to keep (and she is to be allowed to make her choice yearly and whether she will keep all or any part), and the money arising from the hire is to be added to the aforesaid fund to be loaded out as aforesaid and eventually disposed of as before directed.
Further it is my will and desire that if any of my said daughters should marry during the lifetime of my said wife, that if said daughter or daughters marrying should desire it that she or they shall be permitted to settle and have a house and residence upon the said home tract of land where I now live, and have such portion of the home plantation laid off for such residence, rent free, as my said wife and executors shall direct and agree upon. It is further my will and desire that if at any time while my executors have my estate in their hands, any one of my four sons, to wit Charles Dunn, John Dunn, James Dunn and Tarleton Dunn should through misfortune or other wise become greatly straitened in their circumstances and be in danger of coming to want or stand greatly in need of pecuniary aid that my said executors shall give them or such one of them as shall need it such assistance and relief as the condition of estate will admit of. But having in various ways advanced the interests of said four oldest sons Charles, John, James and Tarleton, this relief and assistance as left entirely to the discretion of my said executors trusting that they my said executors wil fulfill my desire in this with all justice and humanity.
Further it is my will and desire after the death of my wife Amy that the house tract of about 500 acres (composed of thre small tracts of land) and the house I now live in shall remain in the possession of my said four daughters or such of them as remain single and wish to make it their home to the exclusion of such as may marry. But such as may marry may nevertheless have a home upon the same tract and plantation and with the consent of the single sisters, the privilege of the house, and after the death of my said wife when any one of my daughters shall marry I wish an equal portion of my slaves laid off to such one which said slaves my said executors shall place in the possession of such daughter marrying or into the hands of trustees for her benefit or shall continue to hire the same out for the benefit of my said daughter so marrying and pay to her the hire yearly or otherwise at the discretion of my executors.
It is my will that the house and plantation and tract of land of about 500 acres shall remain in my family unalienable and undivisable and that the same should never be sold or pass into the hands of strangers (Witnesses sign here.) but the same to continue to be a home and place of refuge to such of all my sons and daughters as may need a house and be unable to get or procure one to suit them, giving the privilege of the house first to such of my daughters as may remain single, to be joint stock and property to such - next to my youngest son Francis tobe by him occupied and retained during his life if he shall desire to do so; and if at any time any one or more of all my sons or daughters should be in want of a house and unable to procure one otherwise then it is my will that such son or sons or daughter or daughters should have a portion of the said tract laid off to him or her for a residence to be by such one occupies, but still unalienable land so to continue to descend throughout all time to such of my descendants as may live and desire and deserve the benefit of this bequest.
All my slaves and their increase and the profits arising from their hire to equally divided after the death of my wife Amy Dunn amongst my four daughters and my said son Francis; the portions of my daughters to be guarded and protected by my executors as above directed except only the little negro girl Parnelia whom I give and bequeath to my daughter Mary Dunn to her and her heirs forever. And this bequest and legacy is left to her my said daughter as a memento of my love and affection for her and as a renumeration for her duty and tenderness to me in my afflictions and her long services to me and her mother deserving in my opinion of some such compensation over and above he shares of her younger sisters and her brothers. And in a final division and in the estimates of the proceeds and hire of my slaves, this slave is not to be taken into account against my said daughter Mary.
It is further my will and desire that no one of my children or their descendants should ever pay rent to their mother or any other of my children for any part or portion of the home tract of land or plantation thereon unless there be a special agreement and understanding amongst such to that effect. I will and bequeath to my grandson John Dunn who is son of my son Charles Dunn one horse, saddle, bridle and martingale to be worth one hundred dollards to be paid to him or the mone in lieu thereof when he my said grandson shall attain the age of twenty one years. My executors herein to be named may in their discretion permit my wife Amy Dunn to retain such of my household furniture and other personal property as they may be of opinion will conduce to her comfort and support.
And finally and lastly I do nominate, constitute and appoint James Burks and Samuel Burks of Jefferson County and Guy Phelps of Bullitt County executors of this my last will and testament hereby revoking and annulling all other and former wills by me heretofore made and all bequests and legacies therein and all executors thereby appointed; and do ordain and publish this and this only my last will and testament. Given under my hand and seal this 19th day of May 1835. (signed) John Dunn
Signed, sealed, acknowledged and published by the testatory in our presence who signed the same as witnesses in his presence and at his request and in the presence of one another. (signed) George F. Pope, T. W. Riley, N. C. Summers.
State of Kentucky Bullitt County Court, October 16th, 1837 The foregoing last will and testament of John Dunn deceased was this day produced in open court and proved by the oaths of Thomas W. Riley and Norah C. Summers, subscribing witnesses unto, and ordered to be recorded which is done. (signed) N. C. Summers, Clerk
Bullitt County Will Book B, Pages 485-488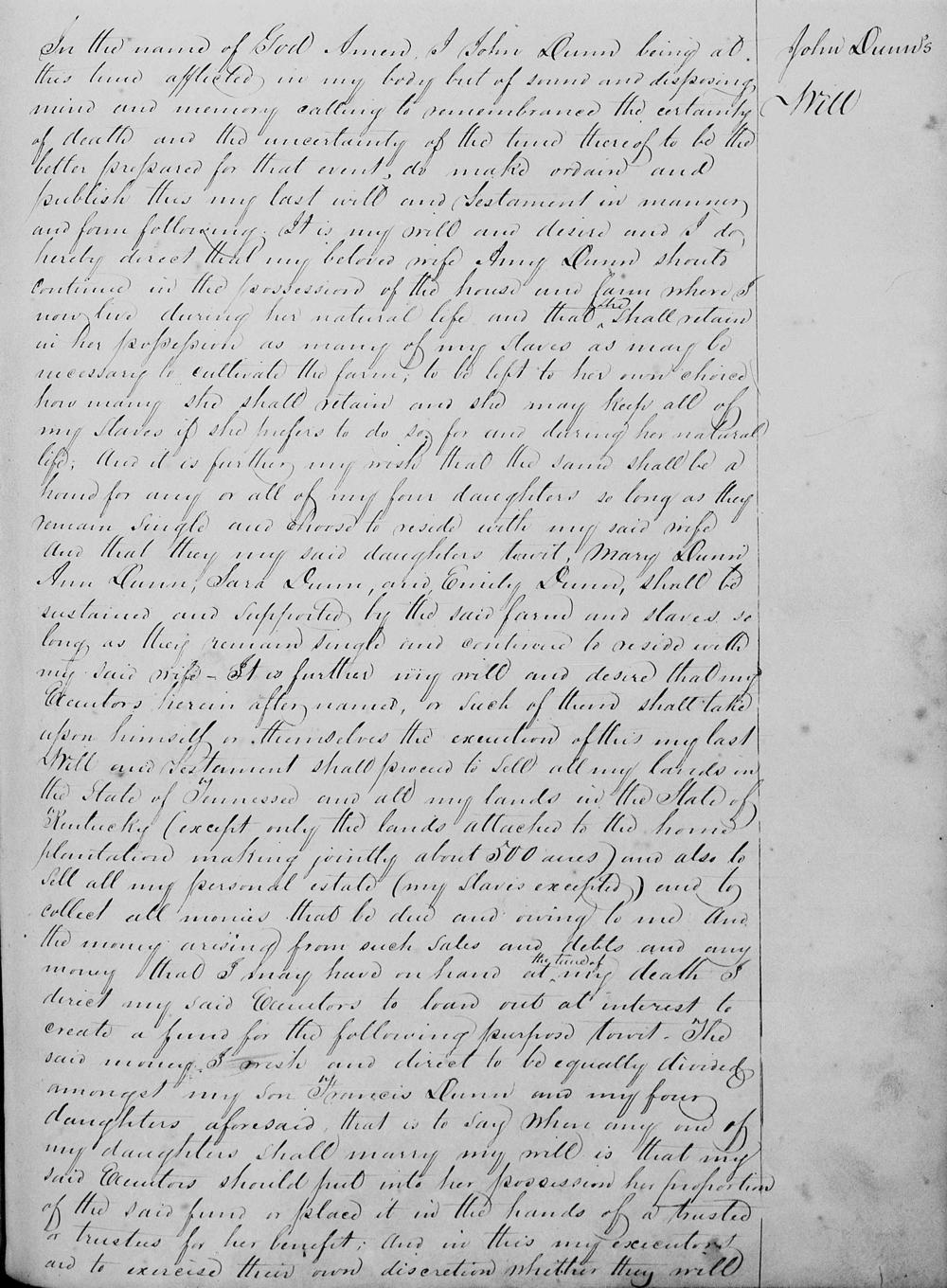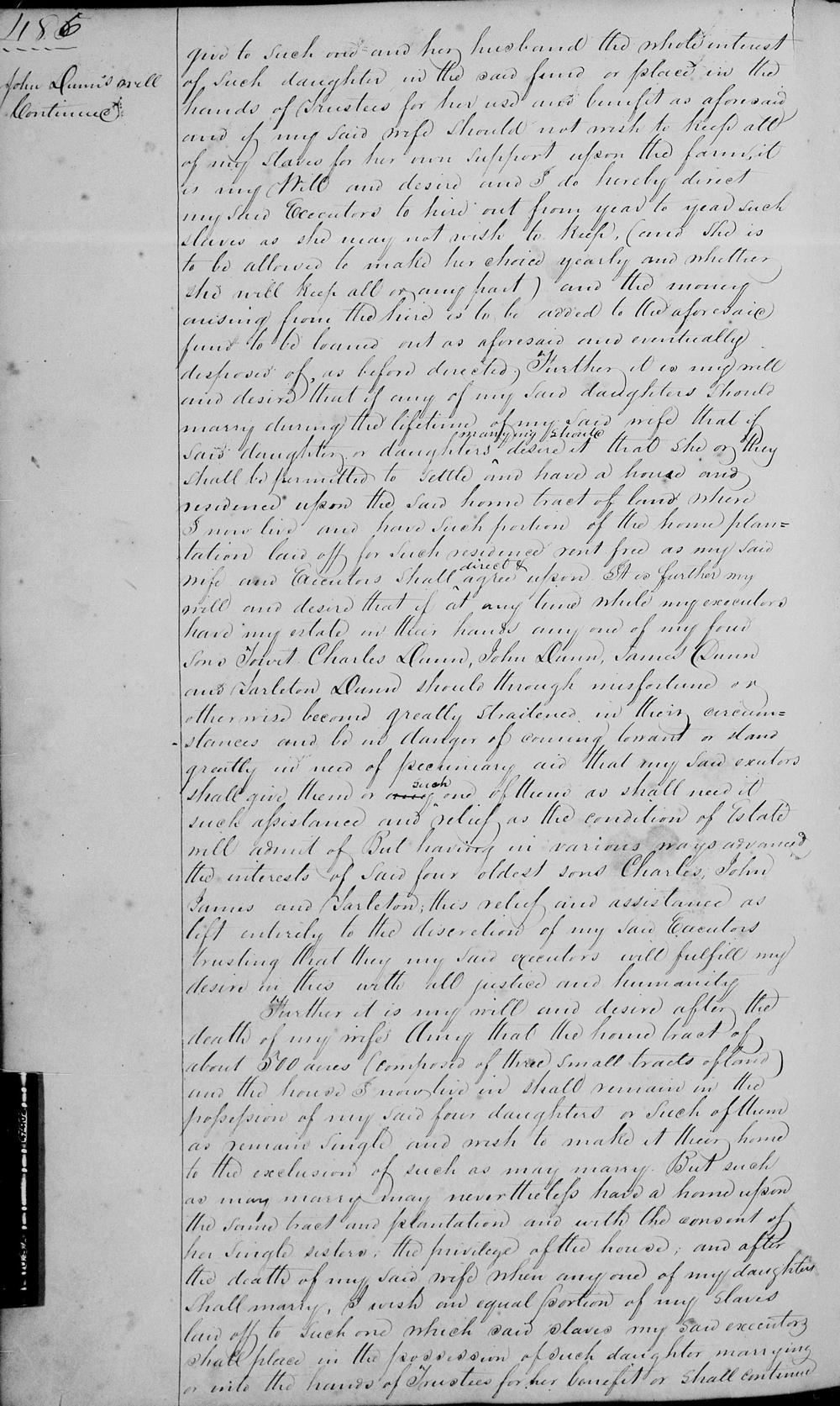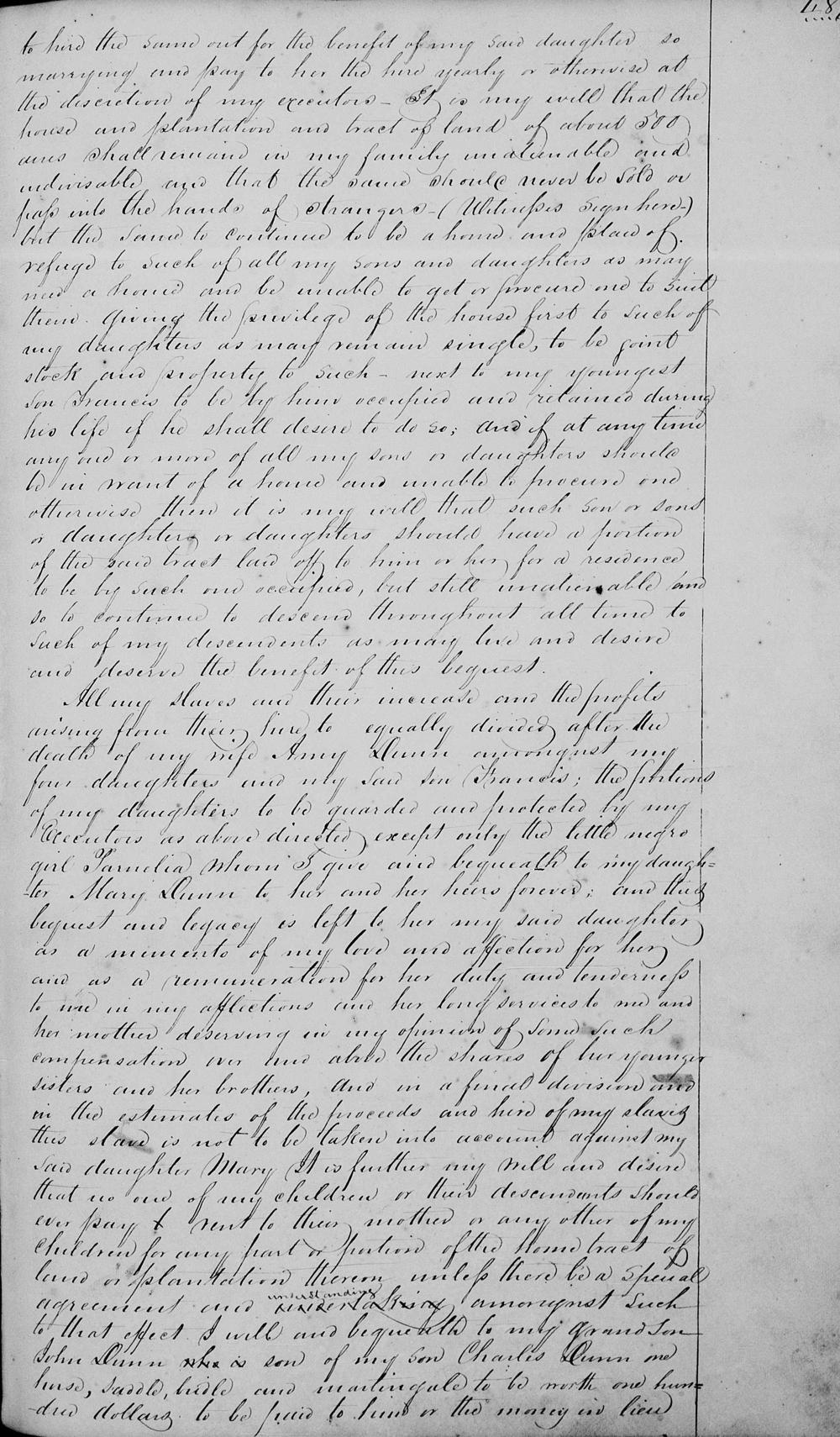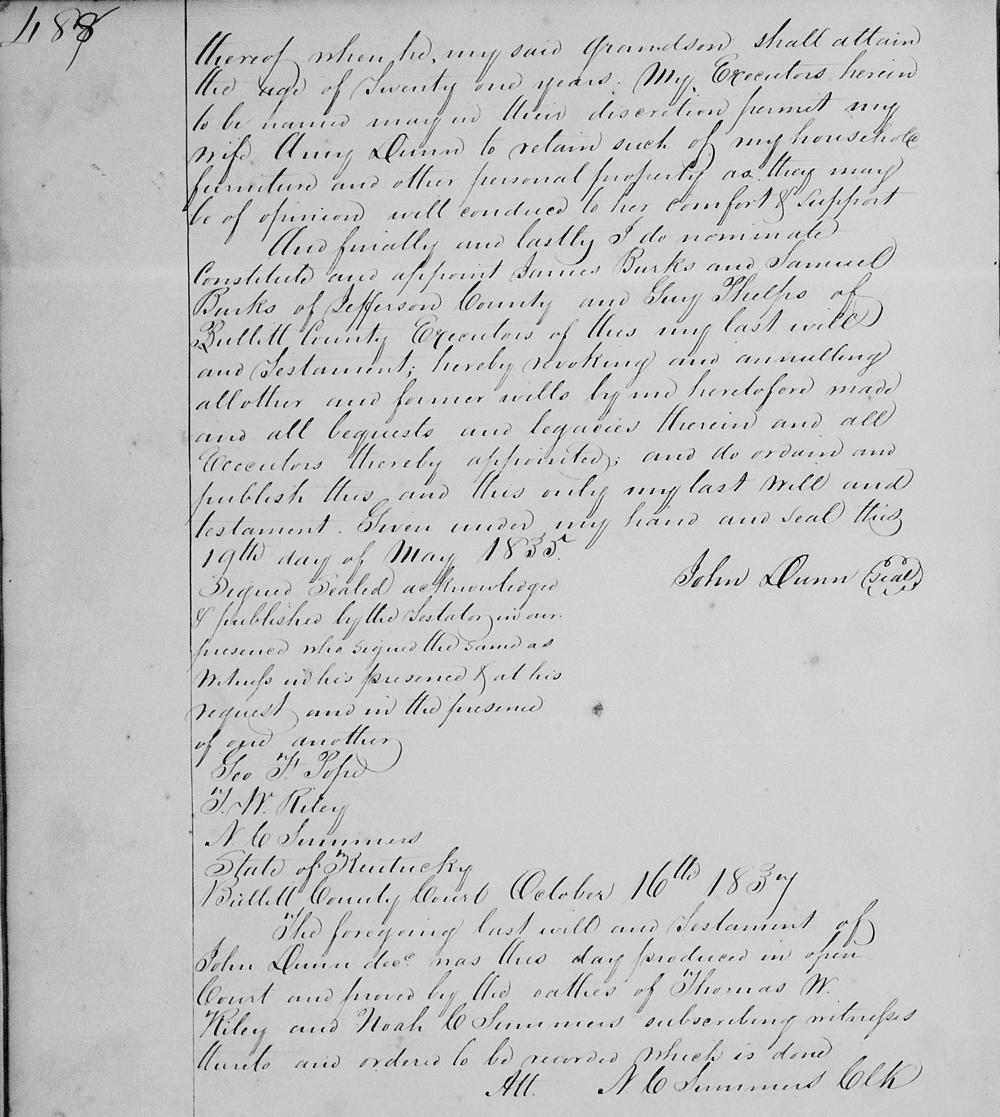 ---
If you, the reader, have an interest in any particular part of our county history, and wish to contribute to this effort, use the form on our Contact Us page to send us your comments about this, or any Bullitt County History page. We welcome your comments and suggestions. If you feel that we have misspoken at any point, please feel free to point this out to us.