John B. Summers' 1864 Will
John B. Summers, son of Benjamin Summers, made his last will and testament in 1864. In it he requested that his son Gabriel Summers take over the management of his estate until 1869, at which time it was to be divided equally amongst John's heirs. John died the next year, and a year after that, the heirs petitioned the court to divide the land, which was done by October 1868 as shown on another page. The will is transcribed below.
---
Bullitt County Will Book G, Page 290-291
I John B. Summers of the County of Bullitt and State of Kentucky do make this my last will and testament, being in good health at this time.
I first wish my executor hereinafter named to pay all my debts. Should I die before the 1st day of January 1869, it is my wish that my son Gabriel Summers should come upon my farm and that charge of my children that may not be of age at the time of my death, together with my farm, farming utensils, negroes, stock of every description, house, household and kitchen furniture and crops of every description, selling any surplus of all that he may think necessary for the purposes of raising, educating and supplying my children not yet twenty one years of age. For his labor and attention to my children and management of my farm and other property, I wish him to take one fourth of all he may make, together with one fourth the increase of all my stock &c. I wish him to keep my family together in this manner until 1st day of January, 1869, carrying on my farm as near as possible in the same manner that I have been doing (none of my ground to be rented). At the expiration of the above named time, January 1st, 1869, I wish my whole estate, real and personal, equally divided, share and share alike, between my children, namely Martha Jane Talbott, Rachel V. Irvin, Gabriel Summers, John R. Summers, Noah Burn Summers, Mary Bell Summers, Fanny Maria Summers, Franklin Summers and Wilson Summers.
I wish each one to get an equal share of my land according to quality and quantity, except one half acre of land where my family burying ground now is, which is to remain free for a family burying ground forever.
Should any of my children above named die before they arrive at the age of twenty-one years, or die without issue, the share allotted to them to descend to my remaining children.
It is my wise that nothing in my house be sold at public sale, but equally divided between my children or the heirs of their body.
I appoint my son Gabriel Summers executor of this my last will, and I request the court to qualify him as my executor without security.
Witness my hand and seal the 25th day of June 1864. (signed) John B. Summers
State of Kentucky Bullitt County Sct. I R. J. Meyler, clerk of the Bullitt County Court, certify that on the 24th day of July 1865, the foregoing last will and testament of John B. Summers dec'd was produced in open court and proven by the oaths of R. H. Field and Wesley Phelps to have been wholly written by said John B. Summers and that his signature thereto is genuine, and being fully proven the same was ordered to be recorded, which with this certificate is trul done in my office this 15th day of June 1866, the same being duly. (signed) R. J. Meyler, clerk.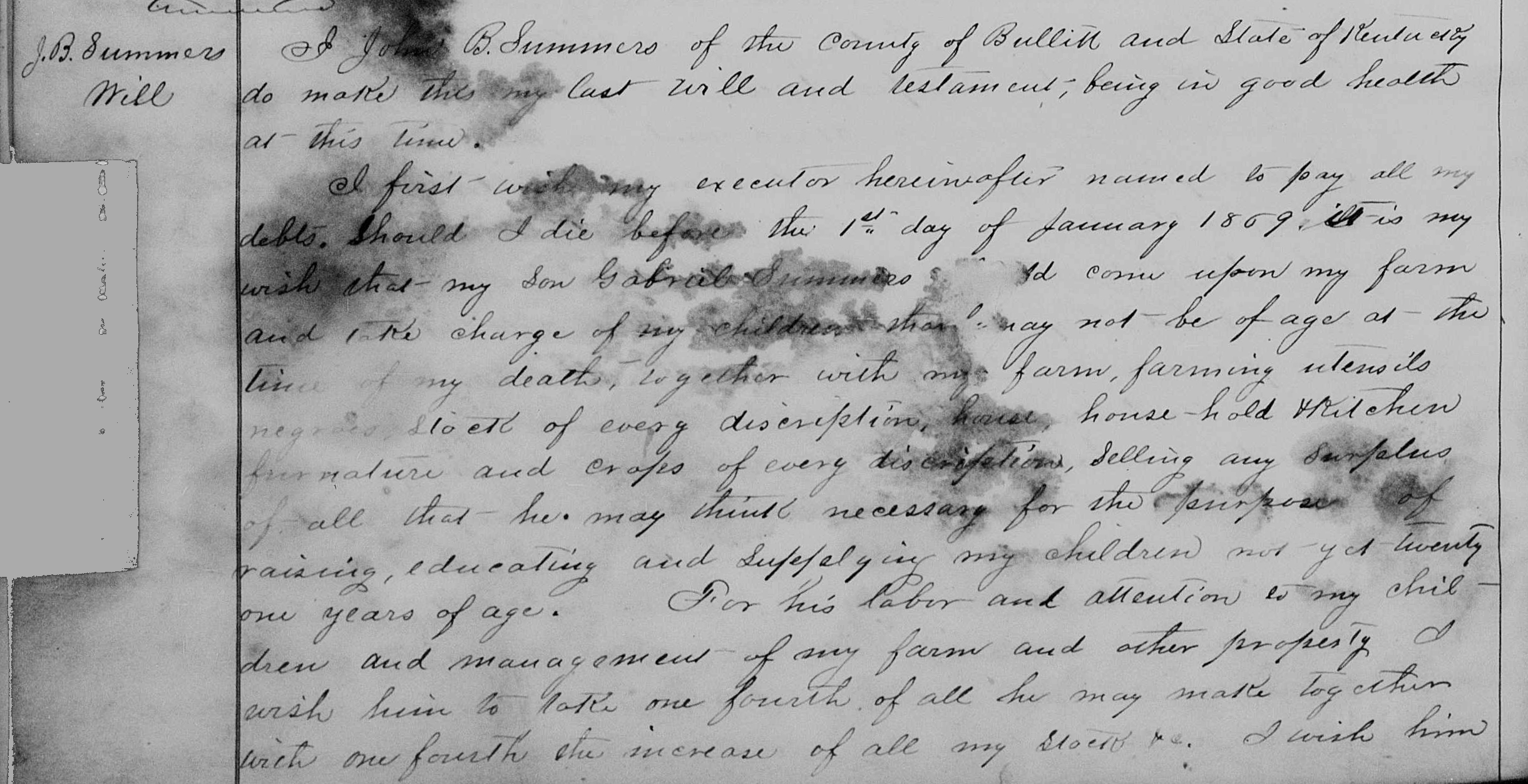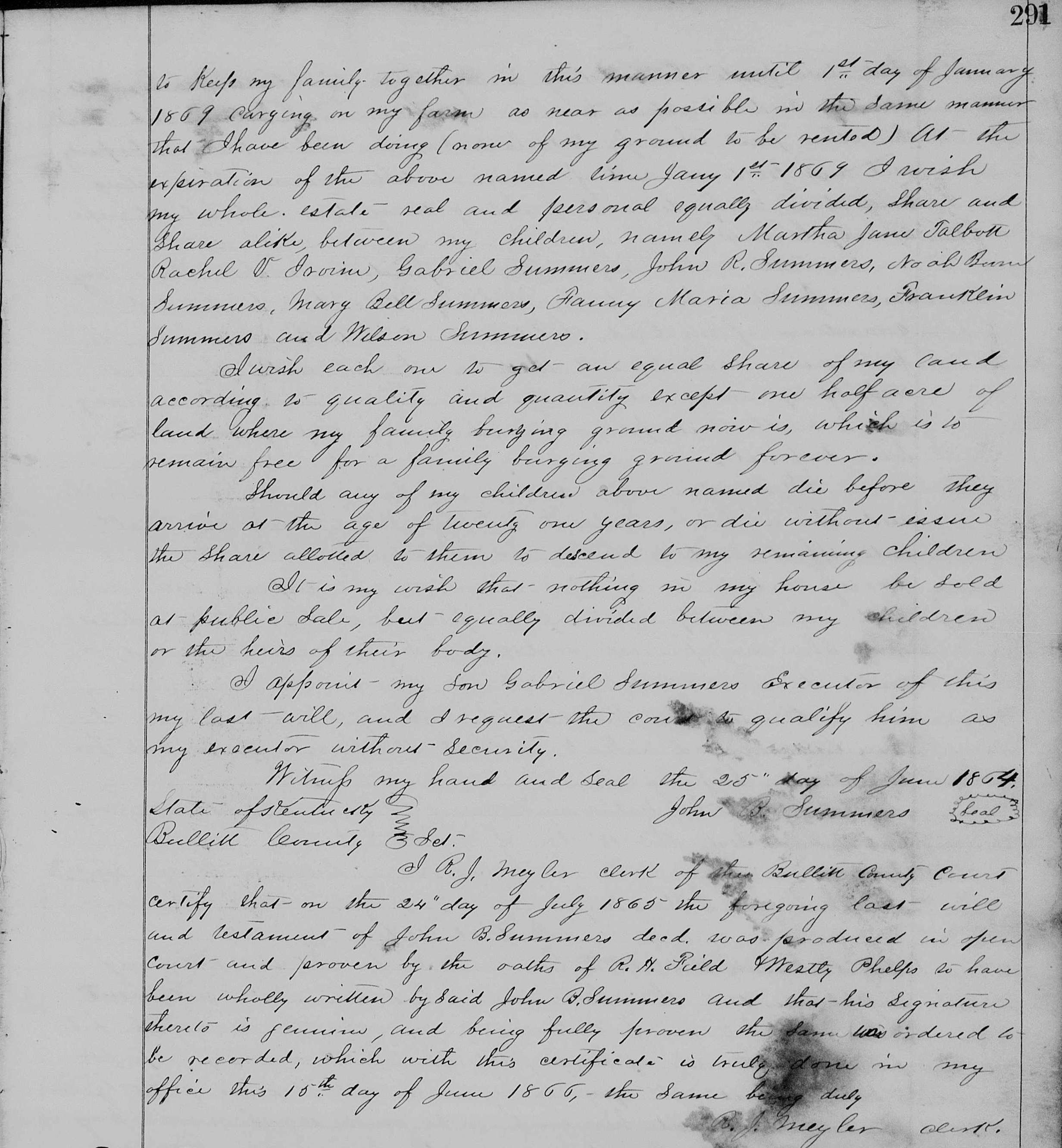 ---
If you, the reader, have an interest in any particular part of our county history, and wish to contribute to this effort, use the form on our Contact Us page to send us your comments about this, or any Bullitt County History page. We welcome your comments and suggestions. If you feel that we have misspoken at any point, please feel free to point this out to us.