Joe B. Hall, S.H.S. Coach 1956-58
by Daniel E. Buxton
Bullitt County History Museum Executive Director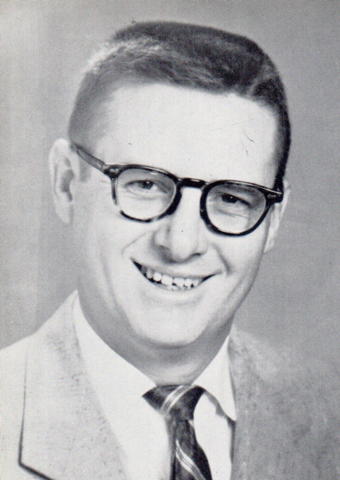 Joe B. Hall
Joe B. Hall was the Hall of Fame head coach of the University of Kentucky Wildcats, as well as a T.V. Sports Analyst and Radio broadcaster. His name is known all over the world. But what you may not know is that his first job as a basketball coach was right here in Bullitt County, Kentucky.
Joe played sports from a young age and they were his passion. He played high school and college sports. He attended University of Kentucky. While there he was on a team coached by Adolph Rupp that won the National Championship. Basketball was in his blood.
After graduating college, Joe took a Job with the Heinz Company, but was not happy; his heart was not in what he was doing. So he went to his wife Katharine and asked her blessing to try his hand at coaching basketball. In August of 1956 he went to the placement office at the University of Kentucky and asked if there were any available coaching jobs. The only opening was in a small town just south of Louisville in Bullitt County in the town of Shepherdsville.
Joe took the job and became the new head coach of the Shepherdsville High School Rams. But Coach Hall was in for more than he bargained for. Upon accepting the job he found out that much more was needed in addition to coaching the basketball team, he would also be coaching the football team, baseball team and teaching physical education.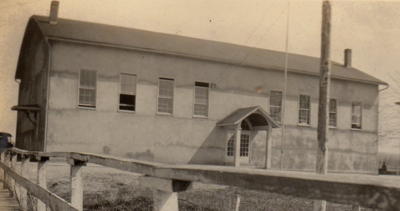 S.H.S. Gym
In 1956 at the time Coach Hall took the job at Shepherdsville High School the Gym was not part of the main school building. It was in a separate building that was built in 1924. When Coach Hall got there he found the building was run-down and in bad shape. The locker room was bad and the basketball court floor needed to be refinished and the football field was in need of repair.
When Coach Hall and his family came to Shepherdsville in August of 1956 they needed a place to stay and were looking for a place to rent. Coach Hall brought with him his wife Katharine and his daughter Judy; his wife was expecting another child. Tom Shaw, a former player under Coach Hall shares, this memory of the coach's arrival in Shepherdsville: "When Coach Hall and his family first came to Shepherdsville they were in the process of looking for a house to rent. While they were looking, they stayed at my dad's and mom's for a while. Four adults, a teenager and two babies in a two bedroom one bath house got very interesting. My folks and the Halls stayed friends from that time on and spent a lot of time together even after Coach Hall was at UK."
Coach Hall and his family would eventually rent a home located at 1588 Clermont Road owned by Baker Beam. The home is right across the road from Bernheim Forest. When Coach Hall arrived, he got right to work fixing up the locker room, refinishing the basketball court, and repairing the football field. The football field was in an area near the Salt River, and as a result the crawdads would create holes in the field and every Friday Coach Hall would have to get a wagon full of dirt and fill in the holes to keep the field safe for play.
The football season started a week after Coach Hall got to town, so he had to work fast to get the field ready. When Coach Hall took the job at Shepherdsville he initially did not know he was going to be coaching the football team. He ended up being asked to coach the football team after the football coach was drafted into the service.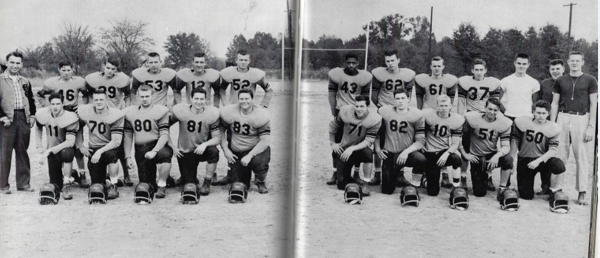 With little time for planning, Coach Hall did the best he could do to get the kids into shape. He had a small team in size and stature. His team included the following players: Eddie Schmidt, Harold Sipes, Richard Booth, Billy Carpenter, Raymond Hawkins, Raymond Hawlott, Ronnie Parker, Darrell Lee, Howard Tate, Delbert Tracy, Lewis Cockerel, Ronald McCubbins, Billy Smith, Donald McGlasson, Barney Maraman, Jimmy Roberts, Charles Roehrig, Jackie Yeager, Donald Deaver; Managers: Charles Rummage, Jackie Grider and Otto Balloue.
Coach Hall and his team did not win any games in his first season as coach but the team did see vast improvements. The following quote was in the 1957 Shepherdsville High School Year Book: "Although the team did not win any games this year, it showed fine possibilities for the future. Coach Hall needs to be congratulated for the fine job he did with the team, since this is the Ram,s first year for the eleven man football. The scores do not reflect the fine play and sportsmanship of the team."
When Coach Hall and his family came to Shepherdsville, he and his wife had agreed that when it was time for their baby to come that his wife would travel back to Cynthiana and Harrison County to have the baby. Well the time was close and Katharine was back in Cynthiana with her parents expecting the baby to come any day. Meanwhile her husband was hard at work in the Shepherdsville High School Gym refinishing the floor.
In those days before cell phones, this building had no phone. The only phone was located in the main school building in the principal's office. While Coach Hall was hard at work, unbeknownst to him the phone was ringing and his baby was on its way! It wasn't until dawn the next morning that Coach Hall was awakened by the phone and he found out he had a new daughter! Katharine J. Hall was born on November 2, 1956.
Coach Hall's first season as head basketball coach was a building season. (Basketball pics at the bottom of the page.) Coach Hall started building the team by recruiting African American, James Ray Jones. James had never played basketball before, but with the help of Coach Hall he caught on and became one the team's best players, averaging 16 points a game in his first season. His varsity team included: Gene Cox, Donald Christman, James Wagoner, Harold Sipes, Joe Barger, Jerry Stevenson, Tommy Shaw, James Ray Jones, Ronnie Masden, Charles Roehrig, Daryl Lee, Jackie Yaeger and Jerry Davis. The team had a disappointing post season. On March 1st and 2nd they played two games in the KHSAA 29th District tournament. The Tournament took the Ram's home court in Shepherdsville. The Rams lost to Lebanon Junction and Mt. Washington. They also played two games in the 8th Regional tournament and beat Oldham County and lost to Bagdad. The team ended the season with a 12-16 record.
Team members did receive some awards for the performances for the season, They included: All District: Harold Sipes, Donald Christman, James Jones, Joe Barger; All Regional: James Jones, Donald Christman; S.R.V.C - James Jones.
The junior varsity team included: Phillip Thomas, Melvin Morris, Billy Morrison, Philip Tinnell, Donald Dever, Wyman Manakee, Charles Reichmuth, Billy Lee, Earl Jacobs, Tommie Shaw, Jerry Stevenson, Charles Roehrig, Darrell Lee, Jackie Yeager, Ronald Meredith and Lemar Tomes.
Coach Hall also coached the baseball team that year to a 6-4 winning season. The team included: Jimmy Roberts, James Jones, Wesley Hatfield, Joe Barger, Moise Napier, Donald Dever, Harold Sipes, Darrell Lee, Clyde Fleanor, Billy Maraman, Bill Abbott, Jerry Stevenson, Jerry Davis, Delbert Tracy, James Wagner, Barney Maraman, Gene Cox, and Melvin Morris.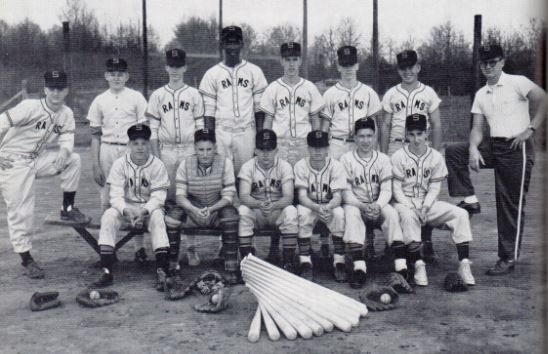 During the summer months when school was out for summer break Coach Hall still had to provide for his family and he needed to find a job to supplement his income. At the time Coach Hall lived right across the road from Bernheim Forest and that is where he found the job he needed. Coach Hall was hired as a Forest Ranger. His duties included manning the fire tower, patrolling for poachers and other unauthorized visitors, and greeting patrons at the contact station. Coach Hall continued to work this job on and off until he left Shepherdsville.
Note: For this school year the "The Shepherd" yearbook did not record any stats or other information for the football or baseball teams other than their photos. So little is known about whom team members were and their stats and records.
According to the Pioneer News newspaper the first basketball game of the season took place on November 22, 1957. Coach Hall was starting the season with an experienced team and a lot of momentum. The team won the home opener against Willisburg in a blowout, 102 to 32. Shepherdsville was 6-0 going into their game with Southern. There was a lot of pressure on them in this game.
The Louisville newspaper, The Courier-Journal, had already predicted that Shepherdsville would win the game. Shepherdsville folded under the pressure and lost the game 64-69. But Shepherdsville would go on to have one of the best seasons in a long time with a record of 10-2 in the conference and a 21-6 overall record.
The Shepherdsville Rams had a much better post season. They played in the KHSAA 29th district tournament and beat Lebanon Junction 59 to 58; this was the first time they beat Lebanon Junction all year. They also played in the 8th Regional tournament in Owenton, Kentucky, beating Trimble County and Pleasureville and losing to Shelbyville to end up runners-up of the tournament.
On Tuesday, April 1, 1958, the Shepherdsville Sports Booster Club was formally organized and Coach Joe B. Hall was elected Program Director. The Pioneer News reported on April 11, 1958 that Coach Joe B. Hall was named Coach of the Year by the Mid-Kentucky Conference.
Coach Hall was working on his recruiting for the 1958-1959 season, recruiting Roy Jean Troutman to the team. Coach Hall also taught many of his players in Physical Education class and Health Class. But Coach Hall would resign his job before Roy joined the team.
In June of 1958, Coach Hall resigned his position at Shepherdsville High School to accept the position of assistant varsity basketball coach at Regis College, Denver Colorado.
Former Shepherdsville High School Student Lynn Eddington shares her memories of Coach Hall: "The school only had one bus and had to make two trips to get all the students home. I was in the group that had to wait on the bus to come back and get us for the second trip. We would have to go to the gym and wait on the bus to return. I would watch Coach Hall practicing the team and he worked them hard. Also, you had to stay off the floor unless you were in sock feet or sneakers; they were very strict about that."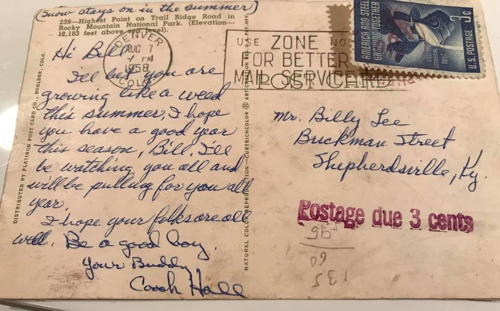 After leaving Shepherdsville at the end of June 1958, Coach Hall was still thinking about his players. Kristina Dadisman shared a postcard on Facebook on August 22, 2019. The postcard was dated August 7, 1958. The following is the text from that postcard: "Hi Bill (Billy Lee) I'll bet you are growing like a weed this summer, I hope you have a good year this season, Bill, I'll be writing you all and will be pulling for you all year. I hope your folks are all well. Be a good boy. Your Buddy Coach Hall"
Pat Smith Stonecipher shared the following bit of history on Facebook on August 21, 2019. "When we were seniors at SHS in 1969, someone found out that Joe Hall had coached at our school. We contacted him and asked him to speak at our Athletic Banquet that year. Not only did he come, but would not accept anything in return, not even gas money! He is a great man! Also, when he was the coach at U.K., SHS was mentioned in his biographical sketch in the basketball program!"
In his two seasons as head basketball coach he made a very big impact, not only on his players and students, but on the whole community as well. To this day, Coach Hall still has friends in this community that he made 61 years ago. They still hold him in high regard and share their memories of his time here with fondness and great respect. So much so that on December 23, 2009 the Shepherdsville City Council voted to rename 2nd Street Joe B. Hall Avenue.
The ceremony was held in Shepherdsville at the Shepherdsville City Hall on Friday, April 16, 2010. Joe B. Hall came back to Shepherdsville for the event and accepted the honor. Coach Hall was met with a standing-room-only audience that gave him an overwhelming welcome. Of the welcome Coach Hall said: "Wow, That's almost too much!" Coach Hall was very gracious as he signed autographs for anybody who wanted one and posed for pictures. He also posed for a picture will all the former players who were in attendance. After the event at Shepherdsville City Hall, they moved to the newly name Joe B. Hall Avenue and unveiled the sign.
(Joshua Lee Bowman, grandson of Morris Lee Barger, recently wrote to let us know that his grandfather was #32 in the photo below.)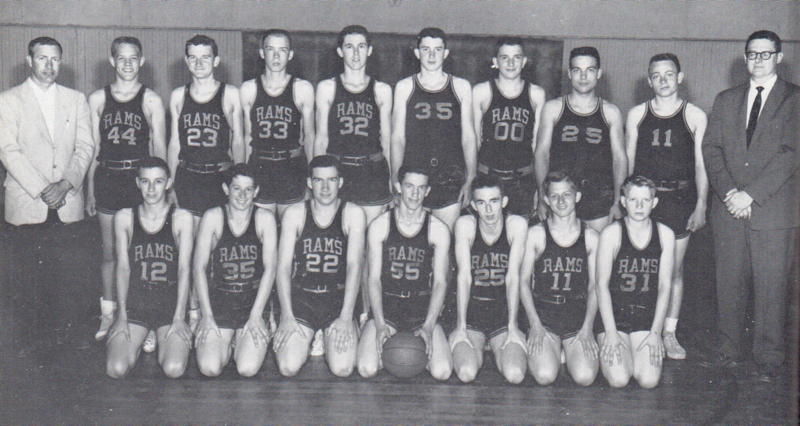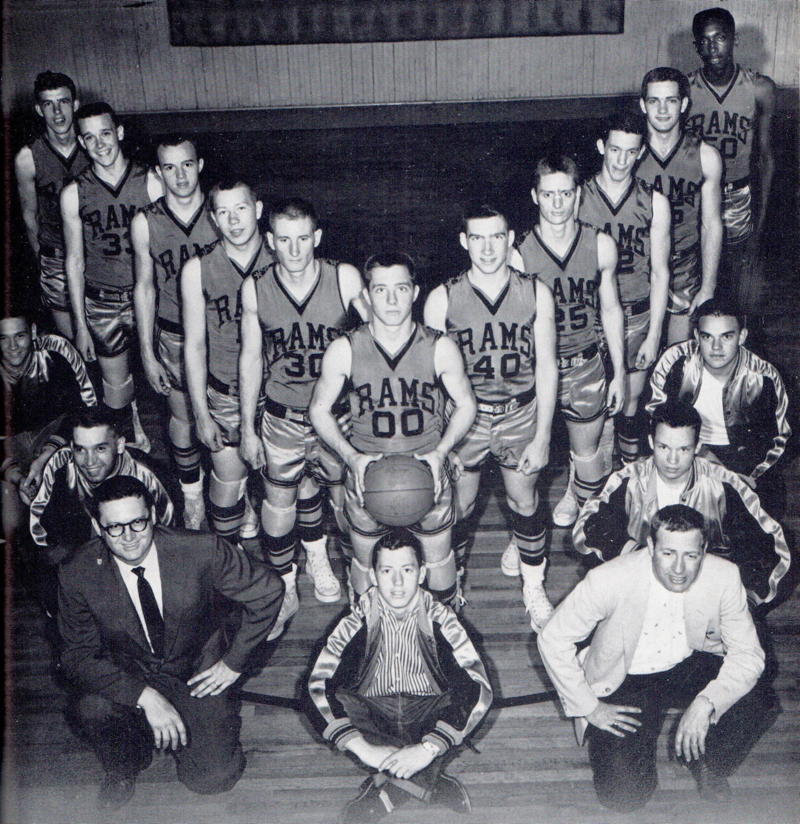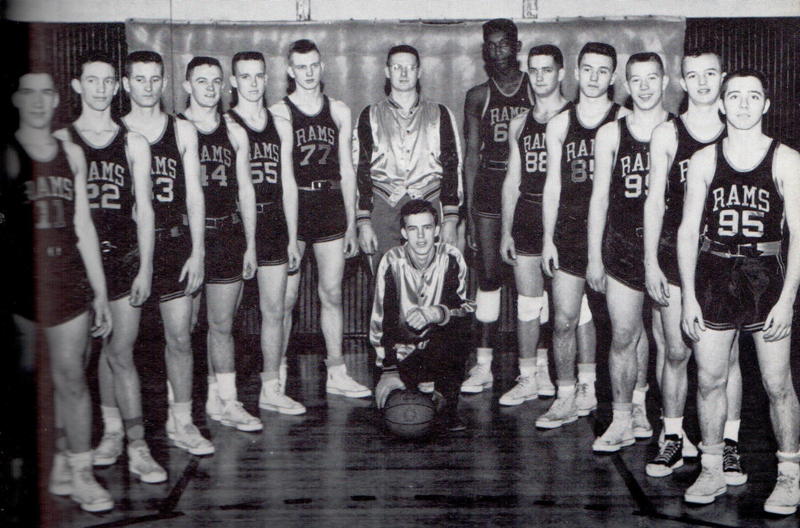 Thanks to David Strange and Mark Shepherd for allowing me to write this article and be part of Joe B. Hall's history here in Shepherdsville.
---
If you, the reader, have an interest in any particular part of our county history, and wish to contribute to this effort, use the form on our Contact Us page to send us your comments about this, or any Bullitt County History page. We welcome your comments and suggestions. If you feel that we have misspoken at any point, please feel free to point this out to us.