James Crenshaw's 1811 Will
James Crenshaw settled in the Cox's Creek area of Bullitt County in the late 1790's. He died there in 1811 after declaring his last will and testament as transcribed below. An image of the will follows the transcription.
---
James Crenshaw Will
Bullitt County Will Book A, page 185
In the name of God amen, I James Crenshaw of Bullitt County and State of Kentucky do make and constitute this my last will & testament in manner and form following, towit, I assign my soul into the hands of Almighty God, hoping and believing a remission of my sins by the merits and meditations of Jesus Christ, and my body I commit to the earth to be buried at the discretion of my executers hereafter named, and my worldly estate I give and devise as follow.
Item first, I give and bequeath to my daughter Patsy Spencer five shillings and no more.
Item secondly, It is my will & desire that the whole of my estate both real and personal and ... of every kind whatsoever I may die possessed with shall be sold by my executors hereafter names on twelve months credit bearing interest from the date of the sale and the whole amount of said sale to be equally divided between my beloved sons named Joel Crenshaw, Overton Crenshaw, Cosby Crenshaw, Nelson Crenshaw, and Bluford Crenshaw after my just debts and legacies hereafter mentioned are paid.
Item, it is further my will and devise to give and bequeath to my grandsons and daughters, sons and daughters of Patsy Spencer, wife of said Sharp Spencer, as follows. Item to Thomas Spencer, Joel Spencer, Isaac Spencer, James Spencer, John Spencer, Sharpe Spencer, Thompson Spencer, Elizabeth Spencer, & Lucy Spencer, one hundred dollars to be equally divided between them as they shall arrive to lawful age.
Further I constitute and appoint my two friends, Rodolphus Buky and Elemelick Swearingen sole executors of this my last will and testament, disannulling and revoking all other wills heretofore by me made. In testimony whereof I have hereunto affixed my hand and seal in the year of our Lord one thousand eight hundred and eleven and on the thirty first day of May of the same year.
Signed, sealed, published, and declared by the testator to be his last will and testament in our presents who at his request in his presents and in the presents of each other have subscribed our names as witnesses thereto.
(signed) James (his x mark) Crenshaw
(witnesses) Robert Simmons, Abner Chalpant, John M. Briscoe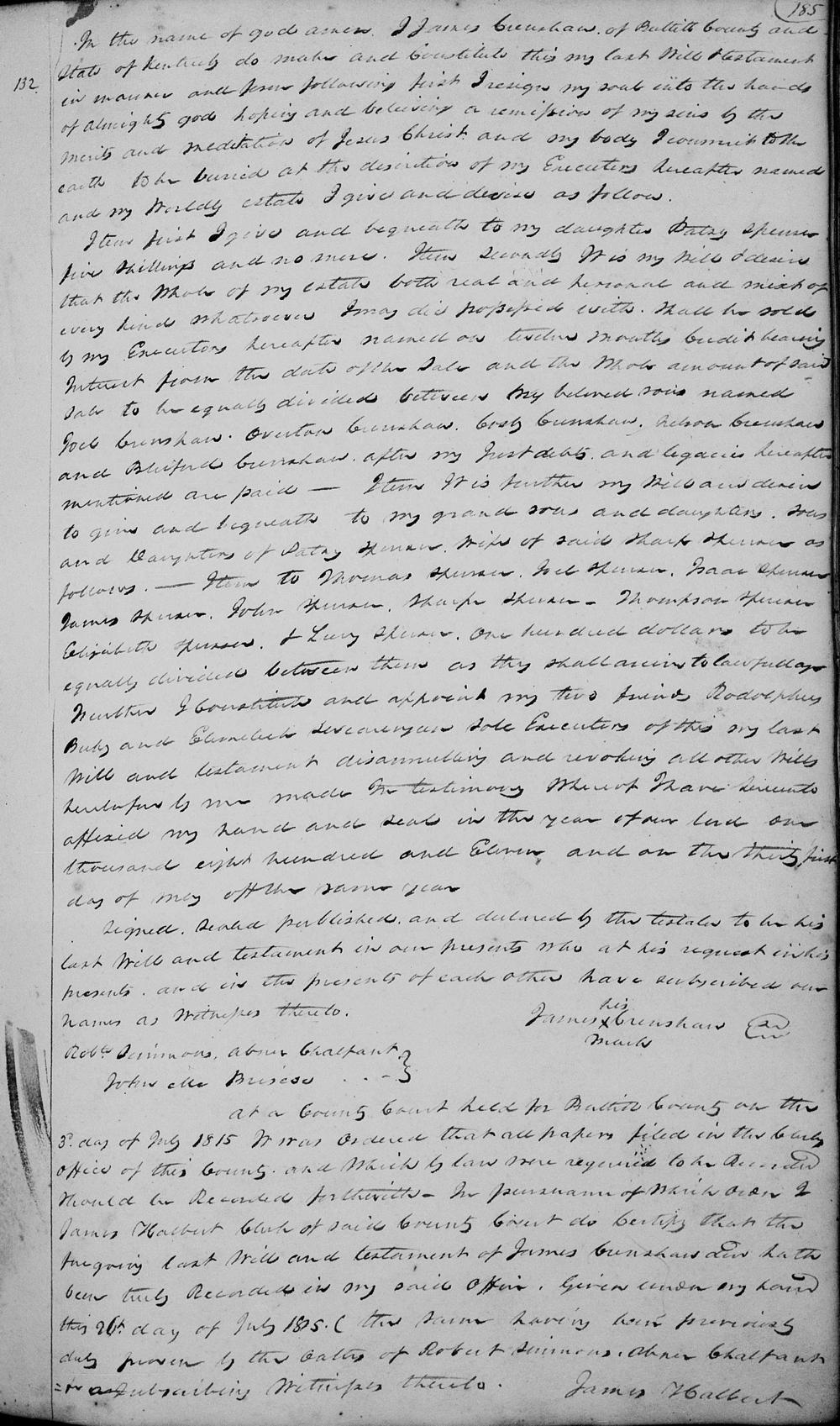 ---
If you, the reader, have an interest in any particular part of our county history, and wish to contribute to this effort, use the form on our Contact Us page to send us your comments about this, or any Bullitt County History page. We welcome your comments and suggestions. If you feel that we have misspoken at any point, please feel free to point this out to us.